David Clifford converted a penalty in the fourth minute of added-time to earn Kerry a 1-18 to 4-09 draw with Dublin in the Allianz Football League clash in Thurles.
Cormac Costello and Con O'Callaghan starred for Dublin as they scored three goals inside the first half to take a six-point advantage at the break.
Costello scored his second goal in the second period but the Kingdom close the gap as the All-Ireland holders managed just 1-03 in the second period.
Clifford's cool penalty meant the game finished level.
One week Kerry are scoring four goals for fun and the next they are conceding four, but in an odd way they should have left Thurles this afternoon feeling a little bit better about themselves than after last week's 22-point win over Galway.
No doubt, when the Kerry management analyse the video they will find much to critique and be critical of – not least the concession of the three first half goals that laid bare some old and lingering questions about just how tight that Kingdom defence is and needs to be.
And yet Peter Keane can draw positives from a stubborn second half display from his players that saw them refuse to bend or buckle to a Dublin side that wasn't without its own shortcomings.
In the end the two league points on offer were shared, with late penalty goals from Costello and Clifford lending some late drama to a game that never rose to the spiky levels of recent encounters between these teams.
Two minutes in, Dublin sent a shot across Kerry's bow in the form of a Con O'Callaghan punched ball that slapped off the post and wide. The message was clear: we are the All-Ireland champions, we are not some Galway outfit that let you tickle their bellies last week.
In the unfamiliar surroundings of an empty Semple Stadium Dublin took the first quarter to settle in and size up a Kerry team that raced into a 0-04 to 0-01 lead after 15 minutes.
And then Dublin fired their first live ammo. Ciaran Kilkenny slipped the ball inside the Kerry cover to O'Callaghan who powered along the end line towards Kieran Fitzgibbon's goal, side-stepped the rookie 'keeper and made it a tied game with the first of three first half goals for Dublin.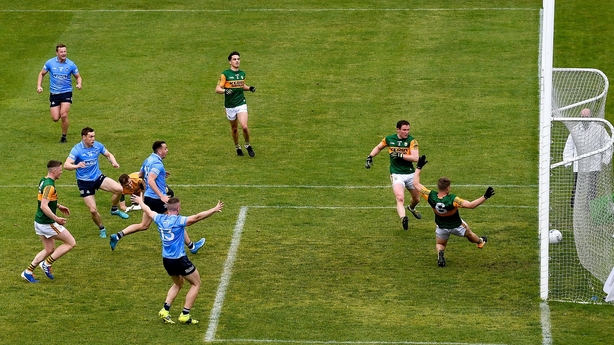 By the water break Kerry had moved ahead again, neat points from Paudie Clifford and Diarmuid O'Connor making it 0-06 to 1-01, but straight out of the break Paddy Small set up Costello for another close-range goal to fire Dublin into the lead for the first time.
The Clifford brothers had little of the time or space they enjoyed the previous week, and the second quarter ambled along steadily until the last few seconds of the half when O'Callaghan shook off Paul Murphy to gather Niall Scully's inviting high ball in, and beat Fitzgibbon for the third time to make it 3-06 to 0-09 at the interval.
Costello put Dublin seven ahead in the 39th minute but then Kerry had their best spell of the game. By the water break they had scored six points – three from David Clifford – to make it 3-08 to 0-15 as all that wonderful Dublin incisiveness from the first half dried up.
Further points from Sean O'Shea and Murphy just after the water break tied the game up at 0-17 to 3-08 but on the hour mark O'Callaghan was dumped in the Dublin square and Costello dispatched the penalty to restore the Dubs' lead.
It all got a bit hurried and fractured from there; Kerry working frantically to rescue something from the day and Dublin trying to wind the clock down in that confident, disciplined way of theirs. It looked like it might have worked, too, until Stephen O'Brien drew a lazy foul from Philly McMahon to win Kerry a 73rd minute penalty: David Clifford duly obliged with an equalising goal and that was that.
If the teams meet again this year it will only be in the All-Ireland final. For now, they have had a good look at each other and will go away with bits and pieces to put into the memory bank for August if it comes to pass.
Dublin: Evan Comerford, Eoin Murchan, David Byrne, Michael Fitzsimmons, James McCarthy, John Small, Robert McDaid, Brian Fenton 0-01, Tom Lahiff, Niall Scully, Ciaran Kilkenny 0-01, Sean McMahon, Paddy Small 0-03, Con O'Callaghan 2-01, Cormac Costello 2-03 (1-00 pen).
Subs: Colm Basquel for T Lahiff (47), Dara Mullin for P Small (55), Eric Lowndes for R McDaid (55), Philly McMahon for J Small (inj, 59), Sean Bugler for C Kilkenny (65), Jonny Cooper for S McMahon (65), Brian Howard for N Scully (70)
Kerry: Kieran Fitzgibbon, Brian O Beaglaoich, Tadhg Morley, Jason Foley, Paul Murphy 0-02, Gavin Crowley, Gavin White, David Moran, Diarmuid O'Connor 0-02, Dara Moynihan 0-02, Sean O'Shea 0-04 (0-02f), Paul Geaney 0-01, David Clifford 1-06 (1-00 pen, 0-01f), Killian Spillane, Paudie Clifford 0-01.
Subs: Tommy Walsh for K Spillane (ht), Ronan Buckley for P Geaney (44), Adrian Spillane for D Moran (44), Stephen O'Brien for P Clifford (50), Graham O'Sullivan for B O Beaglaoich (57), Jack Sherwood for G White (57), Micheal Burns for D Moynihan (62)
Referee: Sean Hurson (Tyrone)