On the second Saturday of May, hurling first quenched the thirst caused by the unnaturally long GAA drought followed last weekend by a feast of football and an array of camogie clashes.
Now this weekend sees the Lidl Ladies National Leagues joining the furore and Cavan's Aishling Sheridan feels that this is a really special time to be involved.
"I think it's absolutely phenomenal. What Lidl have done with ladies Gaelic football in the past few years, you know, credit to them, the work they have put in has been absolutely outstanding.
"You see how much progression there is in the ladies game in recent years, how much publicity it's getting, how much coverage it's getting in the media. I feel very lucky and very privileged to be in that era right now where I'm part of it," Sheridan said speaking at the Ladies National Football Leagues launch yesterday.
Despite all the positives of the return of games, the announcement of equal funding for female players and the increased television coverage of the women's game, the world of Gaelic games is never too far away from a controversy.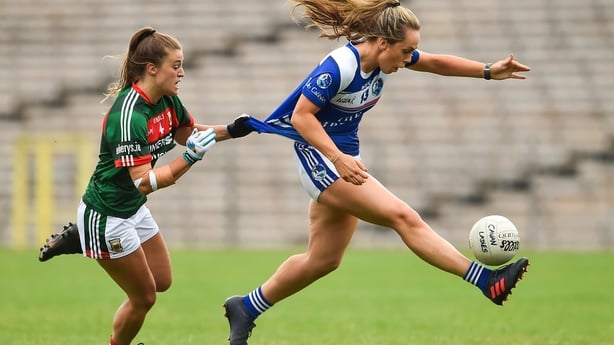 In one sense, these issues which prompt all kinds of social media soliloquies and podcast debates are comforting. They provide a fleeting feeling that the norm is returning.
Of course, that's over-romanticising the issues at hand and the LGFA's decision to remove Under-14, Under-16 and minor competitions from the 2021 calendar is one that has caused a lot of discussion in recent days.
"It's a difficult one. It's one I've thought about quite a bit and I've looked at it from both sides," said Sheridan.
"I obviously played U14, U16, minor and that's where you make great friends and develop the want to play senior. It's unfortunate given the circumstances that there may not be an All-Ireland series for them. I think there are talks that there will be an interprovincial which is still better than nothing.
"I think you have to take into account everything that has gone on in the last year. When I look at it from the LGFA perspective, they're just trying to put the health and safety of all players first. I know it's obviously disappointing for the underage players but the LGFA are only trying to put everyone's health first.
"There's a middle ground there that they should be happy with. Obviously there's no All-Ireland semi or All-Ireland finals but if there was potential for the provincial then that's still good given the current circumstances in the world right now."
We need your consent to load this Instagram contentWe use Instagram to manage extra content that can set cookies on your device and collect data about your activity. Please review their details and accept them to load the content.Manage Preferences
The Cavan star was one of 14 Irish athletes who swapped the O'Neill's size 4 for the oval ball of the AFLW over the winter months and she made her presence known by scoring the first goal of the 2021 season for Collingwood back in January.
Sheridan and 'The Pies' went on to compete up until the semi-final stages eventually bowing out to Brisbane Lions who were ultimately crowned the 2021 champions. Since completing her second season with the club down under, Sheridan is finding the transition back to her inter-county duties a tougher challenge than the year previous.
"I'm not going to lie, the transition has been a bit difficult," Sheridan admitted.
"I suppose last year when I came home I had a full 10, 12-week lockdown to prepare myself whereas I kind of only had the 10 to 14 days to prepare myself this time.
"I've been doing my own extra bits every day to just get comfortable on the ball. Self-confidence is a big thing so just even getting more time holding the round ball as opposed to an oval ball, that can make a massive difference.
"But I am delighted to be home and I'm delighted to be back home with family and back in with Cavan. We've a new set-up this year, a lot of new girls and a lot of new faces on the panel. It's been a good challenge but I'm definitely delighted to be back."
The exodus of Irish players to the world of AFL is not exactly a new phenomenon but the recent growing numbers of homegrown talent catching the eyes of Australian recruiters is quite a noticeable trajectory.
With the skills and athleticism of the modern Gaelic footballer, it's no wonder outside interests are dipping into that pool of talent.
She revealed: "One thing they can't comprehend is how [Gaelic football] is not semi-professional.
"[Training] is not too dissimilar to what goes on here. Over there, it may be half an hour longer or maybe 45 minutes longer. Training may start at 6.30pm but you're arriving at training at 4pm so you've a full two and a half hours before you actually start training. Here, training might start at 7.30pm and you're there maybe an hour beforehand.
"There's a lot of emphasis put onto the skills part. Essentially, it's not too different. You do your forwards and your backs. Obviously it's a contact sport so you might have a tough session of tackling. There's a lot of emphasis on the prehab.
"Obviously not next year with everything that's going on but with four new teams coming on that means that 30 new players will be needed for each team and then there might be older players on each team that only have another year or two left. I imagine in the next two or three years, there will be a good few Irish looked at to go over."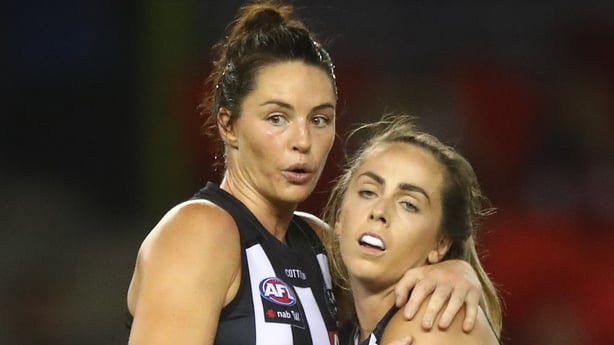 This year saw the AFLW given widespread coverage on Irish television for the first time with TG4 showing weekly games and a highlights programme.
In a time when sporting occasions were simmering in the background rather than bubbling with excitement, the nation embraced the sport from afar and a vast amount of support was shown for the array of Irish players represented in the competition.
"I know I can probably speak on behalf of all the Irish players who were playing in the AFLW when I say about the support that we got from back home on whether you knew the players or you didn't, no matter where they were from, was absolutely phenomenal," explained Sheridan.
"It's funny, the Australians even noticed the support that the Irish were getting. There was so much interaction. With the games being at difficult times, sometimes they were at three in the morning so we didn't expect anyone to be watching them at that time but there were a good few people watching them.
"The messages I received personally in the ten weeks I was playing was absolutely phenomenal. It really warmed your heart to see people who mightn't have ever seen the game before get such pleasure out of watching the games.
"I had a message from an elderly person who was probably in their 80s or 90s from Cavan say how every weekend they looked forward to watching the games. It's something really heart-warming."
This weekend all eyes will be back on home soil and the Ulster derby between Monaghan and Cavan is one that is bound to kickstart the Division 2 league campaign with a bit of bite in it.
"Personally I haven't played Monaghan in a few years. I know they played them last year in the league, I was away for that. I think in the last few years when we've played Monaghan we've fallen short so I know personally and with the team it's something we'll want to achieve, to get that win over Monaghan and you can't beat a bit of rivalry," admitted Sheridan.
"Ulster is always so competitive when it comes to the league. Looking at Monaghan, Tyrone and Armagh and looking at how well Armagh did last year, they're All-Ireland contenders this year. That's what you want.
"Division 2 league is probably one of the hardest to get out of. Obviously, a Division 1 team comes down so that helps raise the standards which essentially is what you want.
"We've a tough few games ahead of us then on the other side you've Kerry as well who are a good side so it'll be an interesting few weeks."