With the Lidl Ladies National Football League due to throw-in this weekend, the four-in-a-row All-Ireland champions are now "the ones being hunted" according to the 2020 Footballer of the Year nominee Carla Rowe.
"Every year you need to improve. Mick will always say we're the ones being chased. For three years in a row we were chasing Cork, and this year we're the ones being chased," Rowe said, speaking at the launch of the 2021 Lidl Ladies National Football League this morning.
Despite the Dubs' phenomenal championship successes, Mick Bohan's side have failed to reach the same highs in the league in recent years.
The new condensed calendar will give teams a guarantee of three group games before potential relegation, semi-finals and finals matches, meaning the build-up to the white heat of championship is a short and snappy six weeks.
Nevertheless, Rowe quashed any ideas that this league would be treated as a glorified series of challenge matches, and expressed her determination to tackle the upcoming competition with a serious winning mentality.
"Dublin have only ever won one league in our history so it's not something that we go into lightly or look at as a challenge match," explained Rowe.
"It's something you have to use to your advantage to try different things and use different panel members to try new positions. It's definitely something we go out with a goal to win and achieve so we're looking forward to hitting the ground running and being very competitive in it.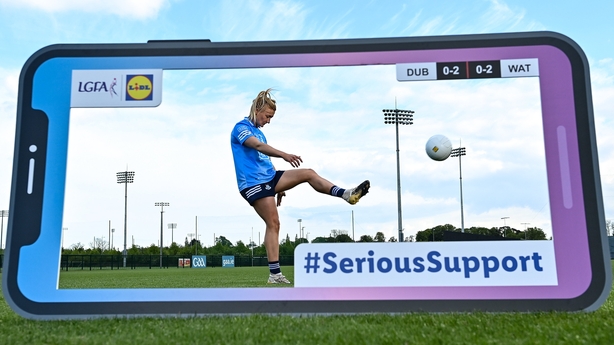 "With the short three or four weeks we had to lead in, you never know what way these things are going to go so we'll be trying to learn as much as we can, as fast as we can, every week.
"If you're not improving and not developing much greater than everyone else is, then you're in trouble. We still think as a group we haven't hit the best performance that we know we're capable of. There's been highlights of it here and there, maybe 20 minutes in different matches but we haven't had that one complete performance. We're striving obviously to improve and reach those goals."
Dublin will play host to Waterford this weekend in Parnell Park and the plan to begin their 2021 campaign on a high is something that Rowe and her team-mates are relishing.
"You want to start playing well and using your different teams and agendas to hit the ground running. Then again, you never know what way it's going to take us so we just need to make sure we learn, we develop and we do well the next day.
"That's happened to us in the past and we have learnt and got over it and moved forward. It could go either way but we'd be hoping to have a strong start.
"We're expecting a very fast-paced game. We played them last year in the championship and it was a very fast-paced game. They come forward in a straight line and attack and they're very good defensively. They've some very good sharp-shooters too.
"We have to be disciplined. Obviously, it's difficult at this time of year because they're the small things that you tweak later into the season but we know we've to be disciplined and work well together as a unit."