Paul Galvin has re-visited his 12-month stint as Wexford football manager, saying that his high-profile hurling counterpart Davy Fitzgerald sought to put the rival code "in the ha'penny place" during the former's time in the county.
Galvin managed Wexford from autumn 2019 until autumn 2020, ultimately only managing the team in five national league games as the pandemic saw the season postponed and work commitments forced him to resign his post before competitive action returned.
Speaking on the Irish Examiner Gaelic Football podcast, Galvin spoke frankly about his stint in Wexford, asserting that Fizgerald had interfered with his operation.
The four-time All-Ireland winner's chief gripes were that Fitzgerald didn't want the footballers availing of the centre of excellence in Ferns and his decision to draft in players to the hurling set-up who Galvin had exiled from the football squad.
"I had no difficulty dealing with the hurling manager until such time as he started to interfere a little bit with my operation," Galvin told presenter Paul Rouse.
"I was building a new team there. I made a couple of decisions to shake the thing up a little bit. And we were starting fresh with a young group. I had to keep my head down because there was a lot of stuff flying around and we needed to get results. We started to get results and that was enough of an answer for me at the time.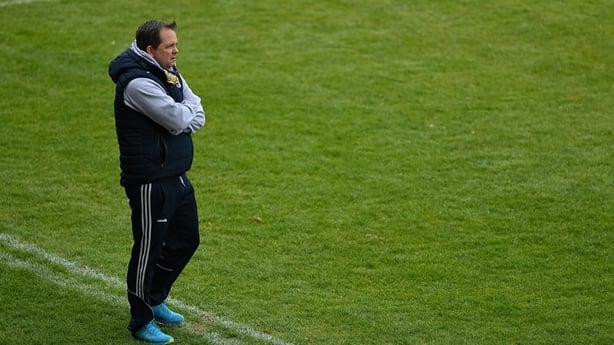 "I had a very good relationship with the chairman but some of the things that went on… I think Davy wanted the training ground to himself. He wanted Ferns to himself down there. He certainly let it be known pretty early that we weren't welcome in Ferns, the football side of things. Because some of the things he did made it clear to me that we weren't welcome in Ferns basically. That was my take on the situation."
Speaking to RTÉ Sport, then county board chairman Derek Kent - who recently stepped down after four years in the role - said neither manager complained about the shared facility at the time.
"The centre of excellence was a shared area. We do have a football specific pitch and a hurling specific pitch. Each was assigned to each code. There may have been occasional crossover. I didn't have a specific complaint from either manager regarding pitches.
"Hurling and football were treated the same at a county board level. They were granted equal status, both financially and in terms of facilities."
While insisting that both codes were treated equally, Kent acknowledges that it was "a difficult time to come into football in Wexford".
"The Wexford hurlers were on a high after winning Leinster, hurling was at a high in the country. Not only that but they won the double, winning the minor and senior Leinster titles on the same day for the first time since 1968.
"And at the end of the day, hurling is the preferred sport among Wexford people. It puts bums on seats and helps with cashflow for the county board.
"But Paul grabbed the bull by the horns. As chairman I had a great relationship with him and was sad that work commitments forced him to leave Wexford. I had an excellent relationship with both managers (Fitzgerald and Galvin) and can't speak highly enough of them."
Galvin also told the Examiner that he was put out by Fitzgerald's decision to draft in players to the hurling that he had exiled from the football set-up.
He admitted he was wary of Fitzgerald's motive for doing so, saying it was "a bit of a statement" and designed to put both him and Wexford football "in the ha'penny place".
"I didn't mind a bit of chicanery," Galvin observed. "I released a few players. He brought them into the hurling squad - same training ground, dressing rooms, pitches, corridors, car park, same training nights.
"And I felt that was a bit of a statement. And I took it on the chin because he's around a long time and Davy's a wily old fox, he's gained a little bit of soft power in the media that he uses quite cleverly.
"The thing that really annoyed me about that was that he made a big man of himself in the media on the back of it. And he started talking about all the respect he had for me in the media and making a virtuous man of himself on the back of it. The reality behind the scenes, that wasn't the case at all.
"I felt it was trying to maybe put me in the ha'penny place a little bit and put football in the ha'penny place a little bit."