Their clash with neighbours Westmeath may have been tight and tense but Sunday's opening day Allianz League win for Meath was nonetheless peppered with significant landmarks.
For a start, Padraic Harnan from Moynalvey made his first start in 652 days for the county and enjoyed his first in the league since playing against Clare in the 2017 season. The former Young Meath Footballer of the Year had been away from the starting team due to injury and travel but put in a fine shift in the weekend's local derby.
Secondly, while there were 10 wides racked up and only a scoring accuracy of 53%, there were 12 different scorers on the Meath scoresheet which is another boost to Andy McEntee as the Royals strive to secure their second-tier status and then look to get back to Division 1.
Then there's the contribution of the Meath substitutes who came on made a huge impact, kicking five points in a game where scores were at a premium.
Most of all, though, despite trailing by four points with 14 minutes of normal time remaining in Navan, and without a league win since March of 2019, the fact that Meath came from behind to record a first victory in the competition in two years was key.
While it was a stat that certainly didn't have McEntee awake at night, it's a good monkey to have off the back at the same token.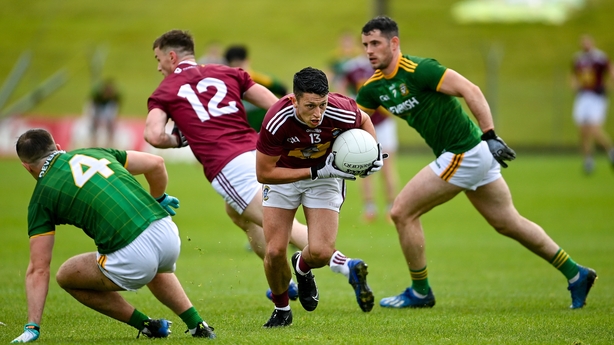 "You're after telling me something that I wasn't even aware of, I might as well tell you that," the Meath manager said when quizzed about the barren league run ending.
"I hadn't thought about that. Now that you say it, of course that's right, but I hadn't thought about it. I don't think anybody had mentioned it, it seems so long ago since we played in Division 1 and we all felt all along, even though we didn't get any wins, that we performed well enough, so it wasn't an issue."
After coming down from Division One last season, the Meath boss is fully focused on avoiding another relegation dogfight. The win over Westmeath gives them a great start.
"The one thing you have to avoid is the way the potential structure for championships is next year or the year beyond, one thing you have to make sure is that you're not in Division 3," he said.
"That's your priority straight away, then you can maybe start to think about the other end.
"With 10 or 15 minutes to go (against Westmeath) it probably didn't look good for us," he acknowledged.
"The league or the mini-league, whatever you want to call it, you win your first game and you're in a good position, but you lose your first game and you're under pressure straight away. So how important was it to win that game? It was huge."
The fact that his side hit seven of the game's last nine points is another huge plus – with Sam Duncan's black card for Westmeath leaving them vulnerable for much of this period with 14 men.
Around this juncture, debutant Fionn Reilly, James Conlon, Bryan McMahon and Eamon Wallace all kicked vital points when brought into the arena.
"The guys came in and added a bit of pace maybe when legs were just getting a bit tired so that's what the guys do and that's what they're supposed to do, so fair play to them," McEntee said.
"Fionn came in and injected pace and got into dangerous areas as did Jason Scully in particular as well. We did things that we hadn't been doing up until then."
Next up is a clash with Down at the Athletic Grounds on Sunday next. A win there and promotion back to the top flight will be firmly on the Royals radar.