Anthony Cunningham has called on the GAA to take another look at the new rules in the wake of Roscommon's defeat to Dublin on Sunday.
The All-Ireland champions were awarded three penalties by referee Derek O'Mahoney in a nine-point win at Dr Hyde Park, with Cormac Costello converting one of them.
While the first decision to award a spot-kick drew few complaints, the second one proved controversial as Fergal Lennon was adjudged to have prevented a goal-scoring chance when he dragged down Dara Mullin.
The third was awarded for a foot block by Niall Daly on a Brian Fenton effort.
Once they got ahead Dublin, as they have so often done in recent years, were able to keep Roscommon at arm's length for large parts of the contest.
Speaking on RTÉ's Sunday Sport after the game, Cunningham said that something needs to happen regarding the idea of a penalty being awarded for a cynical foul near the goal.
"I can't see the reason why they're messing with the rules, to be honest with you," said Cunningham in the first game of his third season in charge.
"Rules committees are now coming up with new rules every year. They don't ask the referees or they don't ask the coaches in the game how it can be improved. I don't know who makes the decisions on that.
"That decision is extremely hard to referee. I'm not giving out about our referee today. It's awful hard to know when it's the last man back. We had defenders running alongside players and I'd argue that there were other guys back so it was harsh.
"Nobody - Dublin included - could understand why a penalty was given in some of those instances."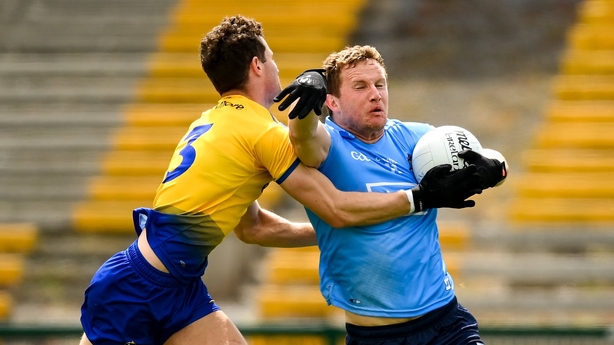 Cunningham was at pains to point out that he was not being critical of the Tipperary referee, but that the new rules were something that threatened games in the upcoming championship.
"In-house games, we all referee them and it's hard at the speed that the game goes," he pointed out.
"I'm not giving out about the referees. They (the new rules) put extra work on the referees. It's extremely hard to call that. We don't have VAR (Video Assistant Referee). We don't have other mechanisms of checking in the replay if it's the last man back, or not, or whether it's a legitimate penalty.
"I don't think whatsoever that the game needed that and there's no reasons why they should have brought it in.
"I hope there's other incidents around the country today that will highlight it. If there's not today there'll be serious consequences come championship or come the end of the league, at critical times.
"I'm not taking away from our performance or that Dublin deserved to win, but they have to go and relook at the rules - there's too much tinkering with the rules."
Reflecting on the effort from his side over the 70 minutes Cunningham said he was happy, despite the result.
"There were some tremendous plays by our guys today. They really applied themselves very well. We learned loads from that game. There's a reason why they're All-Ireland champions and the team of the last decade.
"Every time you play someone like that the decision rests with our players as to whether we can learn from them. We most certainly will. I thought there was a great foundation today from our players.
"We'd be very happy with a lot of the performances. Some guys played for the first time - Eddie Nolan at midfield - so there'll be a huge amount of pluses."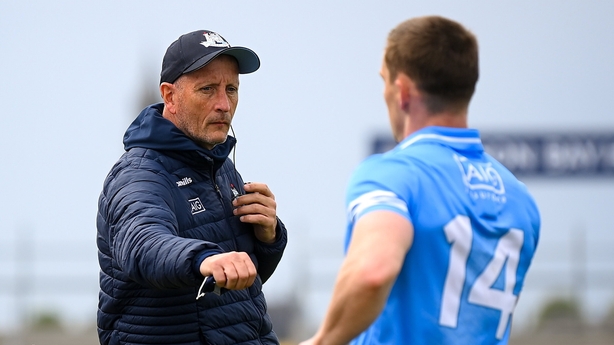 It was an unusual circumstance for Cunningham's opposite number Mick Galvin.
Although a member of backroom teams in the capital over the last decade, this was the Na Fianna's first time taking charge of the senior side in a competitive game.
"Overall we'd be happy," he said afterwards.
"First day out of a strange season. Little bit unsure of where we were at, like all teams. We started well, very efficient in the first 20. Then it dropped off a little bit for the second quarter in that half.
"Finished strongly when the bench came in. I don't think there were any injuries so a good day."
On the new rules, the 1995 All-Ireland winner decided to stay a bit closer to the fence than Cunningham.
"I'd have to watch them back but my initial reaction is that it's quite a tough penalty for a defenders. If you take a man down in those situations you get 10 minutes in the bin and you get a penalty. Today it worked in our favour.
"Anthony was quite frustrated with it but they're just the rules that are in and you have to play with them. We'll see what the powers that be do at the end of the national league. You just have to be careful, and make sure we're on our toes and don't get caught that way ourselves.
"We'll have to see how the games go. It'll be interesting next weekend with two very direct forward lines going at each other (Kerry versus Dublin), how that'll be reffed. At the moment the jury is out."
With Dean Rock absent, Cormac Costello hit 1-13 of Dublin's total, including 1-09 from placed balls, and a mark. And while Galvin acknowledged the Whitehall man's performance, he pointed out that free-taking has been a particularly strong area for the Blues in recent seasons.
"Cormac was very good. A big season for Cormac - competition is very strong in that sector - and we were delighted with him."