Kilkenny may have had a bit to spare at the finish, but hard going Antrim certainly caused them lots of trouble before giving way in this lively Allianz League tie at UPMC Nowlan Park today.
The Northerners, who were defending a 12 game unbeaten run, looked in a bit of bother when 0-6 to 1-11 behind at the break after the opposition had shot nine wides.
However, the losers cut loose after the turn. A blast of 2-4 within eight minutes of the restart had Antrim back level at 1-13 to 2-10 and it was game on.
Kilkenny held their nerve, and when they reeled off the following eight points they opened out a gap of 1-21 to 2-10 to all but guarantee their second win of the campaign.
Daring Antriim continued to chase hard to the finish and while a third goal from Neil McManus in the 61st minute left them there with a shout (1-22 to 3-13) they could not save the day.
Kilkenny were slow to get a strong rhythm going and to impose themselves on the game. They opted to play a strong running, passing game from the off.
A large part of the first half story centred around a well worked and taken Kilkenny goal, and two missed goal chances by Antrim.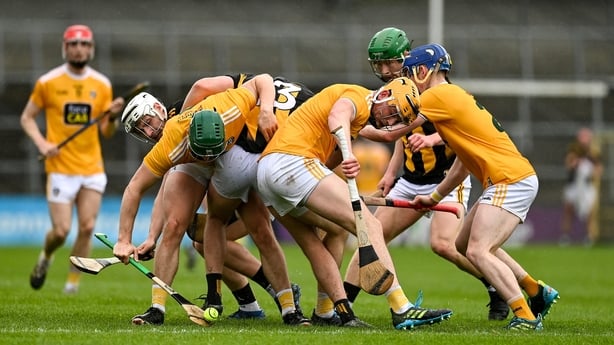 In fairness to the visitors, home goalie Darren Brennan pulled off two top class saves to deprive the Ulster side of big scores. First he deprived Conal Cunning, who rifled a great power shot in from eight metres on the right in the 15th minute and then Brennan did even better in the 32nd minute when saving a well struck penalty by Ciarán Clarke.
In the lead up to the penalty Kilkenny defender, Conor Browne, fouled Keelan Molloy on a run at goal. Browne was shown a yellow card because it was deemed he had prevented a goal chance and he was sent to the line for 10 minutes.
At the start, the teams traded points through Conor McCann and James Bergin, but when Alan Murphy pointed the Cats in front in the fifth minute they slowly moved away from the opposition. The winners were 0-6 to 0-2 in front when Cunning brought the best out of Brennan.
The Kilkenny goal arrived in the 23rd minute after Richie Reid set up Eoin Cody to finish off a five man flowing move that began on the winners 50 line. The divide jumped to 1-7 to 0-3.
Antrim drifted 0-5 to 1-10 off the pace before they were awarded the penalty that Brennan saved. That bit of brilliance led to Antrim falling 1-11 to 0-6 behind by the break with Kilkenny having shot nine wides.
The teams traded points immediately after the turn, but in the 42nd and 43rd minutes Antrim had goals from Conal Cunning and Ciarán Clarke that helped them back to level terms of 1-13 to 2-10.
Kilkenny pinched a point through wing-back Conor Browne to sneak back in front within a minute. Alan Murphy threw over two quick points from frees before Martin Keoghan added to the scoring run for the Cats.
Slowly but surely Brian Cody's men dug themselves out of trouble.
Kilkenny: D. Brennan; T. Walsh, H. Lawlor, P. Deegan (0-01); D. Blanchfield, P. Walsh, C. Browne (0-02); R. Reid (0-01), C. Buckley; L. Blanchfield, E. Cody (1-1), M. Keoghan (0-02); J. Bergin (0-4), A. Mullan (0-3), A. Murphy (0-13(9f)).
Subs: J. Donnelly (0-01) for L. Blanchfield ht; J. Holden for Deegan 45th min; C. Fogarty for R. Reid 55th min; T. O'Dwyer for Bergin 60th min; M. Carey for Buckley 66th min.
Antrim: R. Elliott; D. McMullan, G. Walsh (0-1), S. Rooney; E. Campbell, P. Burke, J. Maskey; K. Molloy, N. McManus (1-0); N. McKenna, J. McNaughton (0-6, two frees), M. Bradley (0-1); C. Cunning (1-1), C. McCann (0-02), C. Clarke (C. Clarke (1-3, (3f)).
Subs: E. O'Neill for N. McKenna (0-1) 48th min; C. Johnston for C. Cunning 52nd min; D. Nugent for K. Molloy 52nd min; P. Duffin for D. McMullan 54th min; D.McCluskey for C. McCann 62nd min; S. Shannon for C. Clarke 65th min.
Referee: S. Stack (Dublin).