Katie Power feels that the merger of the male and female Gaelic Players Associations are already paying dividends, and the Kilkenny star would also like to see the proposed amalgamation of the GAA, the LGFA and the Camogie Association come to fruition.
Returning from a serious knee injury, which caused Power to miss out on last year's All-Ireland victory over Galway, the Piltown clubwoman is looking forward to putting the horror year of 2020 behind her and focusing on the season ahead.
That begins for the camogie inter-county sides this weekend, and while Power is still several weeks away from swinging a hurl in a competitive environment, she is delighted that all recent issues appear to have been resolved.
The camogie calendar needed some strong negotiations in recent weeks and thanks to a consultation with the players, the year should now progress with a firm structure in place, starting with Littlewoods Ireland Camogie League action on Saturday.
"It was different for Kilkenny as we don't have the dual player aspect but it wasn't just about Kilkenny, it was about the whole of camogie," said Power, speaking on this week's RTÉ GAA Podcast.
"We just wanted everything to be positive and thankfully things are completely cleared up."
We need your consent to load this YouTube contentWe use YouTube to manage extra content that can set cookies on your device and collect data about your activity. Please review their details and accept them to load the content.Manage Preferences
Power broke her knee cap last year and had to sit on the sidelines as her team secured the O'Duffy Cup in December, and she admitted that it was a bitter-sweet moment.
But she is determined to make up for it in this year's campaign where the Cats will look to defend their crown and should be an even-stronger unit with Power back among their ranks.
"It was great for the group to get over the line but there were mixed emotions," she said. "As happy as you are for the girls, obviously I wanted to be out there playing so it was extremely tough.
"The tough year is behind me, the evenings are longer and I'm out doing a bit of running so things are improving slightly, and I keep telling myself, I can't have a worse year than I did last year."
And while Power is not in the frame to begin the league campaign, there is a chance that she could return should Kilkenny feature in the latter stages of the competition.
"I'm happy with the progress and looking forward to the summer. Hopefully I'll get back on the field with the girls.
"The group games will come too quick, so the semi-finals are in mid-June, and while four-to-six weeks will bring me along, you'd still be depending on a small bit of luck.
"I want to be right for championship."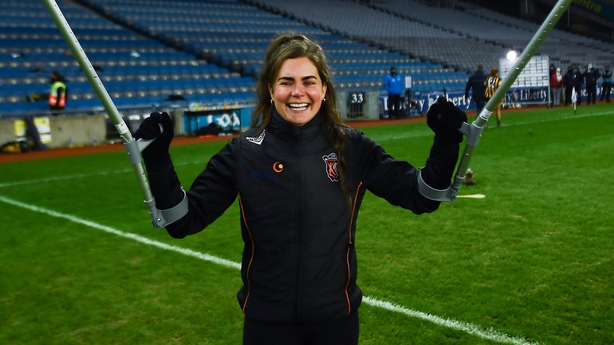 As for mergers, Power can only see positives. And while one is complete, she does not know how long the other will take, so it is not something that she is investing too much energy in.
"The merger between the GPA and the LPGA is already paying dividends. It's only a positive thing to be merged in with the lads as well. We can see the pros to it now and hopefully that will keep the ball moving.
"And it's great for camogie that the funding has come in this week as well and we are as equal as the lads in terms of funding.
"Any camogie player or football player will tell you they would love to merge with the GAA as it would benefit everything from grassroots players to inter-county," added Power about the proposed restructuring of the main bodies involved with Gaelic Games.
"It's definitely something we would love to see. Whether it happens, we don't know. It may happen in years to come. It's a hard one to call, but I would be a fan of it although it is something that we cannot control so we are not focusing on it."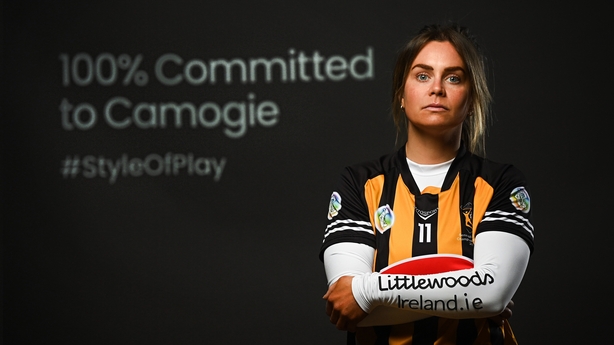 Kilkenny take on Wexford on Saturday in their opening game of the league and Power admitted that some of her team-mates were likely to be feeling the pain as the shortened pre-season has not factored in a full match ahead of the opener.
Power explained that the team eased back into training and have had to focus on the skill-factor in recent weeks to ensure they were ready for the opening encounter.
"It's only been a month since we've been back. In one way it fees ages, and another it feels really short.
"The first week was easy enough and we have been doing it in a controlled manor. We are just concentrating on a lot of hurling now and trying to get sharp and get the bodies right.
"The weekend will be the first full 60-minute match, so I think there'll be a few broke up bodies on Sunday."
Listen to the RTÉ GAA Podcast at Apple Podcasts, Soundcloud, Spotify, or wherever you get your podcasts.
Littlewoods Ireland is 100% Committed to Camogie. The Littlewoods Ireland Camogie Leagues begin this Saturday. Littlewoods Ireland and the Camogie Association will be live streaming a number of games throughout the Leagues for free across @LWI_GAA Twitter