Antrim's win over Clare was the standout result of the opening round of Allianz Hurling League matches, but former Limerick star Niall Moran believes it is patronising to describe it as a 'huge shock'.
The 2020 Joe McDonagh Cup champions are back at the top table of hurling after some years in the wilderness and they announced their return with a 1-21 to 0-22 defeat of the Banner in west Belfast.
Managed by former Tipperary goalkeeper Darren Gleeson, the Ulster team showed great determination and calm to withstand Clare's late fightback to secure a two-point win.
They face Kilkenny in Nowlan Park this Saturday, which will be a step up from Brian Lohan's Banner side, who have endured an unsettled period due to disagreements over politics and finances in Clare.
However Moran told RTÉ's Game On that Antrim are not just in Division 1 Group B to make up the numbers.
"For me, some of the commentary was a bit patronising towards Antrim in the sense it was a huge shock, they're great hurling people in Antrim and all this, which obviously they are, but they are talented players as well," said the former Treaty centre-forward.
"We were talking about it yesterday morning and we said it was a very dangerous game for Clare going up," he added.
"You are playing against a team who are on a bounce after winning the Joe McDonagh last year, plus anyone will tell you when a team comes up from intermediate, they are dangerous in the first round of senior championship the next year and I think that kind of showed."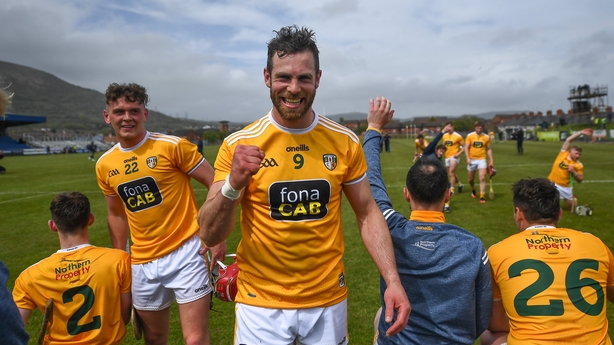 Clare made some errors that might be put down to opening day rust and a short pre-season, while Antrim had some superb performances from the likes of Ciaran Clarke and Keelan Molloy.
"They're a very well coached side, with very good hurlers. My experience the years going back playing Antrim, the days you obliterated them - and there were those days - there tended to be a lot of things fundamentally wrong with how Antrim prepared, and the days when you had narrow victories - and there would have been them too - they tended to gift you a couple of goals at vital times of the game," said Moran.
"Yesterday, when the game was in the melting pot, they were composed, they took the right options," he added.
"It's just patronising in one sense if we just eulogise Antrim for one good performance, I think they'll be looking for more out of themselves before this National League is over.
"Down to Kilkenny next, it's a tough place to go, but I'm sure they're licking their lips at the prospect of going toe-to-toe with the Cats."