Those of a certain age may not be aware that Louth footballers did win an All-Ireland title in the second half of the last century. The year was 1957, when the team, captained by famed musician Dermot O'Brien, defeated Cork to take home Sam Maguire.
It was Louth's third All-Ireland success, placing them alongside Mayo, Tyrone and Offaly in the roll of honour. There is a tradition there, but silverware won since has been scarce. Yes, the Wee County in the years after '57, were always capable of taking a scalp, as Dublin, Kildare and Meath would find out in Leinster combat.
In 2006, Louth won the Tommy Murphy Cup, and in 2010 they went so close to winning provincial honours. Calling the tune for most of the Leinster final against neighbours Meath, they did themselves no favours by looking in the rear-view mirror too soon. The Royals pounced on such nervousness, yet it took a controversial Joe Sheridan goal to deny Louth.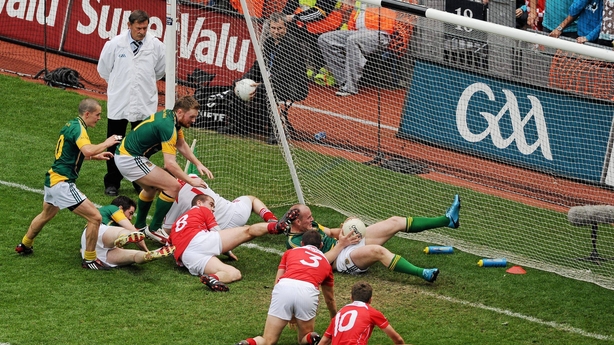 Yes, that goal.
A boil that has still to be lanced for many Louth supporters. Peter Fitzpatrick managed the Wee County on that July day. Before you pick up the phone to chat to him, you think to yourself that surely the man is fed up talking about the chaos that followed Sheridan's goal that should never have stood.
"No problem at all", was Fitzpatrick's initial response to RTÉ Sport.
"You'll never forget the day that a great injustice was done to Louth football. You had the crowds on the pitch, the referee (Martin Sludden) being accosted, which was wrong. I talked to Sludden afterwards and he said that if he didn't award the goal, he would have given a penalty. Why the hell didn't he give the penalty."
To further infuriate the already simmering Louth supporters. Sludden did include in his match report that a mistake had been made. And while Meath were not willing to offer their neighbours a replay, Fitzpatrick felt strongly that the GAA, "our governing body should have stepped up" and showed leadership in making the call to grant us the replay.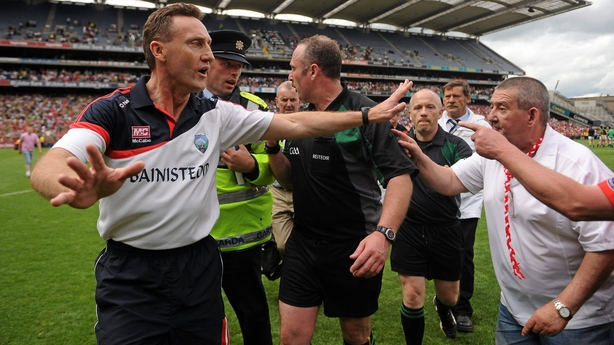 "The GAA should have dealt with the matter, not Meath or the Leinster Council. Days had passed by and I think the GAA were hoping it would go away. Before we knew it, we were back in Croke Park playing the Dubs in the qualifiers.
"What could have been a glorious summer ended with our lads playing again giving their all. We lost, there was no shame in that, but I still feel let down by what happened in the Leinster final. Louth's best team in half a century got a raw deal. It's hard to put it to one side.
"Of all the counties for an injustice to befall them, it had to be Louth."
As Fitzpatrick's charges left the Croke Park pitch for the final time in that summer of much tumult, a banner was unfurled on Hill 16: 'Louth - Leinster Champions 2010'.
That was then. Six months after that low point, Fitzpatrick was elected as a Fine Gael TD for the Louth constituency. He still serves the people, though in 2018 after supporting the Pro-Life side in the repeal referendum, he left Fine Gael and then ran as an Independent in the last General Election. He successfully held his seat. Before entering politics, Fitzpatrick worked in the electrical business and served in the Irish Army for four years.
To listen to him speak, his machine-gun-like delivery epitomises an energetic presence. And when it comes to what's best for Louth football, such energy is driving Fitzpatrick to again think of what is possible for the county. The Dundalk native, in his role as county chairman, is now overseeing some ambitious plans that he hopes will see the Wee County rise again.
In November 2020, an approach was made to Mickey Harte to manage the Louth senior footballers. Harte's tenure in Tyrone had only just ended.
On the initial approach, Fitzpatrick said: "We contacted Mickey soon after Tyrone lost to Donegal in the championship and he said he would get back to us."
And get back to them he did.
"Mickey said yes. Needless to say I was delighted. We spoke more about the structures that are being put in place to ensure some sort of progress, the players that are coming through and the work that Colin Kelly is doing with the development squad, which has been completely overhauled Mickey is also bringing Gavin Devlin with him from Tyrone. They'll also be over the U20s. It's a serious operation.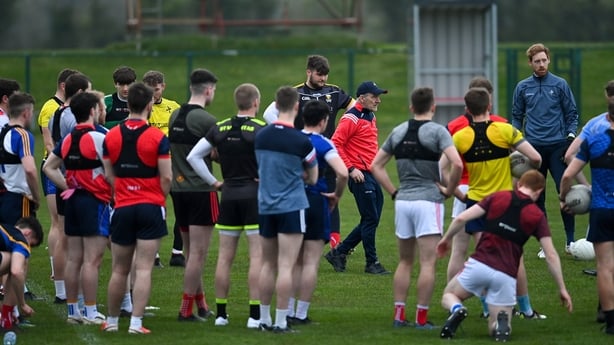 "Mickey is so knowledgeable about football, so positive. I remember when he spoke to us after we played Tyrone in the league in 2012. We had six one-on-ones on goal and didn't score. They had two such chances and did. He told the lads about what could be possible, so detailed in how good things could come about.
"I wanted a top man managing Louth and we have that now. We have given him a three-year deal. That's just the start, for I think getting us back to where we want to be is a three-to-five-year plan."
And where Louth want to be in that time is back in Division 2 and to be also among the runners to contest a Leinster final.
Yes, Fitzpatrick is strongly in favour of preserving the provincial championships. "Kildare and Meath can get to a Leinster final. Why can't us? And in my lifetime I want to see Louth win another Leinster."
You suspect that more than a few eyes will be on Louth when they begin their Division 4 campaign. They are in a section with Sligo, Leitrim and Antrim. Four Ulster managers pitting their wits against each other, with Tony McEntee (Sligo) and Enda McGinley (Antrim) stepping up to county management for the first time, while Terry Hyland will be starting his third year as Leitrim boss.
"It won't be a disaster if we don't get out of Division 4 this year," Fitzpatrick cautioned.
"We're not expecting a quick fix straight away."
Another key element in enhancing Louth's GAA reputation is the development of a new county ground in Dundalk. It's badly needed. The Gaelic Grounds in Drogheda is no longer fit for purpose. In a recent Irish Independent article, journalist Frank Roche ranked the venue as bottom of the list when assessing the country's 32 county grounds.
"For over 60 years we have been without a proper ground in Louth but now we have a site in place to build a stadium that the county will be proud of," boasted Fitzpatrick.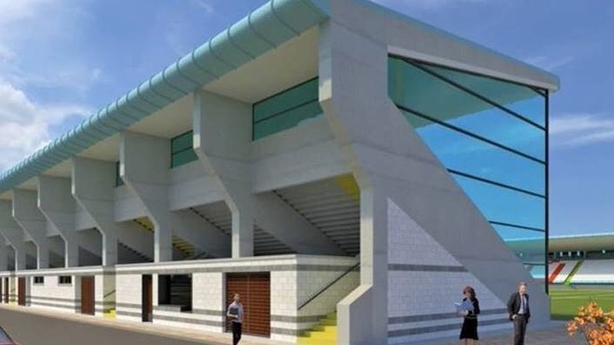 Preparation has already started in terms of drain operations, tidying the site up, and the county board has already put 5,000 loads of filling into the Dundalk inner relief road site.
The new 14,000-seat stadium, possibly rising to over 20,000 in time, will serve as the home of all Louth teams.
It will feature a 4,080-seat stand containing two kiosks, four dressing rooms and a physio room.
The standing terrace on the opposite side of the ground will house 8,470 fans and include a spectators' team room, two kiosks, three press boxes and a storeroom.
Two standing areas will be placed behind the goals, each with a capacity of 725 people, while the stadium will also feature a 145m by 90m main pitch and a 90m by 65m warm-up pitch.
The project will cost €12million, with Fitzpatrick heartened by the number of Louth people that recently bought tickets at €100 each for a double house draw. The proceeds from the draw amounted to nearly 1.3million.
"We have a finance committee in place to help raise the €4million that Louth GAA must put up. The success of the draw shows that support is there within the county. The total cost is €12million, so another €4million will come from a GAA grant and another €4million from the state.
"John Horan (former GAA president) turned the sod on the site a few months back, so Croke Park are committed."
It's a case of build it, with Fitzpatrick confident the supporters will come.
He is also excited at the prospect of crowds being back at sporting venues come July. Going to Oriel Park to see his beloved Dundalk will no doubt be one of the grounds he'll attend. An admirer of the style of play under Stephen Kenny, Fitzpatrick hopes another footballing code will be just as eye-catching .
In a sporting life well travelled, Peter Fitzpatrick, after a lengthy playing career and then management, is now well ensconced in the next chapter for Louth GAA. On and off the field, many eyes will be focused on how the story unfolds.
Listen to the RTÉ GAA Podcast at Apple Podcasts, Soundcloud, Spotify, or wherever you get your podcasts.