Dublin's Paul Flynn never saw himself as being good enough. When it came to football, he always felt he had a journey to go on and that was a key motivator for him during his career.
It forced the four-time All Star winner to train harder than he thought was possible, to critically analyse his performances and to constantly look for ways to improve his game.
During his career, he won six All-Ireland titles and despite all his success he never relented with his training and never stopped pushing himself.
Football was all consuming and Flynn was obsessed but there was nothing he'd rather be doing than honing his skills and playing the game he loved.
We need your consent to load this comcast-player contentWe use comcast-player to manage extra content that can set cookies on your device and collect data about your activity. Please review their details and accept them to load the content.Manage Preferences
"Some people will tell you they had a natural ability and they worked with it, I don't think I was that type of person or player, I had to work hard on every aspect of my game," explained Flynn, speaking on We Become Heroes, an RTÉ Sport podcast.
"There were some raw characteristics that were like my strength or my fitness, but I had to work on everything else.
"I listened to a recent interview with Jack McCaffrey and he was a guy who had the raw materials, he had the talent, and he says himself sometimes things came too easy for him as he went through the years. I'm probably the complete opposite where not much came easy to me at all.

"Even when I had a good game, I'd find it difficult to look back on the tape because I'd be cringing at the things, I felt I didn't do well. In that space, you are always craving people telling you that you did well because you are looking at the negative in a lot of what you did. That was a constant battle because that meant that I always trained harder and looked for that edge."
"For me it was purely down to work."
Kicking was a part of Flynn's game that he really worked at improving. It was something that he came to late but the hours and effort he put him allowed him to make up that lost ground.
Crucially, the wing-forward was surrounded by people who wanted to see him improve and were willing to put in the hours to help him.
"There couple of people in particular who really helped. Pat Gilroy would have set up this kind of kicking school hub. Myself and Bernard Brogan would have went out a lot and Bernard would have been teaching me about striking.
"I would have also done a lot with Michal Murphy when I was in college with as well. We would have went kicking often so I was watching and learning from him and then I was obsessive about it.
"It's an easier thing to work on for your game as a footballer because it's lovely to go out with a bag of balls and go kicking. I always found it much more enjoyable than the gym or running.
"So I just kind of went after it at length. I used to do this funny drill at training, I still do, I'd kick the majority of my shots from the right hand side of the post.
"I would take 90% of my shots from there when I was doing my kicking drills, 10% from other places.
"I felt it was the hardest kick and if I could nail that and the amount of scores I got from that pocket because I used to do a lot of my kicking from there. The lads used to slag me that it was my sweet spot. For me it was purely down to work."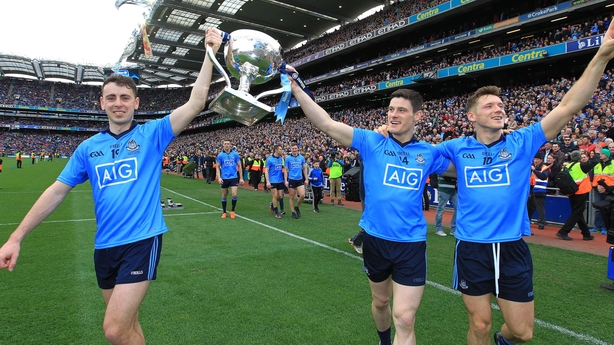 For Flynn, getting the opportunity to develop and improve while playing at the top level was key. That isn't the case for everyone and for the former Dublin footballer it just shows that it's never too late to improve on your skills.
"I remember my first game when we had squad game, and I hit a few big shoulders, I was only a young lad, and these were seniors, I kind of held my ground, and they were impressed with that.
"I was told 'Your skills aren't up to scratch' but I got the opportunity, I got into door and I said 'I'll work on this' and a lot of players don't get that opportunity. I was lucky that they identified the raw talents. I think more coaches should look for that raw talent and try and work with it rather than picking someone who they see as being the finished article."
We need your consent to load this YouTube contentWe use YouTube to manage extra content that can set cookies on your device and collect data about your activity. Please review their details and accept them to load the content.Manage Preferences
We Become Heroes is a podcast hosted by RTÉ Sport journalist Marie Crowe, featuring some of Ireland's biggest sports stars.
You can watch the interview with Paul Flynn above or listen on Apple Podcasts, Soundcloud, Spotify or wherever you get your podcasts.