Inter-county hurling is set to return next weekend with the start of the new Allianz League campaign.
Every county will be involved for five consecutive weekends of action.
There will then be a gap week for all counties before the start of the championship on the weekend of 26, 27 June.
There will be no league final, with joint winners declared from Divisions 1A and 1B.
But there is a caveat that if the top teams in the two divisions end up meeting in championship it will double up as the league decider.
This is similar to last year when Limerick beat Clare in the Munster SHC quarter-final.
The proximity of the competition to the start of the championship could go one of two ways, with managers either trying to give their perceived best XV as much game time as possible, or them trying to see as many players as possible after a long lay off.
Similarly for players, after such a disrupted 15 months for the game, it might be a case of seeking as much game time as possible - particularly for players who might be in the autumn of their careers.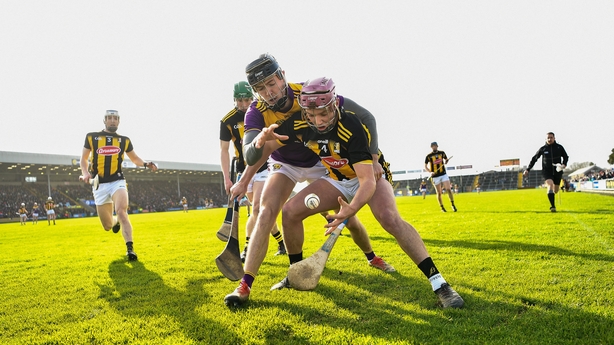 Former inter-county hurlers Shane McGrath, who played with Tipperary, and Offaly's Brian Carroll took up the debate on RTÉ's Sunday Sport, and came to similar conclusions.
"The league has often been seen as not meaning as much and I think this year it probably means the least amount," McGrath contended.
"I think you have to look at what teams are trying to get out of it. I think managers will pick one or two of those games that they really want to peak for. Maybe they'll look at teams they're not playing straight away in the championship.
"So maybe if you're [Kilkenny manager] Brian Cody, you might want to peak for round three against Wexford and have your team really singing for that game.
"For the Tipp lads, round one might be too soon, but maybe they're looking to round three with the Galway game where they really want to be flying it.
"That's the way managers will approach it and you'll see random enough teams from week to week. Managers will be wondering, 'who can I throw in if this guy gets injured?' or 'who can fill this position?'
"I think you're going to see a very strange league - I know it's strange circumstances - and you'll see different 15s from the top three or four every week. They'll be trying to see if they can build a panel to win the championship."
---
---
Like last year the hurling championship will see a backdoor system, whereby teams can afford to lose a game in their province without seeing their season come to an end. This is contrast to the football equivalent, which is straight knockout once more.
Carroll echoed McGrath's sentiments on the importance of the league, suggesting the big positive will be the return of the inter-county game.
"This league, there's a strange feeling to it," said the Coolderry man.
"We're all happy to see the return of the inter-county, and the league. But I suppose, without being unrealistic about it, teams are going to have not just one eye but both eyes firmly on the championship.
"It's about building their squad, rotating their squad, giving as much game time to as many key players as possible while also having a look over the rest of their squads.
"Inter-county managers are trying to find out when challenge games can return because they're going to be playing challenge games in mid-week as well.
"It is a pity that there's no guaranteed league final considering we had a little bit more time to play with this year."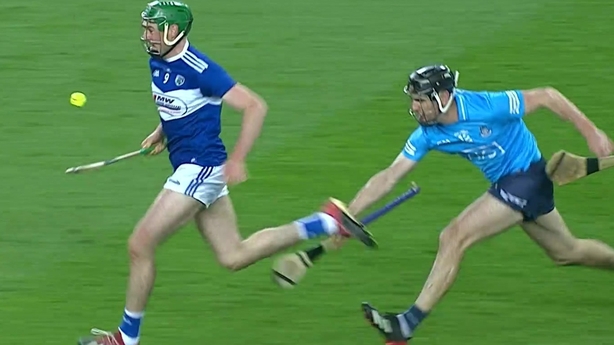 One noticeable difference in the 2021 hurling season as a whole will be the introduction of new rules.
One of these will see penalties being awarded for "cynical" fouls inside the 21 and the arc (or D), while the player who has committed the offence will be sent to the sin bin for 10 minutes.
Carroll admits he has mixed feelings about the changes.
"I know it's been a bone of contention over the last number of years, the cynical fouling, particularly in and around the goalmouth area and just outside the penalty zone," he said.
"It's a step in the right direction. I would have liked to have seen it trialled out as far as the 45, because we have seen instances where players have been cynically fouled or tripped outside of the d-area.
"I just automatically think of Danny Sutcliffe (on Laois' Paddy Purcell, 2020 Leinster SHC quarter-final).
"I probably wouldn't agree with the sin bin - it seems very, very harsh. It's a double penalty."
For McGrath, it'll be good to finally see the new rules in the flesh.
He said: "I'm at a stage where we're all just sick of talking about it and I actually can't wait to go to a match and see it happening in a match. I'm looking forward to seeing it in practice.
"I think it'll probably take two or three rounds before refs and players get really comfortable with it. I'm looking forward to seeing the reaction of those watching the game, and more importantly of those involved in the game, and how they feel about it. They we can really see if it's working, or not.
"I'm probably in favour of both rules. I think it's a good thing and the reward is just."
Watch coverage of the Allianz Hurling League clash between Limerick and Tipperary on Saturday GAA Live on RTÉ2 and RTÉ Player from 5pm
Watch a round-up of all the weekends fixtures on Allianz League Sunday (9.30pm)