Paul Geaney admits he didn't watch last year's All-Ireland football final live.
Dublin beat Mayo to claim a sixth All-Ireland title in a row at a deserted Croke Park, but the Kingdom's campaign had ended in Páirc Uí Chaoimh six weeks previously.
None of that had been in the script. Kerry had brought the Dubs to a replay in 2019, coming within a few minutes of denying them the historic five in a row. So a year later, a bit more mature, they wouldn't leave the victory behind them again against Dessie Farrell's men.
But their near neighbours intervened and we never got to find out.
"It was a disaster really," Geaney says of that defeat to a last minute Cork goal.
Injury kept him off the field that day, and Covid-19 restrictions meant he couldn't travel with the squad.
"I watched it in the pub with my father on a big screen. Empty bar, height of winter, the weather was miserable, and the next thing a late goal and we were pipped.
"Watching that game, and I know supporters were in the same boat, if you've read George Orwell's 1984, this was room 101.
"I've watched it since, but I didn't watch the All-Ireland final on the day. It was too fresh still.
"I totally tuned out from the championship in a lot of ways after that - unless it happened to be on the TV. I was looking to get my injury right in one sense, but I was also looking to take a mental break from the rest of it.
"I was in a cocoon of getting my body right."
That leg injury is in the past now, and Geaney wasn't giving too much away when asked how close he got to playing in last year's championship.
"I was close enough to be able to get back into trainings but I wasn't ready for Cork," he points out.
"That's the nature of sport. Injuries crop up and you've to deal with it. I was hoping to be back shortly after (the Cork defeat) but there was no real time frame on a return.
"There is no point in speculating about whether I could have been back for an All-Ireland semi or final - we didn't make it, so that was that."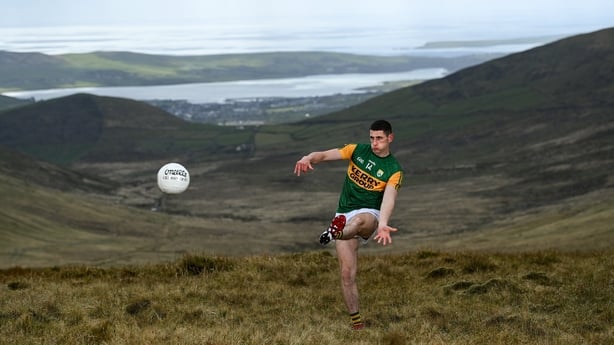 While there was massive disappointment within the squad around the loss in the southern capital, Kerry still begin the upcoming Allianz League campaign as defending champions.
They'll have games against Galway, Dublin and Roscommon, as well as either a semi-final or relegation series game, at least.
That'll prepare them for a crack at Clare in Munster.
"We won the league [in 2020], and it's a fair enough reflection of the year in that it accounts for many games," Geaney opines
"It shows that there is steel in this team and there is an ability to get results and put it together.
"It's just about doing that now in the championship.
"I told my wife that I heard the cuckoo there the last day. She said that her dad (Paidí Ó Sé) used to say that when the cuckoo comes out it's time to get in the zone and that it's time for the backs to get close - he didn't have much time for the league!
"Of course we want to win the league this year."
Maybe it's a bit of truism to say football is a young man's game, but what defines "young" seems to be changing all the time.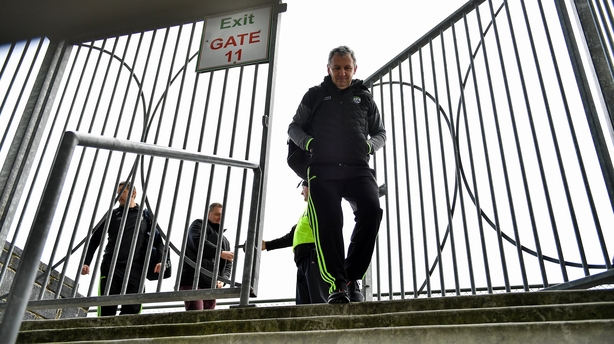 Geaney, at 30 years of age, describes himself as an "elder statesman" of the Kerry team and the recent retirement of defender Peter Crowley, who is the same age as Geaney, is a reminder of how short a career can be.
Rumours about unrest in the camp acted as something of a distraction in the winter months, but the Dingle man says there was no truth in any of it.
For him, it's all about 2021 now.
"The rumours were nonsense, and just to put a bottom line on it we're fully behind the management team. I couldn't be stronger on that.
"We've learned our lessons from the Cork game and we're looking forward to showing what we've learned over the past two years.
"This team has developed an awful lot. One bad defeat doesn't make you a bad team and we're hugely enthusiastic about this season."
Geaney is a publican by trade in Dingle and he reckons they have been open for three months in the last 12.
---
Listen to the RTÉ GAA Podcast at Apple Podcasts, Soundcloud, Spotify, or wherever you get your podcasts.
---
As such this week's announcement about outdoor dining is a welcome one. Like many, he's found the last year to be challenging.
His business has had to adapt to keep trade moving in these most unusual of times.
"We kitted out an auld van and we've been bringing it around the community for the last three or four weeks. We're delivering food and pints out the back of it.
"We've managed to get up and running a small bit. Through that I was able to meet people as well. The excitement of delivering a pint to a fella who hasn't seen one in a while - it was like being Santa on Christmas morning.
"Of course football comes into the talk and you could see the excitement in people once we got an idea of dates [for matches]. They're sick of soccer and the few bits that are on TV, especially in Kerry we're all football-mad people.
"The pubs will be back but I'll take a back seat from the industry again for a few weeks and we'll be all right."
Different Backgrounds; One Association – Doireann O'Sullivan, Sarah Dervan, Paul Geaney and Dan Morrissey were taking part in the GPA's Return to Play event to mark the first season where all senior inter-county players are part of the one player association.