Noelle Healy has reflected on her remarkably successful Dublin football career and said "there's probably no right time but maybe there's a good time" to walk away from the inter-county game.
The five-time All-Ireland winner announced her retirement last week after a brilliant 13-year career.
Healy, a four-time All-Star, was part of the All-Ireland winning side in 2010. She suffered three final defeats in a row to Cork (in 2014, 2015 and 2016) before helping the Dubs achieve a four-in-a-row between 2017 and 2020.
She also won ten Leinster titles, a Division 1 league title, two Division 2 crowns and was named the 2017 Footballer of the Year.
Still only 30, the St Brigid's club member has had an incredibly busy year in her work as an intensive care doctor and anaesthetist. It left her with a difficult, but ultimately inevitable, decision to make, but Healy leaves with tonnes of memories and plenty of medals.
"It's nice to bow out on a high note," she told RTÉ's Sunday Sport.
"The demands of the job for the last few years since I qualified have probably remained constant. The demands of inter-county have probably increased slightly but for the majority of the time I was happy enough to balance it.
"Towards the end of last year I suppose I felt myself that the enjoyment I was getting from it wasn't balancing up with a little bit of the stress and demands that were being put on to try and organise things.
"I sat on it over Christmas and over the last few months and then I knew myself the appetite really wasn't there to come back to it when it was announced the teams were coming back together and training.
"I spoke to Mick (Bohan) and explained the reasons. He was thankfully very understanding was hugely supportive of my decision and the reasons behind it. It wasn't something I jumped into."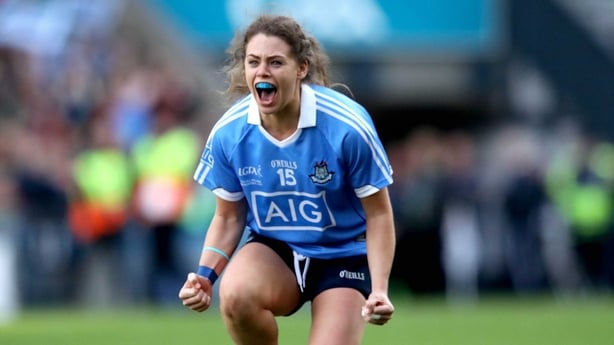 Healy detailed the pressure she and her colleagues have felt over the last 12 months as the Covid-19 pandemic threw up unprecedented challenges.
"I was working in Temple Street Children's Hospital last March when everything started kicking off," she said. "Thankfully we didn't really see too much of [Covid] there.
"I moved on to St James's Hospital so I was dealing with adult patients in the ICU there and the same at St Vincent's Hospital from the start of January this year.
"So it was just massively challenging, the few months leading up to Christmas, and then after Christmas as well, the sheer volume of patients that were coming into our ICU, how challenging they were and how sick they were was something we never really thought we'd experience.
"I think it's been well documented the healthcare workers who have unfortunately lost their lives throughout the pandemic treating people. You can't underestimate the effect that has on people."
Looking back on her favourite days in sky blue, Healy said the titanic battles with Cork were a defining memory.
"The matches against Cork are the ones I've cherished and enjoyed the most over the few years. Even the ones we've lost have always been phenomenal battles.
"The nature of the season it was last year - us all being apart for so long, the challenges faced in terms of not being able to do the preparation and video analysis and have access to each other that we'd usually have throughout a season - to overcome those obstacles and still be successful was hugely satisfying for us as a unit."
No doubt opponents will be relieved to see the back of her but Healy confirmed she'll still be doing her thing in the club game.
"I got a very panicked message form my Brigid's manager on Monday morning asking if I was free for a call. I think he thought I was hanging up the boots permanently! He got good news."