Mickey Coleman thought he was doing all the right things.
The Tyrone man's daily routine was pretty simple. He looked after himself, worked hard, tried to spend as much time with his family, kept in touch with all things Irish and, in the midst of a hectic lifestyle, he kept fit too.
Living in the Rocklands area of New York, he would rise each morning at 5.30am, hit the road to his office in Manhattan for 6am, where his company, Shoreline Construction, was based.
When Coleman came to the Big Apple a decade ago, he was like thousands of Irish who have worn a similar path arriving in NYC, a small fish with big dreams.
He got there. Dreams became a reality. These days his company employs 80 people, they look after everything from drywalling to interior work. The talented footballer and musician made it in construction too.
"A lot of hard going," he says when asked how a lad from Ardboe got a company up and running in the biggest smoke of the lot.
As busy as he was, the goal at the end of each day remained the same – get back as quick as he could to his wife Erin and two boys – six-year-old Micheal and two-year-old Riordan – play with the kids for a while and read them a bedtime story before they turned in for the night.
"After that it was a bit of fitness work," he said. "I built a gym at the bottom of our garden, it has bikes, squatting racks, the whole lot. I worked hard to keep myself right. The gym, Crossfit, I'd run three miles three times a week.
"I was in the best shape of the past six or seven years, to the extent that I was even considering going back to play ball with Rockland GAA this year in the New York Championship. You know yourself, maybe 20 minutes on the edge of the square or something.
"I guess I can say goodbye to that now," he smiles ruefully.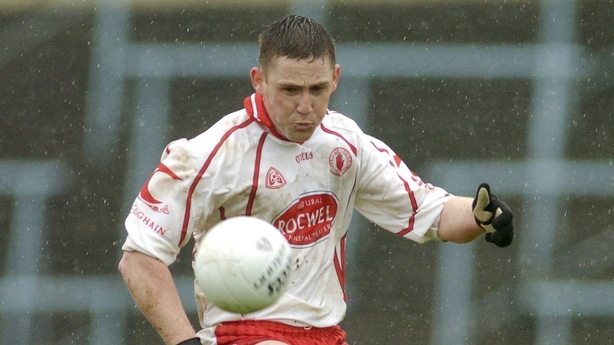 He doesn't need the paramedics that saw him flatline three times in the ambulance, nor the nurse that attended to him and administered CPR for six minutes, nor the doctors who cared for him in the specialist labs, to tell him how lucky he is.
Coleman knows that better than anyone.
One evening, just a couple of weeks ago and back at the tail-end of March, he came home after a three-mile run. Erin had left a sandwich out for him and the boys were asleep upstairs. Just like he did every evening, he sat to wind down and catch up on the RTÉ News and all Irish current and sporting affairs.
Coleman may be a decade in New York, but the home fires burn brightly still.
He sponsors his home club, Ardboe, and was a founding member of Club Tyrone New York. He lives thousands of miles away but, in many ways, he's not budged an inch at the same time.
He sat down to watch the news when it hit him like a bolt.
"I got this pain in my chest, nothing like I ever had before," he recalls.
"I knew it was a heart attack straight away. It had to be. I never experienced anything like it. I ran up to Erin, told her what was happening and asked her to ring 911.
"She brought me downstairs so the kids wouldn't see the paramedics if they woke up. I got jaw pain then, so I knew for sure it wasn't good. The last thing I remember is kneeling on one knee in the living room."
"She saw my age on the chart, saw the wedding ring on my finger and someone said we had two kids. She gave six solid minutes working on getting me back. She kept saying to a colleague, 'this guy has kids, we gotta keep him alive'."
He reckons he endured 10 or 15 minutes before the paramedics arrived. They were in the house about a minute when he cried out for someone to help him.
And then he keeled over. That's the last he remembers.
He flatlined three times on the way to Montefiore Nyack Hospital.
Once inside the hospital the medics continued their efforts to resuscitate him.
"On the day I was discharged, a nurse came up to me and told me about when I was brought into the hospital," he adds.
"She saw my age on the chart, saw the wedding ring on my finger and someone said we had two kids.
"She gave six solid minutes working on getting me back. She kept saying to a colleague, 'this guy has kids, we gotta keep him alive'."
But Coleman, still only 41, holder of two All-Ireland senior football medals from 2003 and 2005 with Tyrone, was in the fight of his life.
He gave three full days on life support.
Not long after his admission, Erin was called into a room with two doctors and told that her husband had suffered a massive heart attack known as the 'widow-maker' which is caused by a 100% blockage of the left anterior descending artery.
"It has about a 6% survival rate," Coleman states.
The doctors told Erin that Mickey was being brought to a catheterisation laboratory, better known as a cath lab, an examination room with diagnostic imaging equipment used to visualise the arteries of the heart.
Coleman didn't know it, but the lab had only that day opened in the hospital. Had he been there even 24 hours earlier he may have had to be transferred to a different clinic.
"Thanks to the lab opening they were able to examine me there and then and they did an emergency procedure, put in a stent to try and release the blockage. They had warned Erin it was touch and go," he says.
"The operation went well, thank God, but that wasn't the end of it. They went back to Erin and said they had got my heart going again but they didn't yet know what way the brain was.
"The result of that was that they wrapped me in some form of material and dropped my body temp to 30 degrees. This lasted for a day and a half.
"On day three, thank God, I started to respond, and I even managed to squeeze Erin's hand at one stage."
When Coleman eventually woke up and regained consciousness, he saw a good friend by his side.
"It was Fr Fitzgerald, the parish priest at Woodlawn and a friend of mine these past few years. A Kerryman. There to look after me."
It was all a bit overwhelming. While Fr Fitzgerald was there in person to deliver a blessing, Coleman, once he came fully around, was staggered to see the level of support and warmth that came his way.
"I'm still struggling to deal with that," he says.
"One message that really stood out was a video from each member of the 2003 Tyrone team. The boys recorded individually, and someone put it all together. That was just unreal – hard to put words on that."
Another 50-minute video followed with messages from some of Ireland's most well-known political, sporting and entertainment figures.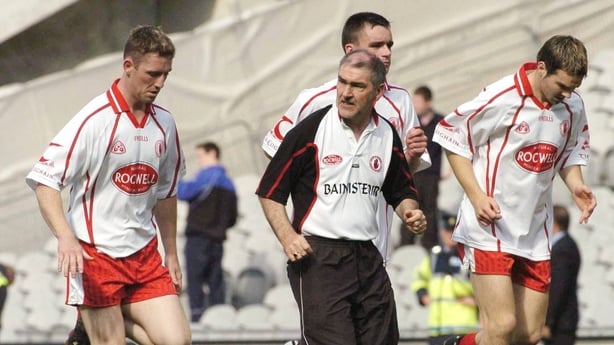 Coleman, also a talented singer-songwriter, had made a lot of friends over the years. In his darkest hour they were all there for him.
"Still can't get over it," he says. "The GAA has always been the centre point in my life, from a child through all my adult years and the friendships I have are 90% from GAA and music. And the messages came from everywhere. It's taken me completely aback."
He was released from hospital last week and knows he has a long road to travel. As we chat, he reveals it's his 42nd birthday.
"I thank God I got to see it," he says. "I thought I was invincible. I would just say to anyone who reads this – of any age – to go and get checked.
"Get the dye test, get the Ecco. I am one of the lucky ones – the paramedics were with me within one minute of me collapsing.
"Physically, I know I will bounce back but, mentally, it's going to be a challenge. For most of the days I am fine but then I find myself tearing up at what might have been for Erin and the kids. It's a trauma no doubt and my biggest fear is, will this happen me again?
"How did this happen me? I thought I was eating right, I was fit. Then again, the surgeon says to me that the reason I made it was because I was fit. He said lifestyle hadn't been the cause of what happened me, but I'm just thankful luck was with me and thankful that I was fit. Because my fitness kept me alive.
"It's all ahead of me now, there's a lot of inflammation around the heart and I have cardio specialists and dietary experts to see now to ensure my recovery is underway. But I've already started on that road. It's the fight of my life but I know I'll get there."