It's disappointing not to be in the squad for tomorrow's preliminary (semi) final against Melbourne.
It's going to be a tight match and the fact that they have already beaten us this season provides decent motivation. Anything below our best won't be enough.
It's a huge game and reminiscent of 2019 when we played our prelim final in Adelaide Oval, knowing that if we won the grand final would be back in Adelaide with thousands there watching.
But now, it's from a different perspective. As emergency reserve, I'm not going to be running out with the rest of the girls, unless something drastic happens over the next 24 hours.
Obviously, you don't want anything to happen to anyone but - in case it does - you have to be physically and mentally ready to play one of the biggest games of your life. You're in limbo and it can be quite draining.
You have to prepare as if you are going to play, right up until the first warm-up, but also fight away the demons that you know you're 99% likely not to get a game and the anti-climax of that.
You have to put your brave face on and your best foot forward because it's a team sport and it's not about you individually.
We need your consent to load this Instagram contentWe use Instagram to manage extra content that can set cookies on your device and collect data about your activity. Please review their details and accept them to load the content.Manage Preferences
I guess the positive of being one of the two emergencies is that you're pretty close to being in the team.
It's very hard to break into a winning side, and those of us on the fringes knew it wasn't going to change much this week because the girls are playing so well.
But how well the squad has pushed each other is probably one of the main reasons we're coming into a semi-final.
Even though we finished top of the ladder on scoring difference, Erin Philips was our only player on the team of the year and I think that's a sign of how squad-based our performances have been.
Cora Staunton (pictured below) of the GWS Giants was on it too. She's been kicking goals for fun just like she does back home.
Everyone knows who Cora is out here and she's definitely an inspiration for all the Irish girls.
All four teams finished with the same record (7-2) but I would tip Brisbane, just about, in the other semi-final. Collingwood have been very good for the whole season but Brisbane have more experience at the business end.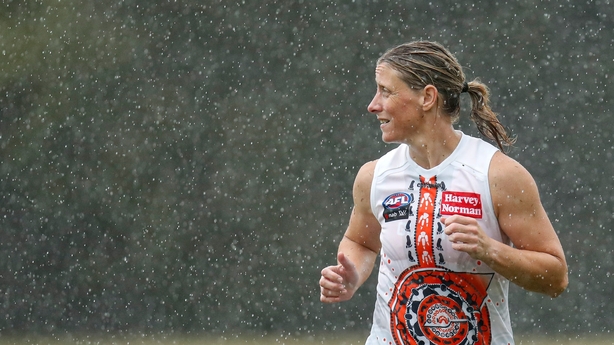 I had a bizarre incident last week when I went running in a public oval and got badly bitten on the hip by a massive German shepherd that went for me and pinned me to the ground.
The dog's owner tried to tell me it was my fault for appearing behind him.
I needed a tetanus shot and painkillers and couldn't train for the week. You would think in Australia you'd be more likely to be attacked by a shark or a snake!
It's been that kind of season - a series of unfortunate events.
Coming out I didn't expect to get too many games because of quarantine and my limited preparation.
I was fortunate enough to play well in the trial game against GWS and got picked for rounds 1 and 2 but then I got the concussion that has pretty much ended up taking me out for the year.
I automatically missed the next game because of the protocols and the second was too tight a squeeze without contact training.
Then you're looking at girls who have had two weeks of solid performances and that's very hard to change. It just broke the momentum I had and after that it was hard to get back in
It's not that I've done anything wrong in training or had a bad game. I think I've given everything I possibly could have, and have even improved, but I've just been unfortunate not to get a consistent run as the others are playing so well. Sometimes you need a little bit of luck.
Coming towards the end of a season, next year is always in the back of your mind. Knowing you haven't played as much as you would like to is a worry.
The reality of professional sport is that it could be over at any moment, you may not get the offer from the team.
We haven't had any contract talks yet and we won't until the season is over.
I really wouldn't want to leave Adelaide so I'll be hoping I've done enough to warrant another contract offer. I really like it as a place and a team.
I'm sure over the next few weeks conversations will be had and I'll know how big a suitcase I'll need for my flight home.