The GAA are set to reveal their roadmap for the 2021 season before the end of the week.
And once again, this time through its monthly club newsletter, the association has reminded members to hold firm as the return to play process nears.
While inter-county teams can return to train from 19 April, youths under the age of 18 are allowed a non-contact return on 26 April.
In a message to members yesterday, the GAA newsletter for April called for all units to strictly observe all protocols.
"Breaches at club and county level in recent weeks have brought the spotlight on our association and threaten to undermine the significant work done by the majority of members in the face of the pandemic," the newsletter said.
One day after the association made a similar call last week, a group of Dublin footballers were photographed training and their manager Dessie Farrell was subsequently suspended for 12 weeks by the Dublin county board.
A formal schedule is set to be ratified by the GAA tomorrow once county committees have been consulted.
The GAA's Covid-19 advisory group, Central Competitions Control Committee and Management Committee are all involved in the formalisation process.
Croke Park officials aim to begin the 2021 season with inter-county activity and there is a strong appetite to hold the Allianz Leagues which could commence in early May and run for five weeks.
There is much support among Division 1 and 2 hurling counties for a minimum of five games in this year's Allianz Hurling League top tiers meaning that the hurling competition could start a week earlier than the football equivalent – possibly on 8-9 May with the football commencing a week later.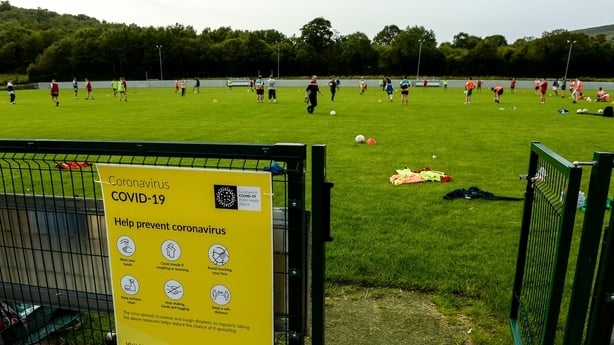 Last week, the GAA contacted Division 1 and 2 hurling counties to measure their opinion on whether a minimum of five or three leagues games is preferred - with the former gaining much wind behind its sails.
Despite obvious time constraints, there remains a willingness, if possible, to give counties a break between league competition ending and the championship starting in mid-June.
Like last year, the football championship could run on a provincial, straight knockout basis with one back door allowed for hurling.
When the championship is completed near the end of August it would leave the period between September and December free for club championship action.
While GAA club training can begin in the north on 12 April in pods of 15 or less, the association suggested that adult club training could resume in the south in May, and has urged members to engage with its 'Be Ready to Play' programme and prepare a structured plan for return in the coming weeks.
"There is no fixed date on when adult club training can resume but it is hoped that this might follow soon after some time in May if Government permits," the GAA's latest newsletter said.
"In advance of all activity there will be advice issued on how clubs can reopen and host players safely,"
While there was no club action from March to June and from October on, there were 5,692 injury claims in 2020. This was only slightly less than the 2019 figure of 6,288 injuries.
With a lot still up in the air regarding club activity, the 2021 provincial and All-Ireland club championship games, if necessary, could carry over until early 2022.
It is a complex fixture rollout that's looming. For instance, there are 11 counties who still have outstanding 2020 domestic campaigns.
In addition, the 2020 minor hurling and football and under-20 hurling competitions are unfinished.
It remains to be seen what approach is taken to minor and under-20 for the 2021 campaign.
Running the 2021 inter-county minor campaigns parallel to the senior championships is also an option while a later start for the under-20 series could be considered - but again it will be challenging for fixture-makers to fit everything in.