Offaly GAA chairman Michael Duignan says a new spark has been lit within the county after a joint venture between the county and its 41 clubs surpassed €200,000.
The figure, stemming from a 5km Grand Canal Walk fundraiser, will be split evenly between the board and its clubs.
And former All-Ireland winner Duignan says the five-week campaign has not only united the county set-up - but clubs and communities too.
He also insists the fundraising success is just one landmark on what he hopes will be a fulfilling journey for the county.
In January, there were three people on the county's coaching staff. By January 2022, Duignan wants 11 coaches employed.
"There is a road ahead and we are beginning to get a very clear vision of what is needed to get there," he says.
"We have formed a great team here on the county board and we are working hard to get Offaly back to being the best we can be.
"The areas we are looking at are club development, coaching and games, and ensuring financial stability and we have started work in all of those areas.
"We have just taken on two coaches in recent times, a Games Development Administrator and a Games Promotion Officer. Another eight clubs have applied to bring GPOs in, they have completed their audits. and are ready to proceed in that process.
"We are looking to have a coaching team of 11 or 12 people in place by next January and we're looking at the funding model around that. We know where we are and where we want to go.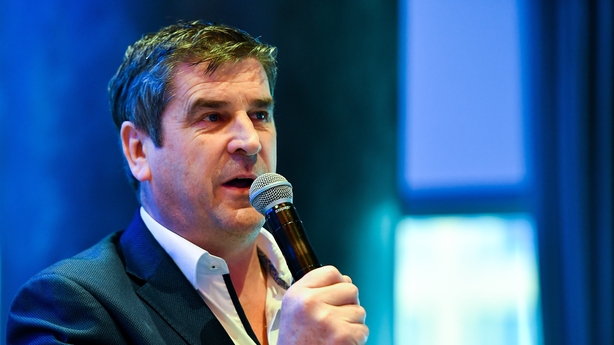 "We have a good vision and there is a great atmosphere. It's a small county with a huge GAA presence and I feel a new spark has been lit here."
Over 7,000 people were involved in the fundraiser, less than 10% of the county's population.
With a cash deficit - gate receipts fell from €359,000 in 2019 to €89,000 in 2020 - there are plenty of financial challenges facing the county, and many others across the country.
"Yeah, tough times," Duignan says. "But we're in the middle of a strategic plan here that will have an essence of county and club. We will meet all 41 clubs as part of that process and issue them with short-term goals.
"No target was set, money wise, for the Canal fundraiser but what we were doing was trying to get engagement back within the county, to get people to be involved and part of it.
"Our clubs went through the mill and we wanted to engage with them. That's what it is all about, opening those channels again.
"If we manage to get back into an All-Ireland final in the coming years, and it's a big 'if' I know, how many tickets would we sell? 15 or 20,000?
"If we could engage with those people and try to ask for €20 a year then we could fulfil our dream a lot quicker.
"We have our own way and our own style in Offaly but now we have a spread of present and past players, club volunteers, young and old, male and female, all working with us and it's a great spread.
"But the one thing we have realised is to work on the strategic plan and keep working on the ground – the most important thing for us going forward is player participation.
"Traditionally, management committees and county boards have headed structures in counties, but we now want the player to be the epicentre of everything in Offaly – from nursery, club, school, college, underage to those who play elite. We want a pathway there for those people all the way up."