With the GAA currently waiting for word of a potential return to inter-county training, Kildare Under-20 football manager Brian Flanagan has urged the association to keep the grade on its priority list.
After his playing career came to a premature end in 2014 at the age of 29 due to a persistent knee injury, Flanagan is one of the most impressive coaches on the circuit.
He joined the Kildare senior set-up under Cian O'Neill and has also coached his native Johnstownbridge, the Kildare juniors, DIT's Sigerson Cup team, and worked with the Westmeath senior camp last year.
He fears the U20 grade could be at risk if the GAA do not get sufficient time to run off all of its games if the go-ahead from the Government is forthcoming.
"You get a sense that if you are managing inter-county senior or minor teams that you will hopefully have a championship and can be confident about that," he told RTE Sport.
"But for U20 players and managers you fear that this grade could be in danger of losing out with time pressures and that's the sense I get.
"We know the GAA will do all it can to keep competitions and games and it would be a real shame if anything happened at this level because these lads have already missed so much.
"If we are truly serious about the U20 grade being a developmental grade, we have to acknowledge that it's a developmental phase not just with football – but in their lives too, socially, personally academically.
"I would just plead to give them a chance to play if we get the green light from the government. It would only be a six-week straight knockout championship."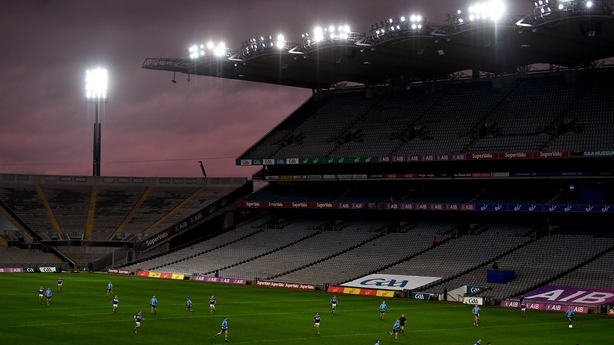 Flanagan has sensed different challenges emerging from his own crop of 18 to 19-year-olds in the past few weeks.
"It has impacted greatly on their lives, their personal development, their academic life. Some of them have missed the Leaving Cert, their first year in college, Freshers football, Sigerson football, exams.
"They have been sitting in their kitchens for the last 12 months and I feel this group needs something now.
"Many of them around the country wouldn't have had their Under-21 or minor club campaigns finished last year and some of them won't get to play county again after this year and I just have a fear that it could be taken away from them again this season if we don't get enough time to play all the games we want.
"That will have a massive impact on them going forward."
Flanagan says his own group has been brilliant to work with, albeit remotely.
He recounts how they have done all they can in terms of core work, making mobile gyms in their houses, working with medicine balls and conditioning programs.
But he says it cannot last.
"They've done everything we have asked for two to three months privately and remotely but they simply can't keep it going.
"These lads want to be out; they just want to play bit of football on the pitch.
"Real fatigue is setting in now and a lot of them have not seen friends as they don't want to be bringing anything back into their homes.
"They have adhered to the guidelines and they are mad keen to get back to a pitch, whilst still applying common sense in relation to the restrictions and public health advice.
"They want to play the sport they love and we must remember that, if we get the green light to return to games. it's important to recognise these lads, their clubs and families and understand the pride that wearing a county jersey at this level would bring.
"All over the country county U20 teams have put in huge preparation. The competition is only in existence a few years and we just want to put the case forward how important it is that it will be played."