I've spoken before about how privileged I feel to play for this Adelaide Crows side, which is crammed with such immense talent in every position.
The flip side to that is if you drop out of the team, it's incredibly difficult to get back in.
My spell on the sidelines with a concussion injury wasn't that long really, but in a short, busy season, any time you miss out on can be very costly. That has proved to be the case for me.
On Thursday night I learned that I would not be in the panel for Sunday's home game against Collingwood, our final match of the regular season.
Last week I was named as the emergency reserve, which leaves you in a sort of purgatory where you know it's very unlikely you'll see any action but you have to stay completely tuned in just in case you are required.
In the end my services were not required.
The positive thing this weekend is that I will get game time because I'm once again going to play with West Adelaide Football Club against Central District in the South Australian National Football League (SANFL).
If the Crows win at the weekend we could end up finishing second, which would give us a pathway straight to the playoff semi-finals. Otherwise we'll go into what are effectively the quarters. Either way, we are definitely in the play-offs so there's time for me to hopefully get back into the side.
It's been almost a month since I first played for the Westies and I must say I'm excited to be returning. They are such a great group.
Nothing beats minutes on the pitch; having that sort of competitive challenge simply can't be replicated
I'm still getting to know some of the girls - I've only met them once or twice - but they were incredibly welcoming when I walked into the changing room the first time. I had a great time in that match too, playing well and feeling quite sharp. Nothing beats minutes on the pitch; having that sort of competitive challenge simply can't be replicated.
The girls seem happy to have me back as well, even though they're disappointed that I haven't made the Crows squad.
It's a midday kick-off on Saturday which makes the recent cooler weather all the more welcome. My fair Irish skin suffers under a blazing Australian sun so I've been delighted with the drop in temperatures the last week - albeit it's still in the 20s.
It's been a bit of unusual week in training. I think the defeat to Melbourne two weeks ago was the moment everyone realised we were in make-or-break territory. Since that game we've really stepped it up.
Everyone seems to have gone up a level day to day. We all know we're heading towards the business end of the season and there's very little room for error. Needless to say there's not one player who isn't desperate to be involved.
On Monday, our coach Doc had a short session with just three of us because most of the team were recovering from Sunday's win over the Western Bulldogs. It was unusual because it was such a small group, but it was very productive. We got to work on things one-on-one before the rest of the players came back on Wednesday for what was a lighter session.
We'd get away with losing this weekend in the sense that we are guaranteed a spot in the play-offs but after that there's no safety net. Everyone is hungry.
I will admit I've found the last two weeks quite hard because I haven't featured and you start to fear you're slipping into a routine of not playing. There's an anxiety about getting rusty but that's why it's so crucial to give it everything in training to show you are ready when your time comes.
It's crazy too how quickly this season had gone. This is actually a longer campaign than we've ever had before but it's still absolutely flown by.
Once that first game comes around it's like jumping on to a moving train. You hold tight and try to enjoy the journey but there's so much happening around you that it's impossible to take a breather. It's been tough but immensely enjoyable.
Here's hoping we can crown it with a piece of silverware.
Normality in Adelaide is hard to get used to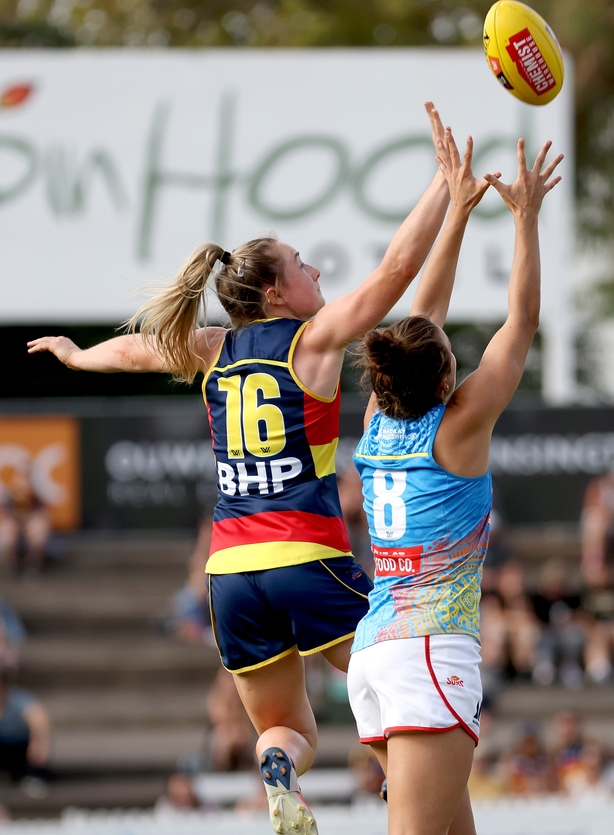 I FaceTimed home the other day. While I was on the call, which I made on my way to a cross-training session, I walked into a coffee shop.
My sister cried out to me, 'Ailish you haven't got your mask on!'. I had a brief moment of panic before I realised, 'well we don't have to wear masks here'.
We don't have to wear them anywhere other than in the airport. It's a completely different world to Ireland.
Initially when I came back over it did take me a little while to adjust to the sense of freedom you have. You can go shopping, go to a cafe, go to a bar. In the last couple of weeks they've started to allow people to dance in pubs again while thousands of people attended the recent Adelaide Fringe Festival.
Being able to do all these things actually overwhelmed me at first, and it's only in the last couple of weeks I've started to appreciate just how fortunate we are here. We are lucky and privileged to be in this position.
Please God Ireland follows suit soon and a brighter summer lies ahead for all of us.