With a return to sports training due for 12 April in the north, Tyrone coaching officer Damian Harvey has called for a flexible approach from the GAA as teams prepare to resume activity.
The Northern Ireland Executive yesterday confirmed that sports clubs affiliated with recognised Governing Bodies could resume training in small groups of up to 15 people - but with all indoor spaces closed except for essential toilet facilities.
Shortly after that announcement, Ulster GAA released a statement, urging teams not to return to training before that 12 April landmark. 
The Council said it would take further guidance from the GAA's Covid Advisory Group before deciding what was next.
Many leading figures and county board officials have called for the Association not to return until all 32 counties are in a position to do so. 
However, there have also been increased calls to let children and adult players in the six counties resume when permitted – in this case, 12 April.
Harvey agrees with that latter perspective. "The GAA need to show flexibility here," he says. "They have shown excellent leadership so far and I have no doubt they will again. In my opinion, I don't think it would be right for everyone to sit and wait if teams from one area were ready to resume some sort of activity." 
"Throughout the last year we have seen different regions of the country treated slightly differently – counties like Laois, Kildare and Offaly had separate lockdowns, for example, which affected club games in those regions, while games went on in other areas."
"If it's decided that the six counties are free to resume well then it is important to let them go back training anyway, to let youngsters out onto pitches. We are not talking about competitive stuff straight away, just a need to get back on the field.
"It would be ludicrous if rugby and soccer were up and running here and the GAA were hanging around waiting. We would surely be in danger of losing players to those codes.
"First of all, let's get back on pitches and get back training. Let's go from there and hopefully the GAA will show that flexibility. We have seen different things happen in different areas during the lockdowns but if everyone is ready to get back on a field in a sensible and controlled manner, it would be important to let them back out."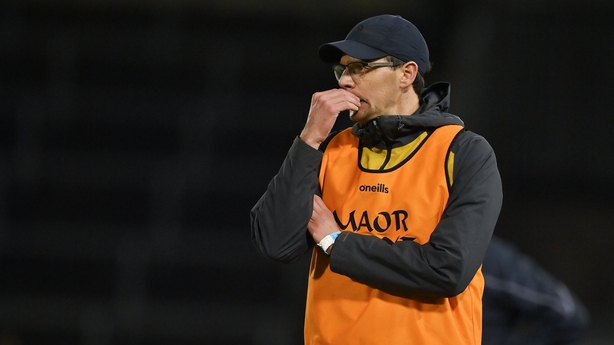 Until then Harvey and the Tyrone GAA Coaching Committee are working hard to keep everyone in Tyrone GAA clubs connected with an impressive coaching initiative.
Next week several hundred coaches from all over the county will log on to hear Limerick hurling coach Paul Kinnerk give a presentation on the preparation of teams.
It's part of a webinar series organised to promote better coaching at 'Go Games' and underage level in the county.
Experts such as Prof Niall Moyna, author and coach, Paul Kilgallon, Dublin GAA Games Promotion Officers Emma and Louise Byrne and Dr Aine McNamara, Associate Professor in Elite Performance at DCU, have already given sessions on engaging with players during lockdown. 
Harvey and his team are expecting a huge audience for Kinnerk's session next week.
"We had 483 for the first three sessions and they signed up and logged on from all over Tyrone and even outside," Harvey says.
"We even spotted a few logged on from outside county borders but we didn't turn them away at the gate," he jokes.
"Through help from Tyrone native and Dublin Games Manager, Ger O'Connor, and the likes of Brian Laverty, Roger Keenan and Brendan Harpur we have been able to get the best of speakers to help us improve our standards of coaching.
"During lockdown there is obviously not much happening, and, in terms of coach education, we can't do it face-to-face, so we are bringing coaches to our people. 
"Granted it's through zoom meetings but we have quality speakers, the best there are, and thankfully they have made themselves available.
"It wouldn't be possible without the support of Club Tyrone and Club Tyrone New York," Harvey adds. "Those units help us put a lot into coaching and development. People like Fay Devlin and Mickey Coleman working away in New York to help support Tyrone clubs."
It's an exciting time for the county with change everywhere from managerial to board to coaching structures.
"All our academy structures are parked for the minute," Harvey says. "The programme has stalled for the last year and for this this year too."
"We have got to give clubs their chance with these lads and we can't expect to avail of lads for the academies this year and take them away from their clubs. 
"But the club scene will allow us to keep a tight eye on Tyrone football, player identification is always important. We have a lot of skilful players, but the academy has traditionally pushed them on in terms of mindset."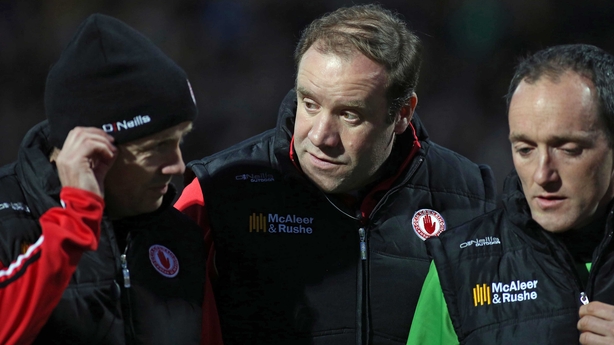 With Fergal Logan and Brian Dooher eagerly awaiting a chance to make an impact on the senior team, Harvey warns that the duo will need time to bed in once games start back.
"People will have to be sensible with their levels of expectation," Harvey says.
"Mickey Harte has moved and with it our most successful era. Thanks to Mickey Tyrone are now competing at a level where you always expect them to be.
"With Fergal and Brian coming in, expectation levels are high and there's a real feelgood factor with those guys coming in."
"But it will take time. The past year has been totally fragmented. It will need time for the new managerial team to bed in."