Wexford plan to "seek clarification" on the GAA's new rule that forbids more than one captain of a winning team being presented with a cup.
The motion was passed without a vote at last weekend's virtual Congress, under emergency powers granted to Central Council during the Covid-19 pandemic.
Matthew O'Hanlon is co-captain of the Wexford hurlers and raised the cup with Lee Chin after their first Leinster triumph in 15 years in 2019.
The defender told RTÉ Sport that he struggles to see the logic in a change that GAA director general Tom Ryan described as being prompted by "a desire to tidy up presentation around matches" and joked that himself and Chin would have to arm-wrestle to decide who would be first to lift any silverware.
O'Hanlon said: "My overarching feeling is (it is) nonsensical.
"My first instinct was, I didn't understand really where it was coming from, that there were other issues at a GAA Congress level that should be given a higher priority than that.
"But in essence, it doesn't really bother me. It doesn't bother Lee. We're nominated by our peers and selected by our management to lead the team. We're still going to lead our team in that way.
"It's a good problem to have if it comes to us having to lift a trophy and decide which one of us goes up, because it just means that we're after winning something. So we'll cross that bridge when we come to it.
"Every single player and management lifts the trophy at some point when you win it anyway. You can have pictures of all those moments.
"But, I understand, it's iconic (the first trophy lift). They're the ones that will be circulating afterwards.
"The decision is passed now. So there's no real point in complaining. We just move on with it."
"It caught a lot of people by surprise that it wasn't going to be debated on Congress floor"
Wexford chairman Micheál Martin spoke against the move at Congress and said he would be seeking "clarification in context of the motion" amid reports that Longford plan to request exemptions from the measure due to the number of combined club teams in their underage competitions.
"I think it's a pity in terms of the immediate aftermath of Congress, this decision seemed to dominate in terms of the motions that had been passed, along with the cynical play motions," Martin said.
"It caught a lot of people by surprise that it wasn't going to be debated on Congress floor.
"Anytime we bring in a rule that deviations are required for, immediately it probably means that we may need to rethink as an association whether the motion is actually practical or not.
"I'm principal of a primary school and at underage games joint captains have become more frequent, so I think there's a degree of clarification required around how this motion is going to be implemented.
"Lee and Matthew received the Bob O'Keeffe in 2019 and I don't think there were any issues in terms of either the reception of the trophy or the speech making afterwards. I know Kerry had Kieran O'Leary and Fionn Fitzgerald (in 2014), so I'm not aware of the issues.
"The motion has been passed. We just seek clarification in terms of the implementation."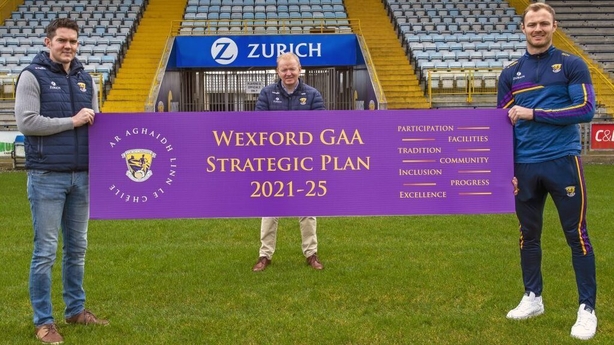 Martin and O'Hanlon were speaking at the launch of Wexford's new five-year strategic plan, which envisions raising €5m to invest in developing Gaelic games in the county.
That money would be divided between hiring more games promotions officers (from 10 to 15 by 2025), installing floodlights and upgrading facilities at Chadwick's Wexford Park, and constructing a 4G pitch in Wexford town.
A high-performance committee that includes former Irish boxing head coach Billy Walsh will oversee the development of young players while extra facilities will be installed at the county's centre of excellence in Ferns.
One of those facilities will be a 'sensory garden', which is part of a novel 'Very Important Player programme' that seeks to offer a sporting experience to 500 children per year with special educational needs.
Wexford hope to raise some of the money needed by selling €300 'premium' supporters club memberships.