Outgoing GAA president John Horan has aired his confidence that the club championships, Allianz Leagues and All-Ireland championships will all be completed as long as training is allowed to resume in six weeks' time.
On Tuesday Taoiseach Micheál Martin announced the extension of Level 5 restrictions until 5 April, with the Government assessing whether it will be safe to then begin easing the restrictions, including on some sporting activities.
The GAA are hopeful that inter-county activity will be permitted to start on 5 April, with a return to non-contact activity for juveniles also on the cards at that point. With at least four weeks' pre-season training required, that would make an early May starting date for the Allianz Leagues possible.
Horan, who will step aside as president at Saturday's Annual Congress to be succeeded by Larry McCarthy, also aired his confidence that supporters will be back in the grounds "towards the later end of the year".
"I'd be hopeful come 5 April that if we get the inter-county back we'll also get the juvenile back, and that schools will be in full operation by that time," Horan told RTÉ Radio 1's Today With Claire Byrne.
"We're confident we can get a full games programme [for the year] into that time frame.
"Last year we got through a full club programme, we completed the leagues and we got the inter-county championships played. I'd be confident we will get a games programme in place and we will actually get all the activities completed."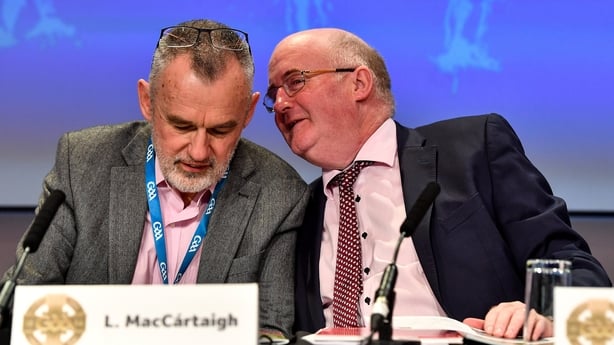 Horan did concede that the association may have to consider options such as going straight into the inter-county championship or splitting the inter-county season either side of a club window over the summer.
"They are the permutations we're going to have to look at. What will influence them is how we move down through the levels.
"Obviously the first level that will come back for us will be inter-county. It's then about how long will it be before the actual club gets back into full flow. There is flexibility... there is movement within the actual arrangement.
"But people can be confident and be positive that the GAA will be back and we will get through all our programme.
"I think everyone realised last year how important the club activity was for us. We made the decision to bring the clubs back first before the inter-county. That gave the clubs the opportunity during the good weather in the summer to be out on the pitches. If you were to push the club campaign too late in the year you'd possibly have difficulty with pitches and floodlighting and that. Club is key to it all.
"That's one positive message I want to get out there to everybody: the GAA will function and it will function fully if we can get going with our inter-county games on 5 May."
In England fans could be back in sporting venues by 17 May.
With regards to the return of supporters on these shores, Horan stressed that the GAA are prepared and equipped to have people inside grounds.
"Britain are somewhat ahead of us in terms of the virus and the vaccine because of the benefits they've had from their vaccination rollout, but I think towards the later end of the year in our bigger stadia we will see some crowds returning.
"They won't be packing Croke Park with 82,000 but we have done it already in terms of working out numbers n terms of social distancing - one metre and two metres - and how many spectators we can get into Croke Park.
"We'd be capable of doing that for our other big stadia. What will probably happen is the bigger games would be played in the bigger stadia so we can facilitate bringing back spectators."