Bríd Stack has aired her gratitude to Cora Staunton for the friendship and support she's offered the Cork woman through a difficult period in Australia.
Last October it was confirmed that Stack would be heading Down Under to join Staunton at Australian Rules side Greater Western Sydney Giants.
It was an exciting and daunting new challenge for the 34-year-old and her family, but Stack told RTÉ's Sunday Sport that Mayo legend Staunton was an enormous help from the get-go.
"Before I went out to Australia Cora was on to me, ringing me, reassuring me, telling what I should be doing, what's ahead of me, just laying down foundations before I even got to Australia," she said.
"We flew to Perth together. It took about three day for us to get to Perth so we learned a lot about each other in the first three days, let alone the time that's passed afterwards!
"She was instantly a big hit with [Stack's son] Cárthach Óg, he just loved her. It's so clear to see why she has so many loving nieces and nephews. She's absolutely outstanding with kids.
"She took me under her wing from day dot.
"When we landed in the Giants set-up, the first training session was frantic. We came into the changing room and she was like, 'go over there and jump on the weighing scales and take your weight, then come over there and get your sports bra, get your GPS and put it into it'.
"She was like my mam leading me around the place telling me what to do. I was like a nodding dog going after her: 'yeah I'll do that, three bags full!'.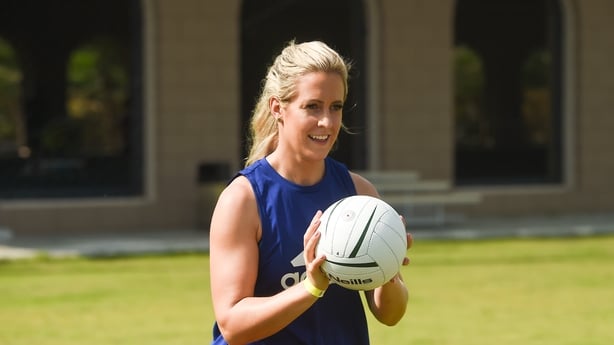 "On the pitch she was so helpful. She introduced me to everyone. That's a big thing. I was going in blind or going in on my own.
"She'd introduce me, bring me into group conversations and different things. That made it so much easier. I've made some great friends already at the Giants but it's been Cora helping me every step of the way."
Stack is recovering from a neck injury she sustained on her AFLW debut after a collision with Ebony Marinoff of the Adelaide Crows.
She was taken to hospital by ambulance, after which it was confirmed she suffered a stable fracture of the C7 vertebrae.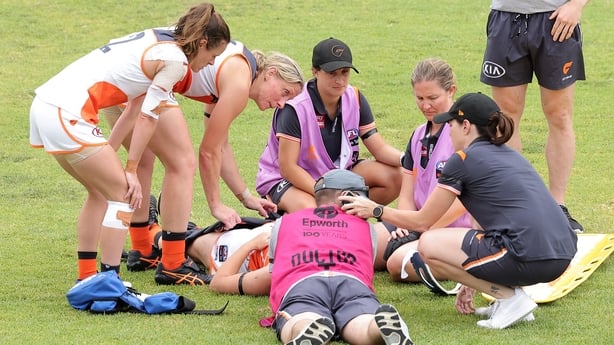 Marinoff was originally suspended for three games following the incident but the Crows successfully appealed the ban, arguing that Stack had been the "moving party" when the collision occurred.
The whole saga has been emotionally and physically draining for Stack. She's still hoping to feature again this season, though the Giants will have to extend their campaign by making the play-offs to give her any chance.
Regardless, Stack is staying positive, thanks in no small part to Staunton.
"I would have known Cora for many, many years, we'd have always played each other on the pitch," she added.
"I'd have known her personality a small bit and I knew she was a good person but this has surpassed anything I ever thought of her character.
"She is just the most kind, good-hearted person and has my best interests at heart at all times.
"She was really affected by me getting injured as well. No one wants to see one of your own getting hurt. She's just been a constant source of support form the very start I'm forever indebted to her for getting me through this."
While Stack concedes things haven't gone to plan Down Under she remains grateful for the opportunity - and confident things will turn in her favour as she battles back to full fitness.
"It's an unbelievable experience. I'm so, so grateful I've been afforded this opportunity. The weather is great, it's great to see different parts of Australia.
"Life is all about experiences. Some of them are good, some of them are bad. They all kind of balance each other out at the end of the day.
"I'm sure I'll appreciate many great experiences in Australia for a good couple of weeks yet to come."