We're out of lockdown and back in Adelaide, no more quarantining or restrictions for the moment, thank God.
I saw some of the South Australia coastline today but it was 37 degrees so I so kept the hat on and tried to avoid getting sunburned.
I haven't had any headaches or symptoms since Thursday last week and was able to start on the return-to-play protocols after passing the concussion test with our team doctor on Sunday.
We had already done a baseline computer test for reaction and memory at the start of the year.
You have to be around that level again but I actually got above my baseline score, I think because I was concentrating so much on trying to get it right!
You have to do things like say the months of the year backwards, learn and repeat a sequences of words and numbers, and balance on one leg with your eyes closed. I was a bit nervous, as my memory wouldn't be great at the best of times, but I got through.
Training-wise, it has been quite limited in regards to what Chelsea Randall (team captain, also concussed against GWS) and I can do but we're moving in the right direction.
We're the first at Adelaide to undergo the new 12-day protocol, which only came in for the AFL and AFLW a few weeks ago.
It's frustrating as I have felt fine for over a week but you have to think long-term and it's a serious injury that can cause lots of issues later on in life. Football will only last a few years.
The 45 minutes between when it happened to me and the end of the fourth quarter is still a complete blank. I don't think I'll ever get it back.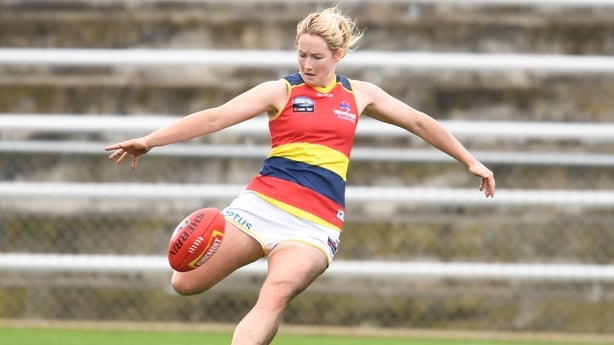 On Monday, we were only allowed to run and do some light weights, about 70% of normal capacity.
On Tuesday, we did a slightly higher intensity cross-training session and then Wednesday we could join in training but had to sit out the contact drills.
Thursday was a rest day so Friday is our first day of full contact allowed.
The squad to fly to Brisbane on Saturday hasn't been announced yet so I'll have to wait and see.
The rest of the girls have been doing full-contact training for two weeks so it's likely that I won't be selected.
It would be the first time I wouldn't be in the travelling 23 so that would be a new experience.
Last week, we were at home so I was at least able to watch on from the sidelines, even though you feel like a spectator as you're not allowed in the changing rooms or on the pitch.
It gives you empathy though as when you're playing you tend to forget how difficult it is if you're among the seven not getting selected. They are putting in the same amount of hard work and doing the best you can but there are marginal calls and tactical decisions.
I've been dropped a couple of times over the years. It's not an easy place to be in but all you can do is keep trying as hard as you can and hopefully you'll get a chance again.
Heading in the right direction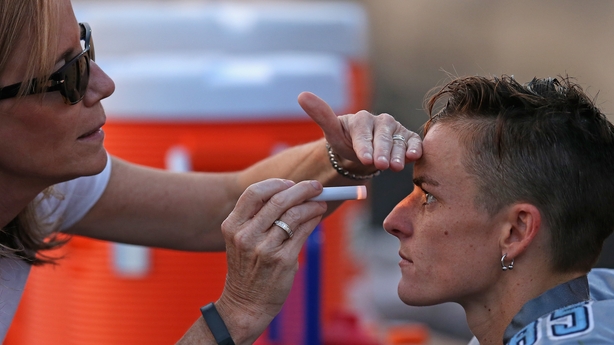 There are rolling subs in the AFLW but the GAA's proposal to bring in a concussion sub sounds like a good idea.
Having a sub alleviates the time pressure of trying to rush back on and gives the medical team time to actually assess the player and do the tests that need to be done on the sideline.
If they pass them all, and are genuinely feeling okay, then you have the option of bringing them back on.
I know I would have wanted to play on last week if I hadn't been knocked out. Even in my subconscious I was pushing to get back on the field so you can imagine if I was still with it.
I was there in body but not in mind. I kept telling everyone I wanted to go back on but apparently Doc, our head coach Matthew Clarke, came up and asked me how I was and I completely ignored him.
When you're in the moment you just want to play unless you're unable to stand up.
When it's in the medical team's hands and they have time to do the tests you can protect the player from themselves.
Into the Lions' den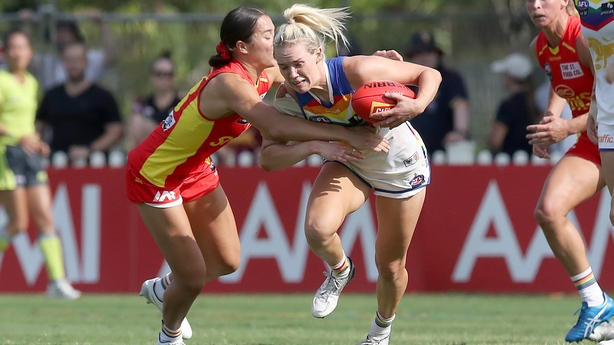 We had our first defeat last week against Fremantle. Maybe we were lacking the luck of the Irish!
They brought endless pressure and were a lot more clinical with their finishing. They're a really strong team and I'm not surprised that they haven't been defeated in the last two seasons.
Hopefully, we'll get another crack at them later on.
We played the Lions in the first round last year and they got the better of us in Brisbane so it's a bit of a grudge match this weekend.
They're top of the table and unbeaten. A team that's going well you want to give it a good crack and try to get a result, especially away.
Orla O'Dwyer seems to be flying it with them. Her athleticism is really making her excel in this game.
When she played for Tipperary against Clare she was so strong and quick once she got the ball in her hands.
Fixtures are still a bit up in the air with state borders being closed because of Covid. We have already had three away games out of four and after we play Gold Coast we'll have played all the teams outside Victoria.
I think the AFL are working towards a plan. There's talk of hubs but we'll just have to wait and see. It could prove extremely difficult for some players, cops and nurses for example, to take extended time off work.