Waterford hurling manager Liam Cahill has bemoaned the lack of communication from the authorities in advance of the news that Gaelic Games would not be covered under the Level 5 exemption for elite sports.
The disclosure meant that a return to inter-county training or games would not be permitted until April at the earliest.
The regulations in place in 2020 had classified inter-county GAA as elite sport alongside soccer and rugby, allowing the inter-county championships to proceed late last year.
Cahill stressed that if the pandemic forced a delay to the inter-county return, then "so be it" but he did lament that players and managers were taken by surprise by the announcement last week.
"I'd be disappointed with the correspondence over the last couple of days," Cahill said on RTÉ's Saturday Sport.
"We were led to believe, and I for one was fairly sure, that our elite status was to be maintained. I was not aware that status had been taken away.
"To be honest, it's not really a big issue over when we return to play but it's the lack of communication that has led to the frustration that's being vented at the moment."
When it was suggested that the GAA hierarchy were themselves unaware that their elite status was being withdrawn, Cahill said: "Yeah, that's fine. But let's relay that and get it out there to the managers and, most of all, the players that are behind the scenes preparing to get back into action.
"It's a lonely spot for inter-county players at the moment when they have no real date to work towards.
"Correspondence did come to say that - and I can't remember the exact quote from Tom Ryan - a March return would be possible. You're always clinging to that and you're always hopeful that'll be the case.
"If it goes to April or May, so be it, but just try and give us some sort of a pathway to work with."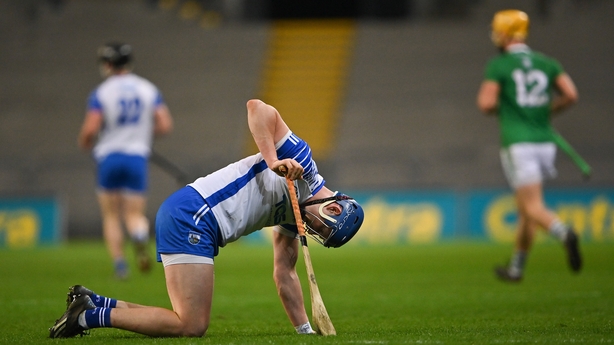 Cahill also addressed comments he made on WLR on Friday, in which he said that Waterford had trained "poorly" in advance of last year's All-Ireland final.
An internal training match on the Sunday before the decider had left Cahill with "alarm bells" ringing in his ear, he said on the Lár na Páirce programme.
"I probably said a little bit more than I should have!" Cahill told Saturday Sport.
"But no, it's the truth. The top horse trainers in the country are preparing their horses for Cheltenham in a couple of weeks' time. The form of the horses at home will tell a lot as to how they perform in the festival.
"Form is something that's very, very important and I just felt in the seven days leading up to the All-Ireland that our form wasn't where it needed to be.
"By no means, am I using that as an excuse. I was very quick to praise Limerick after the match. We got comprehensively beaten by a way superior team on the day.
"Our form wasn't as good as it should have been in my opinion, leading into the All-Ireland final in December.
"A lot of these players were heading into their first All-Ireland. And that's always a risk when you're heading into your first All-Ireland - players can react differently. It's a learning process, that's the way it works.
"The only way we'll find out if we learned from it is if we get back into that position and see if we can approach it differently and get a result."
The 2020 All-Ireland final was only Waterford's fourth appearance in the decider since their last title in 1959, with the 2008 hammering at the hands of Kilkenny and the 2017 loss to Galway their most recent experiences of hurling's showpiece.
Cahill insists that the Waterford players did believe they could win the final but acknowledged that Limerick already boast an aura about them that is reminiscent of the Kilkenny sides which hoovered up All-Irelands in the late noughties.
"Talking to the players afterwards, they felt they were capable of winning the match, 100%. But Limerick have created their own aura about them. The current Dublin senior football team have the same.
"The great Kilkenny team created that kind of enigma about them. It can impact players and teams that are coming to try and win their first All-Ireland for a long, long time.
"That's the challenge that management and players face when they're trying to make that breakthrough. You have to try and build yourself and make sure you have the confidence to win these matches.
"We just hope that if we put ourselves in the same position again, we'll have a different mindset going into big games like that."
The loss of Tadhg de Burca early in the final to a cruciate knee injury was a hammer blow both to Waterford's prospects on the day and to the player himself.
Cahill hailed the All-Star sweeper and hinted there was a possibility he could see championship action in 2021, dependent on when that takes place.
"Tadhg is an exceptional player, we all know that. Before I came to Waterford, he was the mainstay of the team for years.
"It was a big blow to him personally and to us. But he's ambitious and I know he's back in his rehab already and very well advanced in where he's at, albeit it's only December when the dreaded injury happened.
"If this drags on and lockdown continues into the summer months, there's a real possibility that Tadhg de Burca will be back towards the back end of the year."