Returning Tyrone footballer Conor McKenna admits that he did not miss playing Gaelic football too much during the time that he was away in Australia, however, now that the Eglish St Patrick's man has returned, he is excited at the prospect of attempting to knock Dublin off their perch.
McKenna has spent the last six years Down Under, starring on the Aussie Rules scene with Essendon, however, the 24-year-old decided to return home to his native Tyrone to resume his inter-county career.
While he was away, Dublin became all-but invincible en-route to securing six All-Ireland titles in a row, and looking from afar, McKenna felt that the game had got particularly defence-minded as teams looked to compete.
But now upon his return, McKenna feels that the signs are there that teams must take a different approach to the game, and as a result, he is enthused to see what style of football will materialise within his own county over the coming years.
Tyrone in particular are expected to be a different outfit this year as they embark on a new journey with Feargal Logan and Brian Dooher in charge after almost two decades of the successful Mickey Harte era.
"I'm happy with the decision to be back home," said McKenna, speaking on 2fm's Game On.
"I wasn't missing it as much when I was away, because I was watching and the game looked like it had gone more defensive.
"But now it looks as though it is going back to the way it was five or six years ago, as teams have tried to beat Dublin [defensively] but couldn't do it and now have to go back to the way it was before."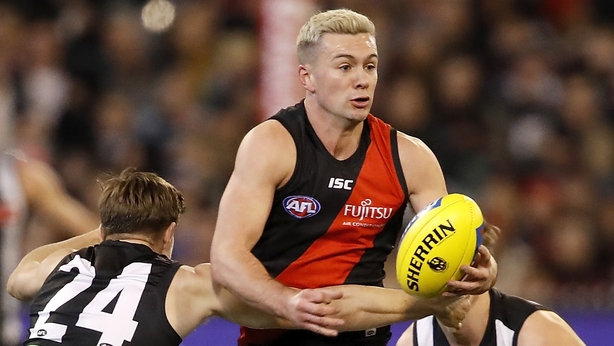 McKenna explained his reasons for coming home and turning his back on a very successful career with the Melbourne-based club, having proved himself in the professional game.
And while McKenna has yet to compare what life will be like back home trying to juggle a full-time job with the training demands put on an inter-county player, he believes that it was the right decision returning home late last year.
"When I went to Australia, I was back to the bottom of the barrel and had to make my way back up to the top - I thrived on proving people wrong," said McKenna.
"Over the last few years, I became a consistent player, playing every week, but last year I started to lose that love of the challenge having completed everything I wanted to complete.
"I wasn't as happy as I knew I should have been and when I came home, I dreaded going back to Australia, so I knew it would be better to come back and work a 9-5 job.
"It's a bit of a transition but I think it's the right decision."
Coming from the ultra-physical AFL circuit, remarkably, McKenna admits that it was fitness that proved the toughest adjustment as he returned to the Tyrone jersey, as it required a different kind of stamina.
McKenna explained that there was always time for a break during the Aussie Rules matches, but in Gaelic football, you might not get a breather until half-time in the game.
"The hardest thing is the fitness, it's a different game in terms of running capacity," he said.
Looking ahead to the new campaign for the Red Hands, McKenna believes that his best position will be in and around the half-forward line or lining out in midfield.
And he also feels that his county team-mates will be raring to go under their new regime and are confident that they can give Dublin a run for their money throughout 2021.
"I feel I am better player around the centre-half forward position or in midfield," said McKenna.
"I can't wait to get going and the new management will give a new lease of life to all the players, and we'll look to knock Dublin off their perch if we can."