Waterford Ladies Gaelic Football Association hit the headlines earlier this month with the announcement that they had become the first LGFA county board to buy their own ground.
Cork camogie also have their own facilities but other women's football and camogie sides rely on the GAA - a separate association - making their pitches available for games and training.
The drawbacks of this situation were made clear last month when the All-Ireland semi-final between Galway and Cork controversially ended up being changed twice and played at Croke Park at short notice. 
The only other women's inter-county senior team to have their own facilities are the Armagh footballers.
So far, they have put £120,000 of their own hard-raised funds into completing their pitch at McKeever Park, Killeen, and are now running a 'February Fitness Challenge' as they seek the funds to install floodlights.
"The whole facility has been self-fundraised so far," Armagh chairperson Sinead Reel told RTÉ Radio 1's Sunday Sport.
"There doesn't seem to be any light at the end of the tunnel when it comes to grants or funding for Ladies Gaelic football. I don't know about the 26 counties, but in the six we are finding it hard to get funding, so we have to keep fundraising. 
"There are funding opportunities in the North for GAA and hurling and when we apply as a separate entity, it's not there, we're just not recognised.
"We came up with the idea of doing 100k in 28 days and hoping that everybody in the county will row in behind it and also outside the county."
Reel says she "totally admires" Waterford, who have bought land in Dungarvan with the intention to develop it, but said Armagh wanted to prioritise putting funds into facilities so have opted for a long-term lease with an option to buy.
"We knew we had the option to buy at the end of it, but it also meant we had money to do the work now instead of waiting another three or four years, and then you're back to square one fundraising again.
"We put the wheels in motion on this three years ago. We probably have the grounds two years, and it has taken a year to do the work fully on the ground itself so that the pitch is available and ready to play on."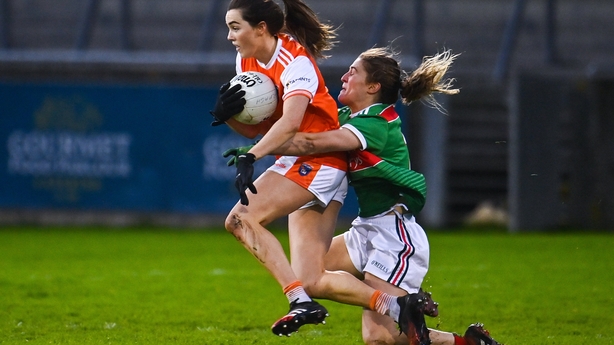 Armagh football is enjoying a purple patch, with Aimee Mackin and co reaching last year's All-Ireland semi-finals and Reel is keen to see this group of players maximise their potential.
"We have a great bunch of girls at the minute, and they appreciate so much what we're doing behind the scenes," she said.
"I think that was evident this year. We appreciate what they're doing on the field, which obviously only increases PR for the county and it means more people probably will row in and support the fundraising.
"We had to do it now. We couldn't wait any longer. If you wait a couple of years you could have more retirees and young girls just breaking through.
"At the minute there, there is a great bunch and hopefully everybody stays together and we have more coming through on the conveyer belt.
"We want that facility there for those girls, to show them 'this is home for football' and there's no running about the county looking for pitches to host our training."
"You're trying to change the mindset of people to say let's support Armagh, whether it's men or women"
Ultimately, the struggle to build their own home, is a reflection of the wider the struggle to be recognised and supported in the same way as their male counterparts.
"We're trying to change the mindset of people to see that we are as entitled to get funding as any other sport," said Reel.
"The figures speak for themselves, particularly with Ladies Gaelic football. We're the fastest growing sport in Ireland.
"You're not trying to overtake men's football. That's not what it's all about. You're trying to change the mindset of people to say let's support Armagh, whether it's men or women. 
"It's just looking for support on the equal side, that everyone supports and buys the same ticket for fundraising efforts that the men's team would do.
"This year we have been the talk of the county, and the camógs have done really well too, they won the All-Ireland junior title.
"So women in the county have really stood up this year so you'd like to think the general population of Armagh would row in behind that.
"If everybody in Armagh rowed in and got behind this particular fundraiser then that would put a good depth of finances into our pot for moving on with the floodlighting system."