Just before Christmas, Anthony Daly sat down with a few other guests on his Irish Examiner podcast to scrutinise the role and evolution of the hurling goalkeeper.
"There was a time when outfield players would be running laps and thinking: 'Look at the keepers below hitting the ball at each other while we're being murdered up here,' Daly said.
"But now the keepers are nearly at training an hour and a half early to meet the goalkeeping coach. They're working on long puckouts, hitting space, they're working with backs on how to defend as a unit, there are short puckouts – or restarts, as some up and coming coaches told me to call them – and then there's shot-stopping. It's full on."
Top netminders like Nickie Quaid, Eoin Murphy, Stephen O'Keeffe and Brian Hogan have worked relentlessly on their game to reach the pinnacle – or nearby territory – of their sport, other emerging counties are looking to develop their own templates for this specialised art.
Earlier this week, a pathway coaching booklet specifically for Kildare hurling goalkeepers was launched. A model to chart skills and progression from under-14 to under-17 level.
The comprehensive booklet has been produced by former Kildare hurling keeper and current senior selector Paul Dermody, the recently-retired stalwart John Doran, and current Kildare netminders Mark Doyle and Paddy McKenna.
It's a comprehensive 32-page booklet with a focus on variables like strength, power, agility and change of direction. Other qualities like speed, reaction, flexibility, mobility and aerobic power are also addressed.
Drills, tactics and handling and stopping exercises are also well illustrated. The pathway will be a huge help to future Kildare goalkeepers as the county looks to make an impact at Joe McDonagh Cup level and capitalise on the growing interest in the sport within the county.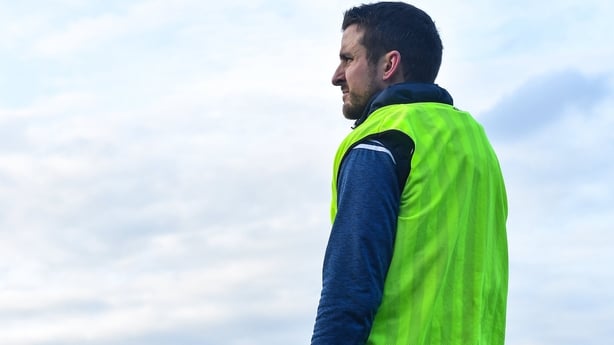 "Finally, coaches are seeing the benefit of giving their goalkeepers the attention they need and deserve," says the county's senior hurling manager and former Kilkenny netminder David Herity. 
"This detailed pathway takes the coach through step-by-step drills to help guide their keeper to reach their full potential. From the importance of footwork to, knowing the correct angles and on to the use of proper communication, every aspect is brilliantly outlined from top inter-county goalkeepers and coaches." 
"During the first lockdown the Kildare team had a skills challenge and the three lads mentioned felt we should do a goalkeeping series.
"There is a bit of gap in our talent academy with goalkeepers and too often over the years, lads have been flung in there and left to get on with it. We wanted to streamline that." 
"When Willie Banks came in as goalkeeping coach (during Joe Quaid's tenure in charge of Kildare) our eyes were opened," John Doran says.
"The lads were removed from us at training, and although we were slagging them while we did all the heavy training, it made us start to think.
"What were we throwing the young lads into at 17-18, who were not familiar with the skills of the position, never mind the mental preparation.
"It was just year on year. This pathway brings it all together now as a specialised position and charts the work needed to go from under-14 to under-17 in our talent academy. 
"The lads then can bring all that knowledge back to their own clubs.
"The simple fact is that the hurling goalkeeper in the modern game is unrecognisable now to what it used to be when it was just a case of booming long puckouts down. It's all precision stuff now and guys have to be in tune with outfield players, regarding when to move and when not to move.
"Goalies affect the tempo of the game and are now a seventh defender, always off their line when needed. It was funny; we were in our fifth meeting designing this pathway booklet before shot-stopping was even mentioned."
The pathway hopes to laud and acknowledge the position, to promote the courageous nature of the goalkeeper and the person, but to ensure that the isolating nature of the position is no more. 
The pathway will bring Kildare's young keepers through the different stages of development up until under-17, as well as reinforcing the message through a workshop model where upskilling of coaches, players and parents will take place.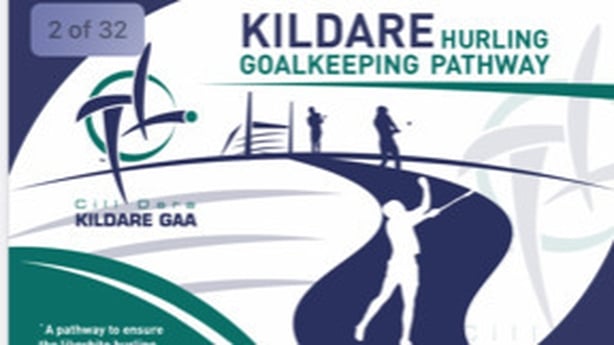 "The aim is that our goalkeepers reach their potential in not only the Kildare development squads but to become established as competent, educated and assume leadership roles within their club setting," Doran adds. 
"By incorporating a club element to the workshops, it is also hoped that the keeper pathway can influence and enhance goalkeeping coaching across all clubs in Kildare. It is often said that if you want to fly you should give up everything that weighs you down. We hope that in some way that this pathway programme can help remove any weights on the goalkeeper and provide tools to allow them to not only fly and reach their potential as a goalkeeper but to develop characteristics and skills which will allow them to soar in their personal development." 
Looking at the bigger picture, Doran wants Kildare hurling to continue punching its weight over the next few years.
"We have become a lot more consistent at minor level and have had some great wins, reaching the Leinster semi-final last year. 
"More players and teams are coming through and that's the key. The under-20s, with Mairtin Boran at the helm, are working hard now too and that's another positive step. 
"We have a really solid path all the way up now with no gaps. With the number we have here in this county we can challenge in the years ahead, no doubt about it.
"There is a good resilience in Kildare hurling. In the team I was on we had a cohort of lads who would do anything they could to drive it on. We were hurt by the big turnover of players every year, but when Willie Sutherland came in as Kildare senior manager some years back, it started to pick up from there.
"And everyone else who came in since has driven it on. We are getting results at underage and senior level and we are gaining momentum all the time." 
The booklet published this week should ensure that they have seriously steady foundations to build each team on.