Despite Covid-19 playing havoc with the GAA's administration and its fixtures programme, Connacht CEO John Prenty says the pandemic has helped the association to stumble on a new formula for the years ahead.
In his annual report to the upcoming provincial convention, Prenty recounts how his council had many plans and projects ready for a new decade but saw them thrown into disarray within two months of the start of 2020.
"Suddenly we had no games, no attendances, lockdowns and very little financial opportunities," he writes.
"For a number of years, I have decried the excessive costs of the inter-couty game with year-on-year increases in expenditure.
"The way the year panned out meant that the previous demands of inter-county team managers and players to train more, have more professional staff involved and consequently spend more, could not be accommodated as 2020 had to be different and we managed to have a very exciting, high quality championship with county team costs at a fraction of before."
In his report, Prenty wonders whether the GAA have now stumbled onto a path for the future with the split season template, match-day panels of 26, and senior team panel expenses for only 32 players now on the table.
He suggests that the payment of team expenses could be continued to be paid centrally with additional costs confirmed by an auditor, and that the policy of allowing teams to meet a maximum of three times per week - two sessions plus a game – could be maintained.
With regard to the latter points, Prenty says that the cooperation of the Gaelic Players Association will be required to police any limits established.
"Official off-season enshrined in fixtures calendar," he adds, "back room size confined to 12 officially.
"Counties carrying huge back-room teams has shown to be unnecessary, in my opinion, whereby some counties have almost a back-room panel on a one to-one ratio with the players.
"Reduction measures are required to be done in this area," he writes, and "to fully comply with the above it may be necessary to confine the Injury Benefit Fund for inter-county players from the official return to play dates until the end of competition for each squad.
"Hopefully, the runaway train of previous years can be slowed down to keep within the speed limits."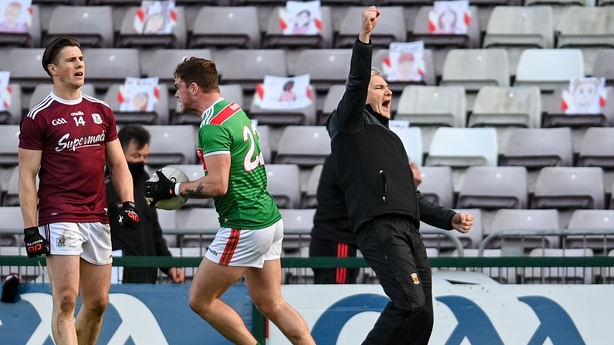 Elsewhere, Prenty warns that the absence of crowds due to the pandemic, and consequent lack of finance, will likely effect development plans into 2022.
"2020 has been a most challenging year financially for the council with zero gate receipts from the Connacht Senior Football Championship and our Provincial Club Championships (which were cancelled)," he says.
"Dire weather conditions impacted on attendances for the FBD Insurance League and the EirGrid Connacht U-20 Championship, after which there were no attendances allowed at our games with our only game income coming from the streaming of games.
"From an infrastructure and club development perspective 2020 has been a most challenging year too.
"Annually, €370,000 has been awarded to clubs in the province for infrastructural development, by Ard Chomhairle and the council, to supplement the great works they are undertaking in very difficult times.
"Unfortunately, due to the fact that there has been no gate receipts in 2020, this scheme has been suspended and because of the ongoing Covid-19 situation, it is highly unlikely that there will be any funds available for 2021 and probably in 2022.
"This scheme will reopen again and, in the meantime, clubs are encouraged to submit their plans for development to the council in order for our Planning & Physical Development Committee to plan for future distributions."
Ending his report, Prenty suggests that the GAA will endure more pain in 2021 but adds that there is hope and light at the end of the tunnel with the imminent roll out of a vaccine.
"Hopefully, in the near future, we will see players return to the playing fields, supporters return to the terraces and officials from club to county to provincial level be able to meet physically, free of the burdens of bad wi-fi, Zoom calls or virtual meetings on MS teams.
"It is hard to believe that we had no physical meeting of the Council since the last Convention, hopefully we will be back meeting each other at council meetings in the near future."