Analysis in the aftermath of a season finale will always be of limited value for those directly involved. 
The winners are anointed and vindicated for all decisions.
For the vanquished, so much will have changed by the time they've to get back on the horse that it may not even be relevant.
For this Mayo team, however, there is a fundamental lesson they have to learn sooner or later. 
Despite some of the unexpected turns taken as this championship unfolded, there has been an inevitability to the destination of Sam Maguire from a long way out.
With so little time to prepare and plan, the likelihood that Dublin could be ambushed in 2020 was even less than normal.
If they could maintain their standards of 2019 and produce a decent performance when it counted that probably would keep them ahead of the pack. And so it proved. 
Thinking Men 
As well as having some of the greatest players to play Gaelic football in their ranks, Dublin are undoubtedly the best equipped team in the history of the game to think their way through contests and solve problems as they go. 
Great credit should be given to the assistance Dessie Farrell gave his players in this regard on Saturday, as it has done to Jim Gavin in the past.
There were a number of things to get sorted at half-time having arrived at the break with a two-point lead that flattered them.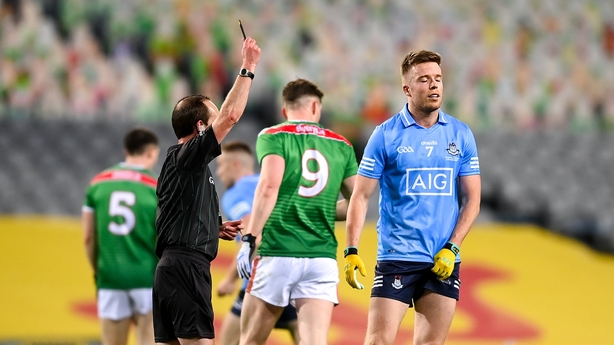 With a sin-bin period to negotiate at the restart, Dublin assumed their customary lockdown formation with everyone behind the ball.
They deliberately took the pace from the game and minutes from the clock by holding possession and building periodic attacks very carefully. 
By the time the black-carded Robbie McDaid returned, Farrell had plugged the gaping first-half hole in the centre of his team's defence through Brian Howard's industry and smart positioning when possession was lost. 
The kick-out problem was also sorted. There was no need for elaborate movement.
Instead, the ball was largely hung above Brian Fenton.
Their colossus either fetched ball for himself or his better-informed team-mates hunted around him for the bits and pieces. 
Although it seems straight forward with the quality at his disposal, Farrell also used his resources perfectly.
Withdrawing Cooper when he picked up a yellow card isn't easy to do when it is a player so pivotal to how you defend but it had to be done.
Ultimately, it was the injection of pace and energy throughout the second half when Mayo were waning that sealed the deal. 
To Win Just Once 
As ever, it is difficult not to be drawn to the raw spirit of this Mayo team.
They keep coming through set-backs and trauma and when you see any team endure so much hardship it is simply human to want them to win just once. 
The manner in which they play the game also draws any neutral fan to them.
They carry at pace, support each other in waves, kick accurately and pour their souls into every play of the ball. 
However, as hypnotic as the Mayo story can be, reality has to intercede at some point. 
Harsh Reality 
This Mayo team have limited concept of defending collectively.
What's worse, their culture seems to place no value on it. 'Everyone has a man and get your job done' is the mantra of a bygone era.
In today's game it is well beyond naive to take that approach – it is reckless. 
Ahead of this year's final, finding a way to solidify the centre of their defence to eliminate the steady stream of goal chances they gave up against Tipperary should have been James Horan's priority.
No effort was made to address their glaring frailty.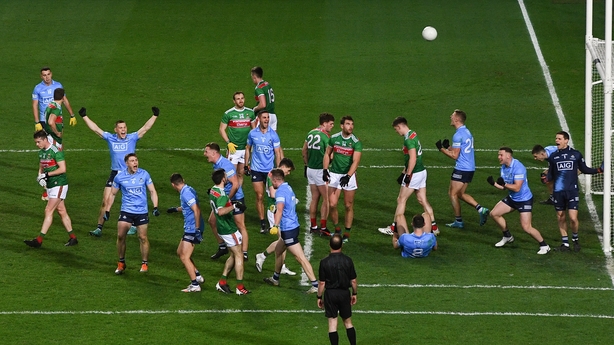 Debilitating space in defence is not a new phenomenon for Horan teams.
Scoring in the 2012 All-Ireland final against Donegal opened through a Michael Murphy goal when the greatest full-forward of the modern era found himself one on one with Kevin Keane in front of goal. 
From there Mayo, you could argue, were the better team. They fought to the last, pursuing Donegal but their house was already ransacked and that story ends in the usual way.
Come home with your shield, or upon it
The Spartan battle mantra above is well known but not so widely understood.
The shield in Spartan battle strategy was so important because each warrior was expected to not only stand his own ground but also defend those around him.
Their unique outlook on the power of the collective required trusting your brother in arms to be there when it was needed. 
If a Spartan warrior lost his shield in battle, the toll was greatest on the man next to him and ultimately the group. There was no greater shame. 
Defending collectively is only partially about numbers.
What is much more fundamental is the relationship players have with each other.
Effective defensive units communicate constantly – sometimes that's verbal, sometimes it's through the reading of patterns and sometimes it's just understanding through repetition.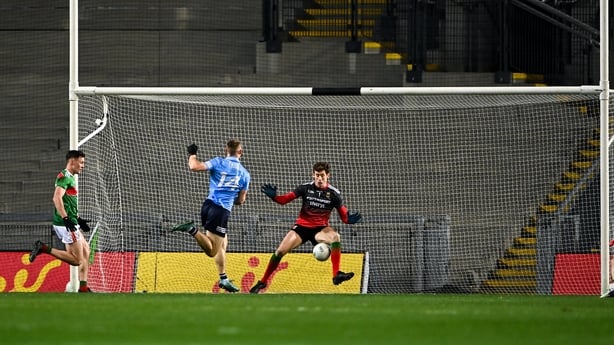 Con O'Callaghan's goal on Saturday just shouldn't happen against a team that spends time on and takes pride in defending collectively as an art form.
It doesn't make the highlight reel and it won't endear you to the masses but championship-winning defences make a habit of consuming space, creating contact and getting in the way. 
No Compromise On Principles 
The script for the 2020 All Ireland football final was written some time in advance.
Asked about his mind-set in preparation, Horan explained: "I think the way we play, we take calculated risks.
"We think it's how we play best and our best chance of winning games and that's what we'll do. We've a lot of threats, a lot of danger in our team and we try to utilise that." 
In hindsight, Horan's message was clear and spoken with conviction.
Conviction that of all the strategies they could employ, he believed Mayo had as good or better a chance just playing their own game, trying to reach their maximum performance and let the cards fall where they may.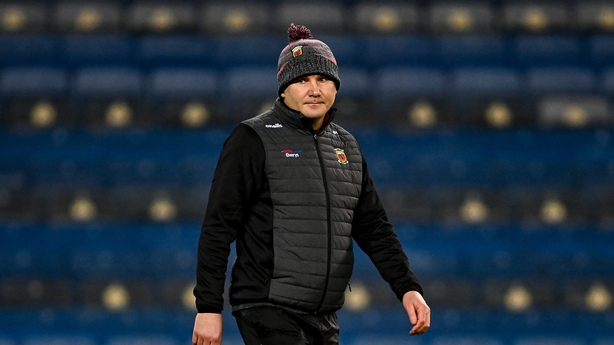 Implicit in that approach is an acknowledgement that Horan believed there either wasn't time or his players wouldn't be able to adjust to a structure that would make life more difficult for Dublin's attack.
What was clear at the semi-final stage was that this structure was not in their armoury. 
Their "natural game" brought the Connacht champions a fair distance down the road they needed to travel.
However, having made no adjustments for their most glaring frailty, it was inconceivable that the five-in-a-row champions wouldn't exploit Mayo's soft centre sooner or later.
Dublin's Resources 
There are sceptics who dismiss the impact of financial investment in the current Dublin senior team success but to do so is to not understand player development.
What investment in professional coaches, club structures, quality player experience and support services harvests is good players. Lots of them. 
Every county can produce good players but so many are lost on the journey because of flaws in the pathway.
There are very few flaws in the Dublin pathway and that is a credit to their organization and the resources they can pour into it.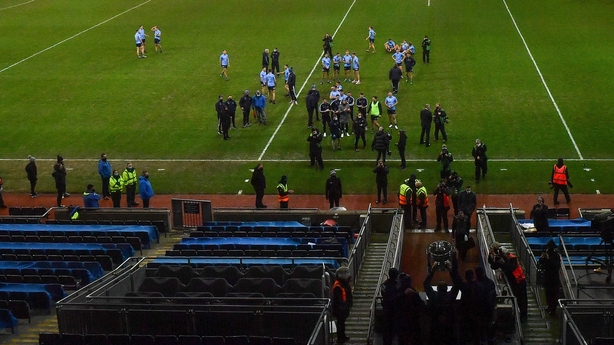 Dublin will bring through a higher percentage of their potentially quality players than any other county for that reason and they already have far bigger numbers as a starting point. 
The players still have to do the work but they have an environment around them that makes the sacrifices worth it in the short and long term and a realistic vision of what the rewards may be. 
For those reasons, the county will continue to produce fully developed players perpetually.
That translates into depth and although we are only at the beginning of the return of what is a sustained financial investment, depth of squads was a significant factor in this final. 
Why Does This Matter? 
If James Horan's annual gamble to trust his players individually to hold Dublin's best through concentration, energy and sheer force of will had kept their finger in the dyke until, say, the final quarter, then they would have a platform to push towards victory from.
This is exactly where they were at the second-half water break.
The Boys in Blue can roll a roster of finishing' players from the bench with fresh running power and hunger to blow through the straining sinews of Mayo resistance.
If you swap the subs coming in on both teams then Mayo are All-Ireland champions.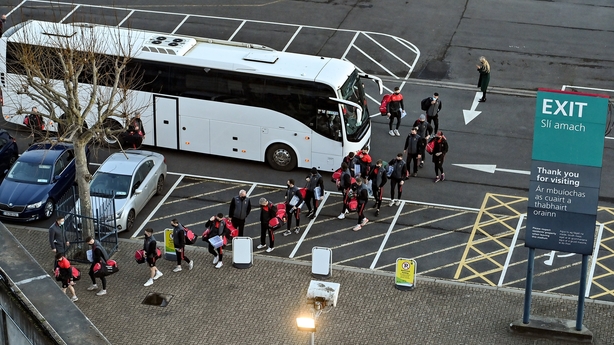 With the greatest of respect, there was no quality coming off the Connacht champions' bench to reinforce the heroics of those who went before. 
The six-in-a-row champions may not win Sam Maguire every year going forward but they will most years and be close every year they don't. It's just the numbers unfortunately. 
Energy Is Not Enough 
Playing your own game is an idealistic but outdated maxim.
If the football ability and undoubted character of the Mayo players could have been married to a game plan that was tailored to not only produce a great performance but one that would also target Dublin strengths, then the contest may have been different. 
Mayo have the manpower to take Dublin on in a straight fight but it's no longer a straight fight.
They need 20 of the same quality at a minimum and that is a huge challenge for any county beyond the capital. 
In the absence of adequate reinforcements, Horan will have to consider a plan that doesn't hinge on the matching or surpassing the energy of the champions' panel.
Using a portion of that energy to build a robust defensive structure should be the starting point.