The word 'privileged' was never too far from Con O'Callaghan's lips in his post-match round of interviews.
The Cuala player now holds four All-Ireland medals and is part of the ever-expanding group of Dublin footballers who've never experienced defeat in the championship.
"We're very, very much aware of the privileged position that we're in," O'Callaghan told RTÉ Sport after the game.
"And it's something that we do talk about in our bunker in DCU where we train. I love playing and I'm blessed to be playing with so many players that I looked up to. To be playing with Stephen Cluxton, James McCarthy, even Mick Fitz (Fitzsimons) from my own club.
"It's something that I cherish and I know the lads do inside. We also have a really, really strong connection and bond within the team.
"I suppose it helps that we're winning. But even when we're not, we're really, really tight when things aren't going well, our response is to get together and work it out ourselves."
Dublin, since 2015, have racked up a run of victories which is without precedent in inter-county football.
The mythical five-in-a-row, which proved beyond the Kerry side of the late 70s/early 80s, was achieved last year and has been swiftly followed by six in a row.
"I'd be lying to say I thought I would be (on a team that won this much). I'm obviously blessed and really lucky," says O'Callaghan.
"But we don't really look at it like that. It might sound cliched but we look at it year by year. Things change, players change, personnel change, management changes.
"There obviously is an accumulation of medals there but it's different every year."
After this latest one, he'd to go and pick up the Man of the Match crystal trophy. Other years, he might have collected it at a banquet in the Gibson Hotel, with Jack McCaffrey making faces into the camera behind him.
This time around, it was done with little ceremony, presented in front of the sponsors logo hoarding at the side of the pitch.
By next year, ideally the crowds would be back. But how did O'Callaghan feel about the absence of crowd? Does it affect a player's mindset?
"Yeah, I was thinking about that. Not really. Once you get into the game, you get lost in the game. The warm-up is strange, you're coming out to that same music and there's no cheer, there's no atmosphere, there's nothing.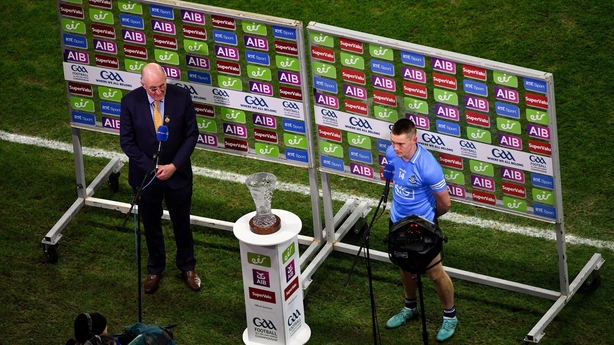 "Once the ball is thrown, you really get lost in your own performance, the team's performance. What's working, what's not working.
"I suppose at the big moments, you used to hear that cheer. But a lot of the time, you're just lost in your own game and are trying to get into that flow state.
"So, it is a little bit different but once you get into the thick of it, you're just lost in it. Fear and flow, it's a good way to be."
Though he finished as the game's leading light, O'Callaghan was one of the Dublin players who appeared to be mis-firing in the early exchanges.
After 10 minutes, he stood, with his hands on his head, fed up and visibly frustrated, after kicking a loose sideline into Cillian O'Connor's hands.
He acknowledged after the game that his 23rd minute goal was the trigger for him getting into the game and finding his groove.
"Oisín Mullin was on me, he's a really good player. I hadn't marked him before and he won a kick-out or two early on. I had a chance on goal, probably could have taken an easy score to put it over. I tried to take chances that came my way.
"But it's about playing as part of the team, we got two team goals which is something that is really important to us. Maybe it (the goal) did settle me down a bit."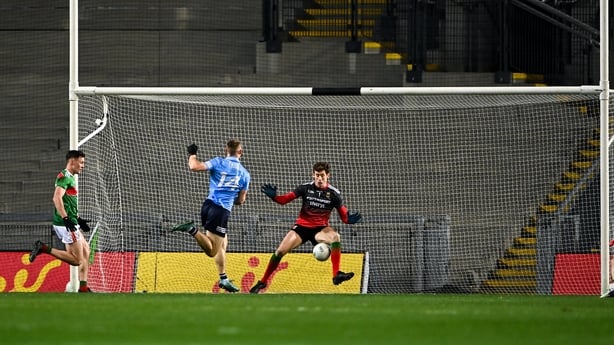 Mayo have been credited with at least getting under Dublin's skin in the past decade and the supposed needle between the teams was a frequent talking point beforehand, a narrative possibly vindicated by the bout of shoving and grappling in the tunnel at half-time.
But speaking afterwards, O'Callaghan, as well as Jonny Cooper, were highly complimentary about Mayo, stressing that they knew what the Connacht champions would bring, but stopping it was another matter.
"Yeah, I was talking to the other lads, it's something that always happens with Mayo! We knew that was the case, we'd spoken about. But it's a different story, speaking about it and actually being out there.
"You can review all the tapes you want, saying there's goal opportunities inside, but when you're in the white heat of battle and someone is facing you down, putting pressure on you, getting contact on you, you're forced to make mistakes.
"And that's something they do really well. So, we struggled to come to grips with that early on."
Intriguingly, O'Callaghan suggested that the black card, coming on the stroke of half-time, may have actually benefitted Dublin by forcing them to do adopt a more patient approach after what he called a "chaotic" first half.
"I suppose it came at an alright time. That fact that we were straight in, could chat about what we were going to do. Brian Howard came on, steadied the ship.
"And it mightn't have been a bad thing because we were playing a bit chaotic in the first half. So, we had the chance in the second half to control the game even though we were a man down.
"We probably held the ball a little bit more, played it around a bit more, and got scores after holding it for a couple of minute or two.
"I think we responded reasonably well to that."