From the outside, the transition between the Jim Gavin regime and the Dessie Farrell 'administration' looks entirely seamless and based on Jonny Cooper's initial response on the matter, it's hard to tell the difference inside the camp as well.
"Eh... nothing strikes me to be honest," Cooper told reporters after Saturday's final, when asked whether he could expand on any differences between the two management teams.
He quickly delved into a more comfortable topic, the shift in power among the playing group. 
"I guess there was a transition of power that happened in management. But also, from a player point of view as well. 
"There are a number of players that are new so the responsibility falls on leaders within the group but also from his (Farrell's) side.
"We just tried to co-curate from the two sides early on in the season. And then there was a big break so we tried to stay cohesive as best we could.
"In the last couple of weeks, we learned a lot about ourselves in this new group. Obviously, there's new guys who hopefully will continue that."
It was the fourth time in eight years that Dublin have beaten Mayo in the All-Ireland final. A point had separated the teams at the end of the three previous deciders. 
Though the late quarter surge pushed Dublin's winning margin out to five this time, the first 50 minutes was a typical fractious and competitive affair.
It was considerably less breezy and comfortable than Dublin have been used to in this winter. But this, Cooper says, was expected. 
"They're (Mayo) a savage team. They've always got that level of force and intensity. We probably expected it to some degree.
"But at the same time, it's only when you're in it, you have to try and figure it out. 
"At half-time, we were a man down (after Robbie McDaid's black card) and had to re-adjust. We had to up the tempo a bit, we managed to control the first few minutes of the second half, which gave us a bit of a footing.
"They were still coming at us in waves but when we got the full compliment back, it gave us a better chance to settle things down. It was nip and tuck for a while until the end when it widened a small bit."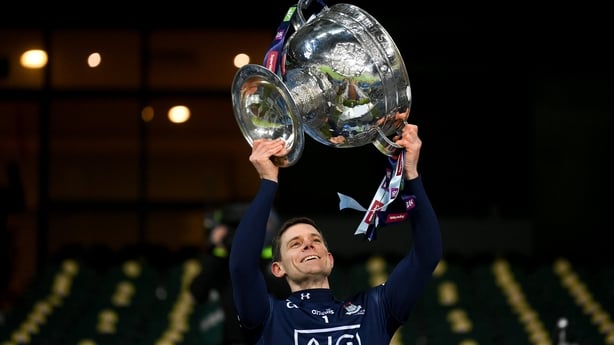 A septet of Dubs now hold eight All-Ireland medals - Cluxton, McCarthy and co joining five Kerry luminaries from the 1970s and 80s. 
Cooper himself has just the seven medals at this point, having joined the squad after the Pat Gilroy managed success of 2011. 
The Dubs have again broken new ground, winning a sixth title in a row. How, one wonders, do they keep the hunger.
For Cooper (31), it stems, a la Kilkenny under Cody from the competitiveness within the squad. 
"We've heard from our managers in the last few years that you need to drive those standards and behaviours 24/7. That's important. It's easy to say it but I guess doing it is a different thing.
"What do I put it down to? There's probably a hunger and a bite there, particularly from the younger crew of guys pushing the senior leaders.
"Who knows what'll happen for a few of us in the future. There's a competitive squad there and a new management team keeping us on our toes. 
"You have to work at it. It takes a lot of discipline and effort. That's what you sign up for. You're not perfect every day and you're relying on other guys. But personally, I'm in that senior leadership category so you have to front up as much as you can."