For the fourth time in eight finals, Dublin and Mayo will lock horns in the All-Ireland football final.
But how did they get here?
Dublin
7 November Leinster quarter-final - Dublin 0-22 Westmeath 0-11
Dublin started their procession to another Leinster SFC crown with a confident victory over Westmeath at Portlaoise.
"Business as usual" was the view of reporter Kevin Egan from the midlands that night, and there's not a whole lot more that can be added to that.
The Dubs led from the start thanks to efforts from Dean Rock, Seán Bugler and Ciarán Kilkenny and the gap was five points at the first water break.
They had extended it to nine points at half-time, before the weather began to deteriorate after that.
They wouldn't score for the last 10 minutes, including added time, but the game was long over at that stage as Dublin booked safe passage to another provincial semi-final.
15 November Leinster semi-final - Dublin 2-23 Laois 0-07
If the victory the first day suggested that maybe the Dubs were a bit off their game, the theory (and the hope) was squarely blown out of the water at the more familiar surrounds of Croke Park in the last four.
There has been much talk about everything needing to go right for Mayo on Saturday evening for them to get the win, so when Evan O'Carroll smashed the crossbar with an early goal-bound effort for Laois, heads must have already been dropping for the O'Moore men.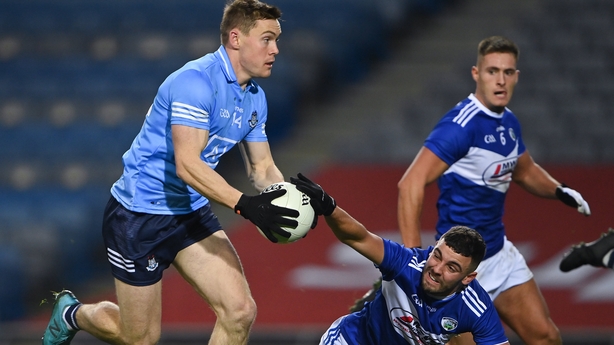 But the game was close in those very early stages, and a couple of fine saves from Niall Corbet in the Laois goal left them just a point behind at the first water break.
But the Dubs simply upped the ante from there, and a Sean Bugler goal left them eight clear at the break. Ciarán Kilkenny added another shortly after the resumption, as Dessie Farrell was able to bring on Cormac Costello (0-07, 3f, 1 45), Dean Rock and Philly McMahon.
At 22 points, Dublin had doubled their winning margin margin from the Westmeath victory.
21 November Leinster final - Dublin 3-21 Meath 0-09
Surely old foes Meath would provide a bit more of a contest in the Leinster final, with them having played in Division 1 of the Allianz League this season?
That was the hope, but it didn't come to pass as Dublin won by nearly the same margin again on the night the GAA commemorated the centenary of Bloody Sunday.
The 2019 meeting of the pair had seen the Royals restrict their city neighbours to just five points in the opening half, but Dublin weren't going to let that happen again.
Goals from Rock and Bugler gave them an astonishing 16 point lead at the break, with the contest over already at that stage.
Niall Scully scored the third major late on to secure a 10th provincial crown on the spin for the Blues.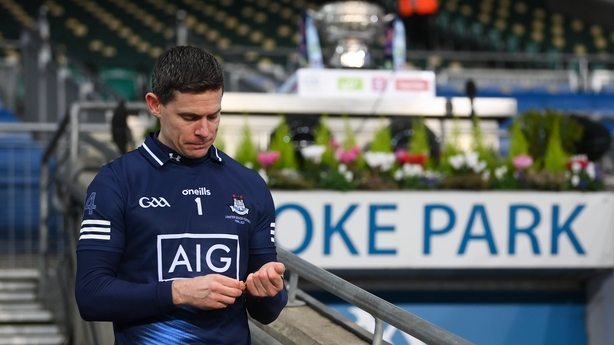 5 December All-Ireland semi-final - Dublin 1-24 Cavan 0-12
While the Leinster championship very much followed the script, Cavan's journey to the All-Ireland series had been anything but expected.
They had already beaten two Division 1 counties - Monaghan and Donegal - as they claimed a first Ulster crown in 23 years, so the hope was that they could stick with Dublin for longer than anyone in Leinster had.
They started well, and threw some caution to the wind in the opening stages. But Dublin were methodical as they kept the scoreboard ticking over throughout.
The gap at the first water break was three, and a couple of careless passes were beginning to slip into the Cavan play.
It was five at half time, but the Dubs were able to outscore the Breffni men by 0-06 to 0-01 in the quarter of an hour after the break - and that was that.
Robbie McDaid goaled in the last 10 minutes to put an almost cruel margin of 15 between the sides at the end.
What did we learn?
Two things are clear from their four games so far - Dublin are utterly ruthless, but no team has been able to put them to the pin of their collar in the second quarter of a game, never mind the second half.
Dublin's scoring capability is exceptional, with Paddy Small seamlessly bringing his club form with Ballymun into the inter-county set-up, and Robbie McDaid occupying something of a Jack McCaffrey role, now that the Clontarf gazelle has decided to take a break from top level football.
With a bench that has included Cormac Costello, Philly McMahon, Paul Mannion and Brian Howard at different stages, Dessie Farrell has an embarrassment of riches to choose from, both in terms of whoever he decides to start with at Croke Park, but also who he can call upon.
There are fair questions being asked about whether interest levels in football will dwindle if Dublin keep winning, but followers of the Boys in Blue seem to enjoy the rivalry that has built up with Mayo over the years - there has been an edge to these games.
Football's biggest day again sees East meet West - @DubGAAOfficial v @MayoGAA #rtegaa @TheSundayGame @RTE2 @RTEplayer @SatSportRTE pic.twitter.com/6qhfZ0E1Ad

— The Sunday Game (@TheSundayGame) December 6, 2020
Mayo
1 November Connacht quarter-final - Mayo 2-15 Leitrim 0-10
While Dublin players came into their provincial campaign knowing that they were very heavy favourites to win Leinster, Connacht was a different kettle of fish.
Galway and Roscommon had shared the trophy lifts out west since Mayo's last triumph in 2015, and with the added spice of a straight knockout, the games promised to be fierce contests.
That was down the line though, and Leitirm were never likely to spring a first championship defeat in clashes between the pair since 1994.
Conditions were biblical in Avantcard Páirc Seán Mac Diarmada that day, and Mayo had to show patience to get over the line.
Indeed Leitrim were four points ahead early in that first half, but the Green and Red had the advantage at half time thanks to a Tommy Conroy goal on his debut.
Conor Loftus' major 13 minutes after the restart was a fatal blow to Leitrim's hopes, and from there it was all about seeing out the game for James Horan's men.
8 November Connacht semi-final - Mayo 1-16 Roscommon 0-13
The Rossies couldn't get into their rhythm, with winter weather once more impacting the style of game on show at Dr Hyde Park.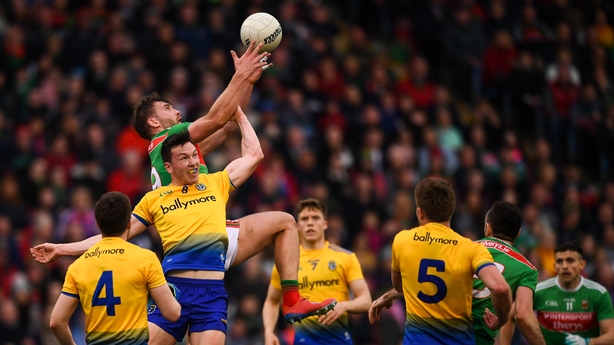 Diarmuid O'Connor's 18th minute goal put Mayo in command, moving them seven points clear at that stage, although the hosts did manage to shave a point off the gap before half time.
There was hope for Roscommon that, with a breeze at their backs after the break, they could get themselves back into the game.
It never really happened as Mayo hit the first three scores on the resumption, and could then afford to ease off somewhat as the mis-firing hosts gave up their title with little fight.
15 November Connacht final - Mayo 0-14 Galway 0-13
A week later Mayo were out again, with the old enemy Galway standing in the way of a first Connacht title in five years.
The pair had clashed just four weeks previously when Mayo had sent out a warning signal with a 15 point demolition of the Tribesmen in the Allianz League.
This was a different type of game - tighter and once again greatly impacted by a strong breeze blowing down the park at Salthill that afternoon.
The Green and Red used it to their advantage in the first half, taking a three point lead to the dressing room despite having kicked six wides.
And they were able to show great mental strength in the second half, not allowing Galway to get closer than two points until very late in the date.
When Shane Walsh missed a couple of late frees, difficult even without the breeze, it was set to be Mayo's day and they held on to win by the minimum.
6 December All-Ireland semi-final - Mayo 5-20 Tipperary 3-13
Dublin's comfortable victory over Cavan the night before had increased calls overnight for GAA intervention to save the football championship, but Mayo softened those coughs somewhat less than 24 hours later.
On weekend where history was being commemorated by the GAA, Mayo and Tipperary wrote their own chapter into that particular round of the competition.
The pair notched up the highest points total ever recorded in an All-Ireland semi-final, with Cillian O'Connor's haul of 4-09 an individual record tally.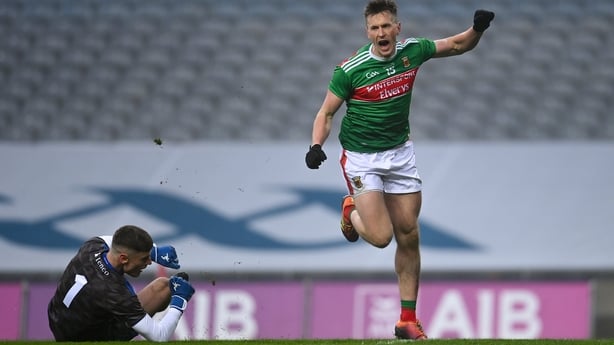 After the elation of winning a first Munster title in 85 years the previous month, it all came crashing down for Tipperary at Croke Park.
They didn't emerge with their fair share of the massive points total and although Mayo were clinical when they had to be, the Premier didn't do themselves any favours, gifting the westerners some soft goals in the first half.
Mayo were four clear at the water break in the first half, but they then managed a startling three goals in the second quarter to go in 16 points ahead at half time.
The Connacht champions had their fifth goal before Tipperary, to their credit, hit a couple more goals of their own to put a bit of respectability on the scoreboard.
What did we learn?
We learned, or maybe more so we were reminded, that the character in this Mayo bunch of players is incredible.
Jack McCaffrey spoke recently on OTB about not enjoying his football as much this year, and as such, he had decided to step away from the inter-county game.
An absolutely understandable decision, and if he never played a game of football again he'd already have more medals than 99% of footballers.
But whatever about trying to return to training in winter with an arse pocket full of Celtic Crosses, imagine trying to do it having lost another classic match by the kick of a ball?
Whatever happens on Saturday, it's to the eternal credit of Aidan O'Shea, Cillian O'Connor, Kevin McLoughlin, and Lee Keegan - who all started the 2012 All-Ireland final defeat to Donegal - that they're still going, and still performing to such a high level after so many setbacks.
That said, Tyrone in the league, and Tipperary the last day, showed that unless James Horan has a completely different game plan up his sleeve, there are big issues in Mayo's defence.
Tipp scored three goals the last day and might have scored that again - Con O'Callaghan and Dean Rock won't need a second invitation should those sorts of chances present themselves on Saturday evening.
Listen to the RTÉ GAA Podcast at Apple Podcasts, Soundcloud, Spotify, or wherever you get your podcasts.
Watch the All-Ireland senior football final between Dublin and Mayo live on RTÉ2 from 3.40pm Saturday, listen to live commentary on RTÉ Radio 1 or follow our live blog on RTÉ Sport Online and the RTÉ News app. Highlights on The Saturday Game (9.55 pm RTÉ2).