In the fourth century BC, an invading Macedonian army led by King Philip II annexed all of ancient Greece with the exception of Sparta. Philip sent a message to Sparta saying: "You are advised to submit without further delay, for if I bring my army on your land, I will destroy your farms, slay your people and raze your city."
Sparta replied with a single word: 'If'.
Neither Philip nor his son and successor Alexander the Great ever attacked Sparta.
A superb football team will take to the field on Saturday to represent Dublin. Their strengths are well documented and they have dismissed every challenger with ease in this championship to date. However, they are still required to produce a performance approaching their best to retain their title and Mayo have a brilliant opportunity to hold the champions to account.
Irrespective of what has gone before, that 'if' offers an avenue to victory for the westerners.
What Must Be Done
There are fundamental gaps in Mayo's performances that James Horan will hopefully have addressed in preparing for this tilt at the crown. It goes without saying that their individual performances will need to be eight and nine out of 10, but collectively there are three crucial team objectives to be achieved.
i) Kickouts: Mayo have to find a way to break even on possession.
ii) Fenton: The colossus's attacking influence from open play must be blunted.
iii) Defensive structure: Mayo have to tackle deeper and minimise space behind.
Projecting Invincibility
When any team wins an All-Ireland there is an immediate pay off for them in terms of their own self-confidence and in the external perception of the team's abilities. The latter is hugely contributed to by the media and, in the modern game, by the aura that social media can create.
On the back of a historic five titles in a row, the impact of this Dublin team's legend before it takes the field is significant on most opponents. Like everything else around the Blue Wave, what they project is carefully cultivated. The five-in-a-row champions are a brilliant group of footballers and athletes. They don't need the artificial help that most opponents present them before a tackle is made in anger.
The impact of those presumptions is largely on their opponents' own game. If expecting Dublin's pace, power, aggression and accuracy features at the forefront of individual Mayo players' picture of how the game will unfold, then it will manifest itself in hesitancy and indecision when the ball is thrown in.
So many opponents stand off Dublin in the opening exchanges of matches to allow them space to play. It's not overtly obvious, but it can be seen with and without the ball. Markers following rather than trusting their judgement, players wary of space around them step off a yard for fear of being turned and "safe" decision making with the ball in case you're turned over.
The first task for Mayo is to acknowledge but push aside Dublin's potential and bring aggression and belief in their own game long before throw-in – personally and collectively.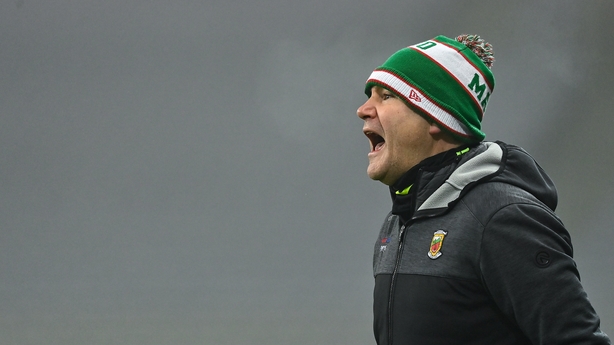 A Coherent Gameplan
"The clever combatant imposes his will on the enemy, but does not allow the enemy's will to be imposed on him." - Sun Tzu, The Art of War
The value of planning coherently how to take Dublin on cannot be overstated. There are symmetries between Mayo's own strengths and how the champions can be stretched and that will open the door to opportunities, but there are natural patterns to Mayo's plan that will feed them to the lions if not adjusted.
Everything is related. How you defend must compliment how you restart, how you attack and how you flow through every scenario. At this level those changes must be smooth and instinctive.
Despite their phenomenal recent record and the trail they have blazed through this year's championship, Dublin are not very far ahead of Mayo, Kerry or Donegal – on their best days. There have been periods in games when each of their opponents this season have matched, held and even outplayed them.
The challenge for James Horan, his staff and, most importantly, his players, is to relentlessly chase Dublin over an 80-minute period. Taking Dublin on in increments won't be enough. The challengers have to optimise any periods of dominance they create but also use all of their craft and energy to minimise the damage they take when Dublin are in the ascendency.
Kickouts
The numbers around kickouts to date are stark for the Connacht champions. Their own retention of long kickouts is comparatively weak against other tier one teams and in particular Dublin. Although they are a more direct source of scores, Mayo have lost the long kickout battle in every championship match and against Tipperary they were wiped out on both their own and opposition long kickouts. The Munster champions won 67% of longer deliveries from both ends.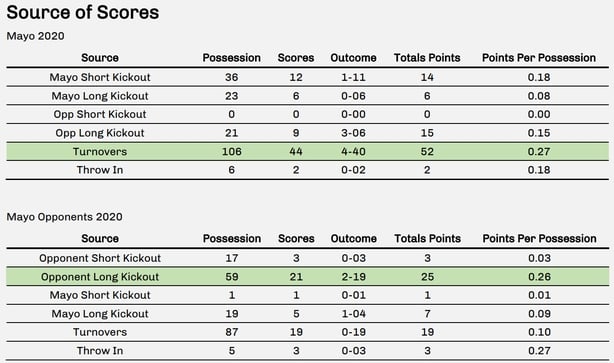 Mayo have a points per possession rate of 0.18 – more easily secured ball – as compared to 0.08 off longer kickouts. Although kickouts are not a massive source of scores for them, they have created more than twice as many off shorter restarts.
Dublin are much more balanced in the same area. They have points per possession rates of 0.22 and 0.21 off short and long kickouts respectively. With the exception of their first day out against Westmeath, the Dubs have controlled long kickouts against every opponent this year.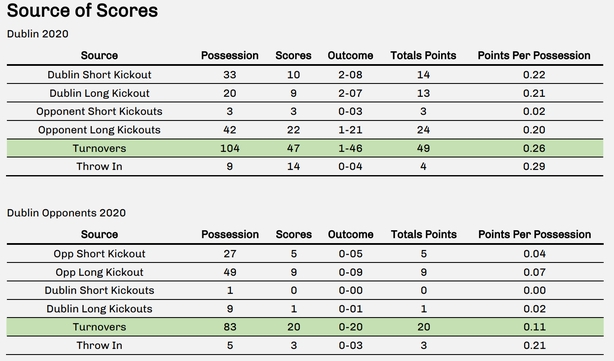 The data is quite clear. Mayo do not have either the personnel or strategies in place to get into a long kickout battle with Dublin and the implications of doing so are to haemorrhage possession and scores.
From their own restarts, David Clarke has to find movement and work possession. As frustrating as it is to watch, the most pragmatic approach to Cluxton's restarts is to give them the ball short and prepare to tackle.
Monster Fenton
The impact of Brian Fenton on this Dublin team's overall performances has been well documented. Although they will be far from decapitated without him, you can't hope to beat the All-Ireland champions with Fenton playing well. Kerry have laid out a working template in the recent past through Jack Barry.
Fenton demands the total attention of a designated tracker when Dublin have the ball. His ball carrying in the opposition half and ability to drift into space where he can threaten from causes mayhem and requires a marker who can match that, deal with him in the tackle and give him worries on the counter-attack.
Lee Keegan has shown weaknesses marking in the full-back line but he is one of the best middle-third trackers in the game and has the skillset to go toe-to-toe with Fenton on the ground. If Mayo are not planning on competing in the air on kickouts, then Keegan is the right solution to Fenton.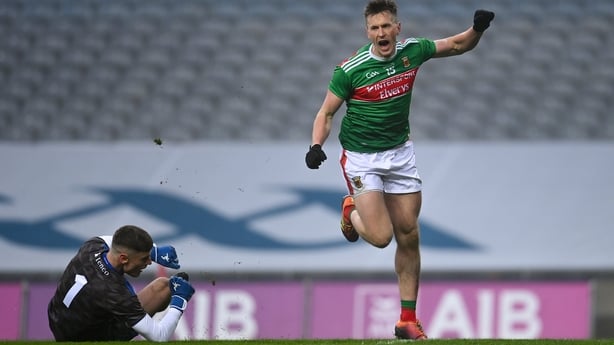 Defensive Structure
By some distance, Mayo's greatest source of scores this year has been turnovers. Against Tipperary their pressure took more than half the ball the Munster champions had and directly resulted in 3-12 of their tally. That ability to exert pressure on the ball has been a pattern in every game and they are superb at making it count.
To understate the problem, pressing as high up as Mayo have been pressing leaves a lot of space behind. A broken tackle and overlap will come at them quickly from 100 yards out. Dublin's power and ball retention is the perfect antidote to Mayo's high press. Gambling on taking ball off Dublin in their own half with no protection behind – as they have been – will be suicide.
All year Mayo's full-back line have been exposed to the early kick pass. If Galway had kept a ball winner close to goal with the wind in the second half of the Connacht final, it would have cost that game. Given the same opportunity, Dublin will break tackles, kick early and leverage that space in front of Con O'Callaghan and Dean Rock.
There is really no option for James Horan but to drop a covering player from the middle third and withdraw their tackling line inside their own half. It is an adjustment towards last year's defensive shape but retains their capacity to counter-attack off turnovers – just from a little deeper.
If
The Mayo players and management will see this weekend as a wonderful opportunity to smash what has been an imaginary ceiling for their county. I have no doubt they will see past the mythical aura that we're sold about Dublin and go after them from the beginning.
The task is not insurmountable and contrary to popular belief, the opposition are not unbeatable, but getting the job done will hinge on those massive 'if' variables.
Can James Horan find a way to retain possession from their own kickouts? Can they find the means to minimise Brian Fenton's influence? Can they defend with a collective mindset to shield their own weaknesses. These are not dissimilar to the challenges Peter Keane and Kerry faced in 2019.
If they can achieve all of that, then Dublin can be gotten at and are beatable. If is what fuels most of our dreams and Mayo will be no different.
Philip and the Macedonians never challenged Sparta in the end, but Dublin will present themselves on the battlefield this weekend.
We need your consent to load this YouTube contentWe use YouTube to manage extra content that can set cookies on your device and collect data about your activity. Please review their details and accept them to load the content.Manage Preferences
Watch the All-Ireland senior football final between Dublin and Mayo live on RTÉ2 from 3.40pm Saturday, listen to live commentary on RTÉ Radio 1 or follow our live blog on RTÉ Sport Online and the RTÉ News app. Highlights on The Saturday Game (9.55 pm RTÉ2).