Since 2009, the footballers of Cork and Dublin have contested five TG4 All-Ireland senior finals.
The score stands at 4-1 in the Rebels' favour, but it's Mick Bohan's Dubs who will head into next Sunday's decider between the counties aiming to win the Brendan Martin Cup for the fourth time on the trot, and so reinforcing their latter-day dominance. 
As for Cork, they won an amazing 11 titles in the period from 2005 to 2016, but two years ago they came out on the wrong side of a five-point defeat against this weekend's opponents. It's set up nicely for another intriguing contest just five days before Christmas.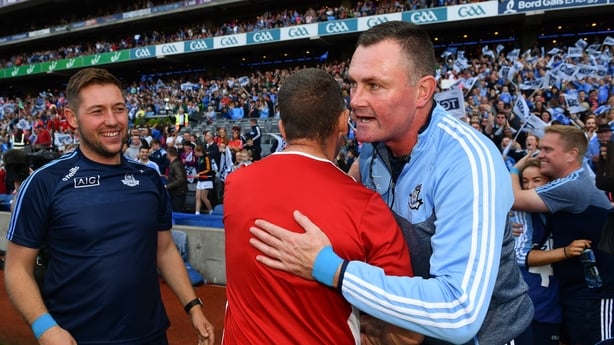 Speaking at a virtual Dublin press conference in advance of the final, Mick Bohan hailed the mutual respect that exists in both camps and his admiration for Cork manager Ephie Fitzgerald.
Recalling a challenge match that Cork and Dublin played some 10 weeks ago in Kilkenny, Bohan said: "I stood back in the car park with Ephie and watched the players as they finished their warm-down. 
"I said to him 'That's success, look at the two groups'. The respect that both teams had for each other was fantastic. I can say that hand-on-heart. Both groups have earned it. It's in the arena where that respect is garnished. 

"We have nothing but height of respect for their group.
"In my time involved, I have seen two groups of fantastic individuals go at it and being let at it out on the football field. 
"Cork have had the upper hand in most of the finals. For us to get one back two years ago was very pleasurable, but only because the prize was so well worth winning."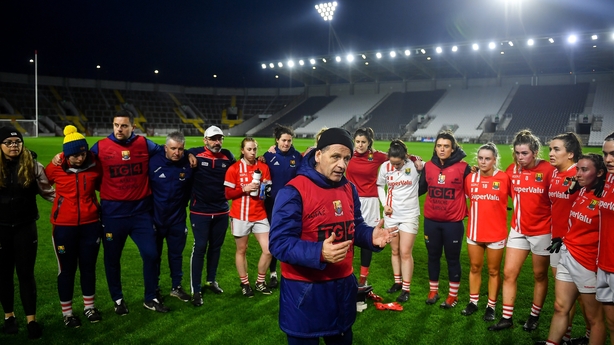 In paying further tribute to his opposite number, Bohan added: "Ephie is a wise old owl, he mightn't see himself as old, but he's a wise owl.
"I have great time for him, he's a rogue of the highest order. He led his troops really well and he's rebuilt a group. They are back in a final. Is it a surprise? No."
Of course, 2020 has presented many challenges because of the coronavirus pandemic. The Dublin manager, while paying tribute to all those who made the resumption of GAA activity happen, did highlight the lack of "enjoyment" in a difficult year.
He summed it up by saying: "For a large part of the year, football took a complete backseat. It was about minding a group of about 54, between backroom staff and players. 
"In any normal year you would start off with a big squad and then trim it a bit. This year we didn't do that; we didn't know there was going to be a season.  It was about minding people.
"A management team come together to coach people, to make them better players on a football field, not necessarily to be psychologists or carers. We had people in those professions who were particularly good during that period of time.
"When players came back, they came back in a particularly different environment and even now I would say to you, it hasn't been the same fun - not the same enjoyment.
"This isn't about playing. All the things that make it great like coming together an hour before training, having a chat, telling a joke, asking how people are getting on at work and then the after-match meal where you sit down and have a yap, all that is gone."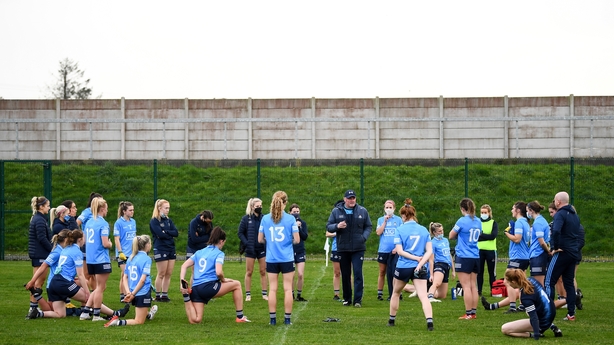 And then came the question.
"Where's the enjoyment? You have to take your hat off to those who have done it in men's football, hurling and camogie. Ultimately, the players are putting on a show at the weekends for all of us, and that hasn't been easy for them.
"I know you can take the view that we are in a privileged situation and can go training but it has been the most unusual year and it has been difficult. 
"We went up the Dublin mountains one night to do a night walk, purely to see if we could get a bit of laughter. For no other reason.
"Camp weekends are gone. They are really important in engendering a team spirit. We're lucky that the group are a really tight group and have been friends a long, long time."
Since the Dubs started their winning run in 2017, Cork have been rebuilding somewhat, with their 11-time All-Ireland winners Bríd Stack, Deirdre O'Reilly, Briege Corkery and Rena Buckley all now departed.
"The one thing Dublin have over us is they have a lot of experience and they know how to manage games," says Rebel manager Ephie Fitzgerald.
"But there's an exuberance in our team as well, we have a lot of young girls and they've worked very hard.
"It's a big challenge for us obviously playing the three-time All-Ireland champions. But we've prepared for it well so hopefully we'll give a good account of ourselves.
"I don't think it's a question of us trying to stop them. We're just going to play our own game. We have our plans in place and hopefully that will be good enough.
"They are a big, strong, powerful team, well-coached, well-managed, so it will be a formidable task but it's one we're looking forward to."