Victorious Antrim manager Darren Gleeson hopes his Joe McDonagh Cup winners can kick on and make an impact in next year's Leinster Championship after they overcame stiff resolve from Kerry in Sunday's final at Croke Park.
The Kingdom provided familiar foes on the undercard on All-Ireland final day, but the weight of expectation seemed to weigh heavily on a Saffrons side that had won all three of their previous meetings this year.
Kerry led by a point at the interval, but Antrim's class told after the restart and they went on to prevail on a 0-22 to 1-17 scoreline.
"There was a pressure coming in to win it, when you have three wins over a team," Gleeson told RTÉ Sport after the final whistle.
"They came and set the tone early, they weren't going to allow us to break the lines and have all the goal chances that we've had all year.
"Fair play to them, it worked for 35-40 minutes, but then once we got into our flow and the nervousness was gone out of our system, I thought we played really well for 12-16 minutes.
"There was an expectation on the boys coming in here which stifled them a small bit.
"We knew it wasn't going to be easy. I was delighted we got to dog it out. We did enough at the end, I know you might look at our last quarter and it wasn't spectacular and it wasn't the showcase that people are looking for, but it was enough for me. Once we have that cup, I'm delighted."
Antrim's return to elite hurling and the Liam MacCarthy Cup next season presents a daunting task, but it's one that will be embraced.
"It's up to the players, me as the manager and my team, what we can do going forward. And it's up to the Antrim board as well.
"They've been fantastic all year. It's time to get in behind the players as well. invest in Antrim.
"There's a huge investment in infrastructure in Antrim.
"We're not going to sleepwalk into anything. There's a huge gap in the levels.
"You'll see that between the first game and the second game.
"But there's only one place to bridge that gap and that's on the training field.
"If the boys buy in again and say we're going to have a right cut at this, I think we can leave our mark."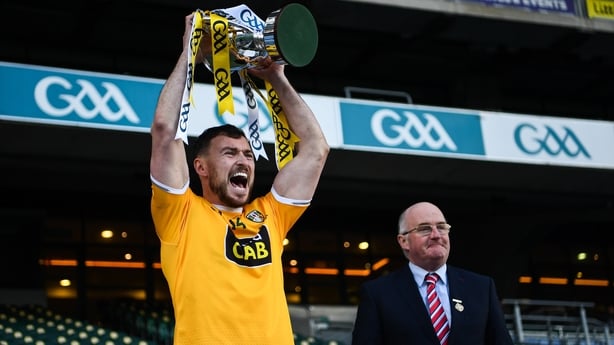 For captain Conor McCann, it was the most welcome of wins at headquarters.
"Antrim teams have struggled in Croke Park the last few years," he admitted.
"We've overturned that today.
"We were a point down at half-time and came back really strong in the second half, so we're delighted.
"Finals need to be won, but we're happy with how we came back in the second half. First half, we struggled a bit.
"We're going to be proud to return to the Leinster Championship next year and competing with the so-called 'big teams'."
While many pundits wrote off the chances of the Kingdom before the throw-in, McCann never did.
"We knew Kerry were going to be a really competitive team to play.
"Any of the games we had played up to now there was a puck of a ball between the two teams.
"We knew that Kerry were going to throw everything at us."