Kerry selector Brendan Cummins is delighted that the two best sides have reached this year's Joe McDonagh Cup final, however, he is very disappointed that both Kerry and Antrim will not be allowed to stick around to watch the All-Ireland final between Limerick and Waterford.
The former Tipperary goalkeeper, who has been involved with the emergence of this Kerry hurling sides, said that the two teams have been told that they must leave Croker Park as soon as the McDonagh final is over.
That game throws in at 1pm and while both sides are changing after the game, the senior final will be on the immediate horizon, scheduled for a 3:30pm start, yet those involved with the curtain-raiser will be told to exit stage left.
Speaking on this week's RTE GAA Podcast, Cummins said: "The post-match plan is like, 'Kerry and Antrim get out of Croke Park as quick as you can'."
"I think it is extremely disappointing that that is the way it has gone. I can appreciate the optics in that you would have 70 or 80 people sitting up in the stands, when there are frontline workers who have done massive work for both Waterford and Limerick who can't attend the game, and families of the players as well.
"We are trying to promote the game and these players will be in Croke Park anyway, it's not as if they are rocking up getting free tickets to watch it.
"I've seen the dedication that they have put in, and it will be disappointing when the game is over, they'll be told 'pack your bags' and get out of the stadium as quick as you can before the Liam MacCarthy starts."
Looking ahead to the game, Cummins knows that his side have it all to do if they are to reverse a recent trend of coming out second best to this fine Antrim side, having lost the last four matches between the sides going back to summer of last year.
And Cummins admits that he now has an intimate knowlege of the Saffron side having faced each other so many times recently, while he is also familiar with the man who has guided Antrim to the final.
Fellow former Tipp keeper Darren Gleeson was appointed Antrim manager in September 2019 and has played a major role in the hurling revolution that is happening up north - the Saffrons also secured promotion to Division One of the Allianz Hurling League this year.
"When I heard he was going into Antrim, I knew that something good was going to happen up there," said Cummins.
"You could see that there is a rising happening up there and they are starting to get a good group of plauyers and they have strength in depth."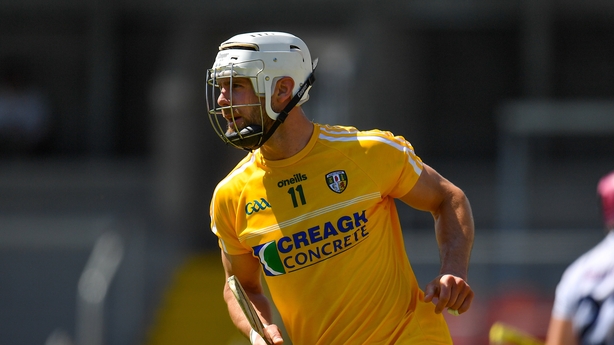 Despite the familiarity, Cummins said he has not spoken too much to his counterpart ahead of the game and said that his only real contact has been saying the customary "well done" after each defeat.
"I see him after most of the matches, saying 'well done, Darren'," laughed Cummins.
Cummins admits that he is very excited ahead of the McDonagh final as he sees real quality in both sides and the match on Sunday is a repeat of this year's Division 2A league final, which was a highly entertaining affair, as Antrim beat Kerry 2-23 to 2-20.
"I think the two best teams are in the final, like the Liam MacCarthy final," said Cummins.
"It's been going well and it's been great to watch the development of these Kerry hurlers over the past number of years, and I suppose at this stage, the players are playing with a good deal of freedom, they are moving the ball with confidence and they are playing the way that we hoped they would and are starting to reach their potential."
Neil McManus has been Antrim's talisman throughout recent years, and while there are concerns over the fitness of the Ruairí Óg clubman, Cummins knows that the current Saffron set-up are far from a one-man team.
"While he has been a warrior for them, he is not as big a loss as you would have thought, if you'd seen Antrim play as much as I have," said Cummins.
"McManus and Keelan Molloy, we would have said at the start, were going to be the ones, but I've watched Antrim an awful lot; we've played them four times since June 2019 and they've beaten us four out of four, so you get to see a lot of them.
"McManus limped off in that league final and he hasn't really been right since, but you look at Conor McCann, Michael Bradley, Niall McKenna, [Conal] Cunning in the corner, they are a Division 1 hurling team.
"Gleeson has done a huge amoung of work up there, and Liam Sheedy put the groundwork in with them last year and Darren has taken it on now.
"They are a seriously good team and they are the sum of the parts; all very, very good hurlers, no one marquee forward that's the go-to man all the time.
"So I think that is the transistion that they have made and that's why they are going to be playing Division 1 hurling next year, and they'll have huge aspirations with CAsement Park done up and all that stuff as Antrim hurling trys to kick it on."
We need your consent to load this SoundCloud contentWe use SoundCloud to manage extra content that can set cookies on your device and collect data about your activity. Please review their details and accept them to load the content.Manage Preferences
Listen to the RTÉ GAA Podcast at Apple Podcasts, Soundcloud, Spotify, or wherever you get your podcasts.