In February, 82% of GAA Congress delegates voted against introducing a black card for cynical play in hurling.
An overwhelming 89% of inter-county hurlers surveyed by the GPA were also against mirroring the rule that has applied, in one form or another, in football since 2014.
Many high-profile pundits have also spoken out against the idea, suggesting the same level of deliberate fouling does not apply in the small-ball code.
Multiple incidents in this year's championship strongly suggest otherwise.
In the Leinster final, Galway's Niall Burke claimed a brilliant high catch and turned for goal, only for Kilkenny full-back Huw Lawlor to keep a firm grip on his opponent's stick.
Referee Fergal Horgan couldn't even book Lawlor – under rule 5.12 (b) holding the hurl is only a yellow if it comes under the scope of persistent fouling.
Galway, whose reward for having a clear goal-scoring chance denied was a 20m free, tapped over for a point.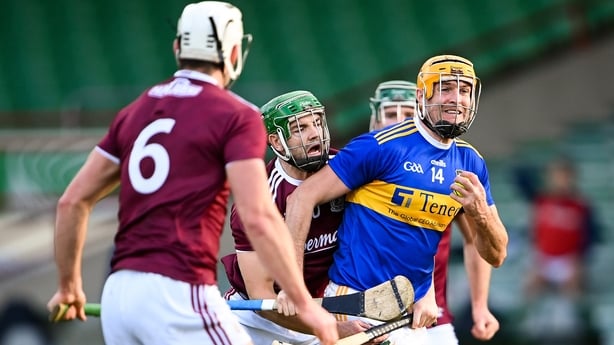 In the All-Ireland quarter-finals, Galway were leading Tipperary by three points in the final seconds of normal time when Seamus Callanan took a hand pass and set course for goal.
Adrian Tuohey executed a perfect rugby tackle from behind at the 20m line and was booked. Tipp had to go for goal and Brian Hogan's shot was tipped over the bar.
Losing a player for injury time wouldn't have affected Galway much, especially as Tipperary had already had Cathal Barrett sent off, but Lawlor's offence occurred in the first half and his absence could have been a big blow to his team, who went on to win the game.
"I've seen some real cynical fouling this year," says O'Grady, Limerick Munster-winning captain in 2013 and now a selector under John Kiely.
"One standing out for me would be Huw Lawlor's one. I think it (losing a player) would affect a hurling team more than a football team, if that makes sense.
"Taking a full-back out of a hurling team is a real, real hole to leave, it's a tough place to play as it is.
"Whether it's 10 minutes in a sin bin or something (else) I think something will have to be done because it's too easy, in a one-on-one situation you can bring someone down now and the reward for the attacker is a point whereas there was probably a 90/95% chance of a goal.
"I definitely would see going forward something would have to come in to stop that cynical fouling because there's no advantage to a forward taking on his man if he's going to be brought down and there's going to be a point out of it."
Another incident in the Leinster SHC was an ankle tap from Dublin's Danny Sutcliffe that stopped the run of Laois' Paddy Purcell.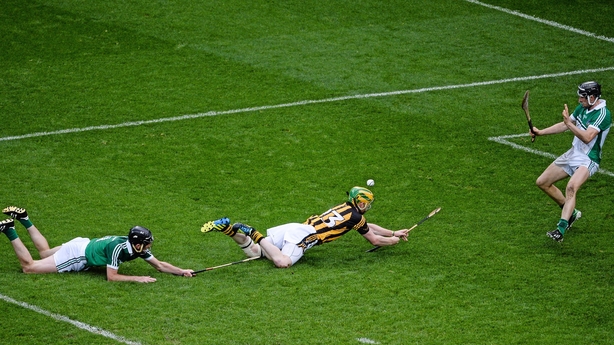 Ironically, O'Grady did the very same himself against Richie Power in Limerick's 2014 All-Ireland semi-final defeat to Kilkenny.
"I had to do the same thing that day," he admits. "The match would have been over."
Somehow, O'Grady, already on a yellow escaped being sent off for the final five minutes and a free was awarded as the foul took place just outside the large square.
"(Referee) James McGrath came in to the umpire and I ran around the goals and tried to hide from him. I knew I was gone because I had the yellow just got about five minutes before."
O'Grady played for Limerick from 2004-15. He lost an All-Ireland final to Kilkenny in '07 and was a spectator when Limerick won their first Liam MacCarthy Cup since 1973 two years ago.
This Sunday he will be on the sideline as the Treaty County aim to take down Waterford and claim a second All-Ireland title under Kiely, without the pressure of that long wait hanging over them.
"In my career, for every two or three bad performances we gave a bit of hope with a good one but then we couldn't just have that consistency," he said. "As we went on, maybe 2012, '13, '14 we did manage to win that Munster title and get back to a bit of consistency there, and then John took it on to a new level.
"You'd give anything to be below winning an All-Ireland medal. They are hard things to come by but at the end of the day, the group of players are a serious, serious, serious bunch.
"Thank God they got over that line in 2018 because it certainly does take that pressure off slightly, 1973 was still raising its head so I think that was important.
"Last year is what it is and this year is what it is and they treat every game as the next game and that's the way they've approached it and it has worked so far."
Watch the All-Ireland senior hurling final between Limerick and Waterford and the Joe McDonagh Cup final between Antrim and Kerry live on RTÉ2 from 12.30pm Sunday, listen to live commentary on RTÉ Radio 1 or follow our live blog on RTÉ Sport Online and the RTÉ News app. Highlights on The Sunday Game (9.30pm RTÉ2).