One of the great attractions of a strictly knockout championship is the possibility that teams can reach up a level and pull the rug from under a bigger fish.
We've been plenty spoiled with drama and novelty in that manner this year and both Tipperary and Cavan deserved their provincial titles and the adulation that have followed their achievements.
However, the alignment of stars, conditions and opposition attitude rarely provides for repeat productions and the All-Ireland semi-final line-up presented us with the cold reality of the difference between tier one and tier two of our game.
Mismatches aside, what the weekend illustrated was the inevitability of the All-Ireland final outcome unless there are fundamental changes to Mayo's gameplan. With only two weeks remaining in a condensed season the likelihood of that is negligible.
Dessie's Dublin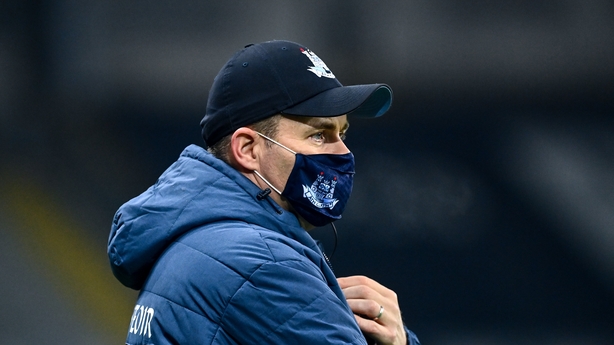 As it was with the Leinster Championship, we have learned virtually nothing about Dessie Farrell's Dublin. Given that they haven't once been put under anything approaching pressure in their entire campaign, we can only assume that they are still as good as Jim Gavin's Dublin – even if we don't know for sure yet.
Farrell's task – particularly given the lack of preparation time – was essentially to keep all parts of their machine oiled and stay out of the way. It's no time for a fundamental change in approach and the evidence is that he has achieved just that.
In a year when everyone else has struggled to get up to championship pace and evolve playing patterns, staying at last year's level will be ample for the champions to retain their title.
Motivational Stick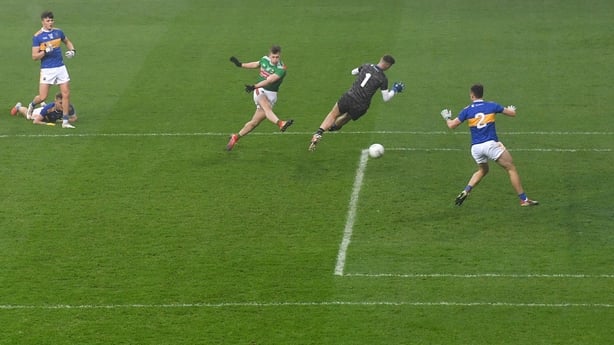 Mayo will argue that semi-finals are for winning, but everything after the opening quarter of the second semi-final of the weekend is a waste of time in terms of analysis. Although James Horan will use the footage as a motivational stick ahead of the final, there are no learnings after the intensity dropped out of the game.
After their second goal was scored in the 25th minute, Mayo naturally relaxed and frustration settled into Tipperary's play. The contest was over.
From a Mayo perspective there was no longer pressure on decision making and execution from that point, and they were no longer operating in championship conditions. In short, the only learnings about themselves from this game ahead of the All-Ireland final are in the opening 25 minutes.
The Connacht champions have very clearly set out how they will defend collectively and on the evidence of their provincial final and All-Ireland semi-final wins, it will be the fatal flaw in their armour when they measure themselves against champions once again.
Mayo's Self-belief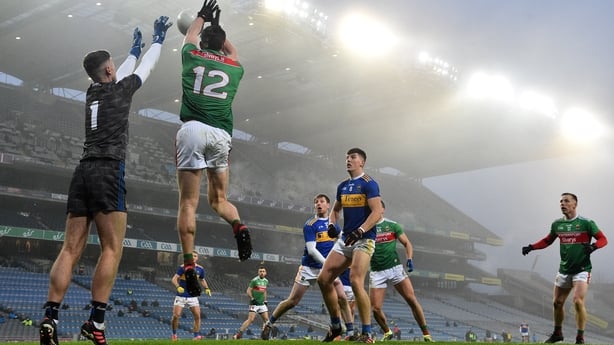 The confidence in their own ability is a quality to be greatly admired with this Mayo team and their defensive structure very much backs the capacity of their players to bring a full version of themselves to the task throughout games. It is clear that James Horan believes in the ability of his squad to produce consistently high levels of concentration and intensity on an individual basis to ensure the team are destructive in their work without the ball.
The first manifestation of that policy in their play is to pressurise opponents as they try to initiate attacks. Green and red jerseys were ravenous in their application to denying Tipperary time and space to build from defence and through the middle third.
Crucially, every Mayo player takes ownership of their collective responsibility and opponents don't have an unaccounted for man to work possession to for respite. It is more typical presently to drop a middle third player off to cover and to then press your opponent in the middle third with a man less.
Tipperary struggled under the onslaught and coughed up possession consistently. However, the price to pay for that extreme press is two-fold once opponents slip through the net.
Exposed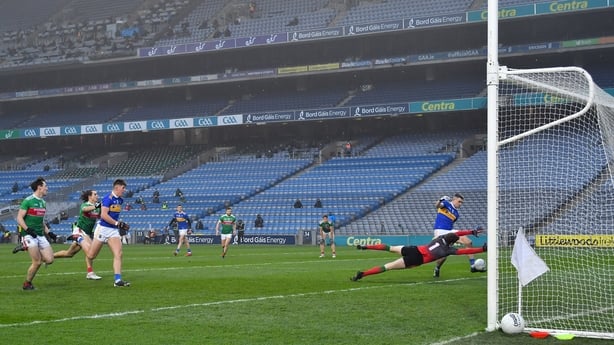 Once through Mayo's middle third wasteland, the impact of their resistance significantly dissipates and opponents have two major opportunities.
Firstly, with the press beaten, there is time on the ball to create. In the absence of any cover out the back protecting their defence, any decent movement up front can be found with early kick passing. Tipperary created both of their early goal opportunities in this way.
In the fourth minute Tipperary sweeper Kevin Fahy intercepted a wayward ball on the edge of his D and immediately hit Colman Kennedy beyond halfway with a perfect pass. Kennedy steadied before delivering a 60-yard diagonal ball across the front of the square to the two on two battle awaiting. Once Lee Keegan had misjudged the flight, Michael Quinlivan had nothing between him and goal.
Four minutes later, Bill Maher stands over a free just inside his own half with a hive of man-on-man pressing in the area just ahead. Mayo are determined to deny cheap possession to their opponents. Maher looks a little beyond the melee to see Sweeney and Quinlivan two on two inside the Mayo 45. Quinlivan shows wide right to receive the free, leaving Sweeney one-on-one inside.
Again, Quinlivan is under no pressure. There is no cover heading his way and no Mayo player is alarmed enough by what's inside to consider protecting Chris Barrett. Quinlivan steadies and drops the right ball on top of Sweeney, who muscles Barrett aside before hitting David Clarke with another glorious opportunity.
In the opening quarter on Sunday, the only period during which the game was at fever pitch, Tipperary conjured 10 attacks and managed to get eight shots off. That's an attack effectiveness of 80%. They failed to register with five of those attacks – including the two glaring goal chances – but you can be sure that Dublin will not be so generous.
Missing Links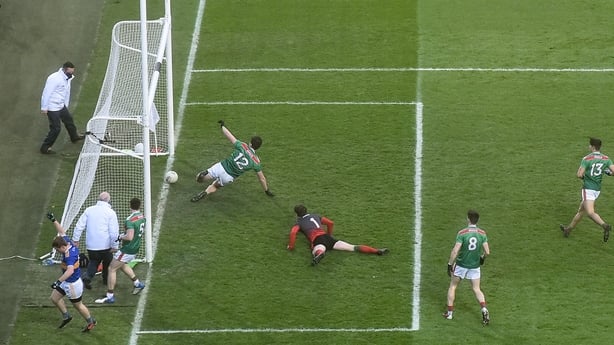 The game in the second half deteriorated into a glorified challenge match, but a second Mayo frailty continued to be exposed. The high intensity middle-third press only works when every man is relentless in applying themselves physically and mentally. One missing, distracted or lazy link in the chain opens up unguarded space – and scores.
Through a raft of changes the intensity just wasn't there and Tipperary had decided they were chasing credibility with a running game. Time and again the blue jerseys ran hard and direct to break through unmolested and Mayo were not able to close off the space in front of goal effectively. Even in the last quarter when half-backs attempted to drop earlier in to the danger zone, their positioning and application made them redundant.
Tipperary's running also exposed Mayo's one-on-one tackling badly. Sloppy application to tackling duties must have infuriated the Mayo coaching staff throughout. The second half was a clinic in "how not to" but the winners' front line personnel were far from exempt.
Brian Fox is a smart footballer who can knit play very well. What he is not though, is fast or powerful. His goal on ten minutes came after a meandering 40-yard solo run through the heart of Mayo's defence. It beat both Conor Loftus and Paddy Durcan and at no stage alarmed Diarmuid O'Connor into helping out form a supporting position.
Of course Mayo can rely on their impressive variety, creativity and energy in attack to balance their weaknesses without the ball. They overwhelmed the Munster champions with a phenomenal first half attacking display. Winning teams average a productivity rating (points scored per 10 possessions) of 4.7 but Mayo produced a productivity of 8.57 in the first half.
It will be difficult the rebalance the damage a Dublin attack will inflict in the same circumstances.
Final Opportunities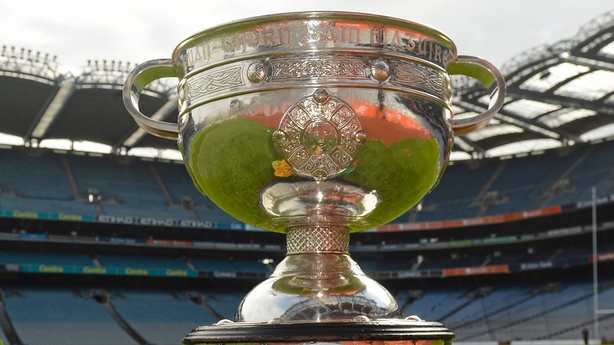 There are so many areas where Mayo can match Dublin and they are one of the few teams in the country who have a genuine opportunity in a one-off game if they can put together a nine out of 10 performance. However, calling the champions out for a shoot-out is the route to another moral defeat.
Beating Dublin starts with making an impact on their absolute belief in themselves. Match their physicality, close down their space and pressurise everything they want to do in the attacking half. It is not a simple task but cultivating frustration should be at the heart of any strategy to unbalance Dublin.
The Connacht champions have the raw materials to put Dublin under real pressure for the first time this year and then apply their attacking quality to exploit any weaknesses that surface. That will require grinding efficiency in defence and patience in attack. They don't seem interested in either.