Dessie Farrell follows much the same template in his post-match interviews that Jim Gavin always did.
As Dessie was traipsing the steps of the lower Hogan in the freezing cold to conduct his post-match interview with assembled reporters, social media was agog with fevered debate about the 'Dublin issue'.
This debate - we hardly need spell out the precise nature of it - now accompanies every one-sided Dublin victory in the championship.
Which is to say that it now accompanies every Dublin game in the championship.
After the Leinster final, the GAA world - both in Dublin and in the other three provinces - was wondering what the hell was wrong with those 'rest of Leinster' fellas. How was their will to win so easily sapped? Where was their resolve?
Alas, it appears that this 'rest of Leinster' condition is now spreading nationwide. Even those hardy northern bucks are infected with it. The indications were last year that Mayo's famous immunity is wearing off.
In his post-match analysis, Colm O'Rourke said that the capital needs to be broken into three or four teams "otherwise everybody else is just wasting their time."
Colm O'Rourke says the GAA need to address Dublin's dominance of the football landscape https://t.co/1lpMfdeSdA #RTEgaa pic.twitter.com/OidvO98Sfo

— The Sunday Game (@TheSundayGame) December 5, 2020
Post-match discussions with managers usually revolve around where the game was won and lost. This feels redundant where the Dubs are concerned. Most of their games follow the same remorseless pattern anyway and the outcome is known well before the final whistle (pessimists might say before the throw-in).
No, it's the bigger pictures issues which loom over everything.
How does Farrell approach the debate about Dublin's dominance and the rhetoric surrounding it?
"I don't concern myself with it," Farrell says, sounding dispassionate on the issue.
"As a manager of a team, engaging in that type of thing is only a distraction.
"What I can say is when you've got to All-Ireland finals, as this Dublin team have over the last number of years, on several occasions, there's only been a bounce of a ball in it.
"So, it'd be very presumptuous to think anything other than it's going to be the same in two weeks time, whoever we play."
Does Farrell feels the debate undermines the achievement of the players? He drops the shoulder and side-steps that question fairly effortlessly.
"No, I think that's for others to decide and make a judgement call on. We're just going about our business. In a lot of ways, it's been a very challenging year for many people all over the country.
"It's no different for the players. It's been a very, very long season. Massive disruption, massive uncertainty.
"The lads have applied themselves brilliantly, knuckled down when it was asked of them. I'm just very, very happy for them because they're here on merit."
For the first time in their current spell of dominance, Dublin have reached the All-Ireland final after winning every match by a double digit scoreline.
Kerry, in 1979, won the All-Ireland with double digit winning margins in every match they played. Their closest game that year was a 2-14 to 2-04 win over Cork in the Munster final (O'Dwyer racked up 9-21 against Clare in Munster and then 5-14 against Monaghan in the All-Ireland semi-final).
A large portion of the public believe that Dublin haven't been tested because there is currently no one capable of testing them. Is Farrell worried that this lack of a test might catch out his team in the final? He disputes the premise of the question.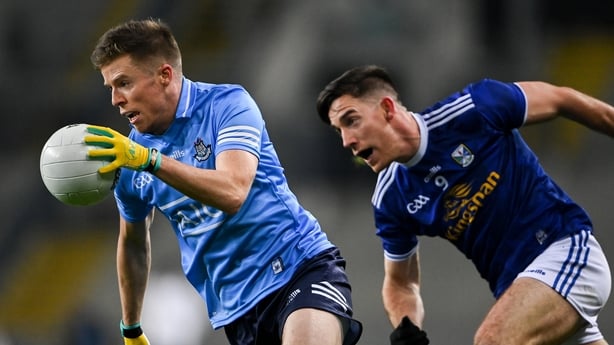 "I'd say we have (been tested). Every time you progress onwards, the competition gets stiffer. We've applied ourselves and prepared accordingly. How does that set you up for a different type of All-Ireland final against stronger opposition, who can tell?
"It was a nervy enough first half. We wouldn't be entirely happy with some of what went on. The second half was better but there was periods and passages of the game where it was sloppy as well.
"It was the type of a game where you were one long ball into the square, and then back of the net, away from a resurgence and Cavan being fired up. Because they were in touching distance for a long period.
"But then at the end with the goal, we crept away after that. But I can assure you as a manager, it wasn't as comprehensive as it might have looked."
Farrell was unstinting in his praise of Cavan and their performance in Ulster - though he admitted he had thought Dublin were likely to be facing Donegal in the semis.
"I think to be fair, we were surprised it was Cavan (in the semi-final). I think that was the national consensus. But the more I looked at them, the more frightened I became, to be frank.
"They're quite sophisticated in terms of their tactics, their rotation of players. They were always going to pose different types of questions than we've had to date.
"And then the big factor was they brought a level of intensity that Donegal couldn't live with - a very fancied, exceptional Donegal team - and they made them look very, very average.
"So, we paid them the utmost respect and we were very diligent in terms of our preparation in what they were going to bring today."
Dublin's recent managers have gone to great efforts to combat hype - Jim Gavin's obsessively bland and low-key interviews being one of the more famous planks of that effort.
Dessie Farrell, another veteran of the 1990s when hype was lovingly indulged with devastating consequences (1992), is of the same mindset.
The year being 2020 and Dublin All-Ireland victories being par for the course now, Farrell should probably not have to labour too hard to strangle hype this time around.
He almost sounded like he could miss it.
"As a manager, you're always concerned about the hype. But at the same token, players are putting in an enormous effort, and it's nice to be able to recognise and reward that, as long as it doesn't make trouble for yourself. And that's taken away and that's tough."