You probably couldn't achieve what Mickey Graham has achieved as a manager while being inclined to wallow in negativity.
As the slightly bored press corps stood shivering at the back of the lower Hogan, and inquired whether there was any hope left for anyone else in this county football business, the Cavan boss - who'd just watched his team lose by 15 points - passed up the chance to indulge in fatalism on behalf of the chasing pack.
"That's the standard, boys. It's a once in a generation team there. Like everything else, they'll come and move on.
"The rest of us just have to wait until that time comes and try and pick up the scraps afterwards, let's be honest!
"When it's going to come, I don't know. But it will, lads. In every sport, there is a team that comes around every so often that will dominate like they've dominated.
"Sooner or later, somebody is going to break that cycle and it's up to the rest of the teams to take up the mantle."
Graham's astounding managerial feats were the only thing that might have convinced anyone beforehand that Dublin wouldn't simply trample over Cavan, as they have every other team this year.
The Cavan manager built his reputation at Mullinalaghta, the tiny north Longford club, who he led to an astonishing Leinster title in 2018, defeating one of Dublin's most renowned of 'super-clubs', Kilmacud Crokes, in the provincial decider.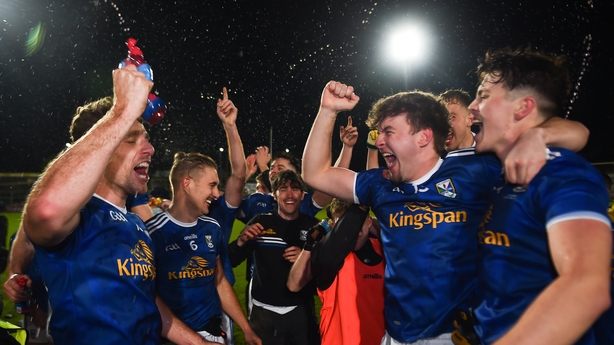 His and Cavan's provincial success this winter has also had a slightly freakish, otherworldly quality, the team having shaken off apparently dismal league form, overcome seemingly hopeless deficits against both Monaghan and Down, before stunning three-in-a-row chasing Donegal in the final.
This might have fed the notion that Dublin were dealing with a different beast tonight - one that they hadn't encountered among the demoralised rabble in Leinster. That, in playing Cavan, the Dubs were now entering the realm of the irrational.
What we saw unfold was all too familiar.
Unlike Meath in the Leinster final, Cavan did at least begin full of brio and gusto, remaining relatively competitive until half-time.
Nonetheless, the Dubs still found scores easier to come by and Cavan's performance was blighted by a striking number of needless turnovers.
"I thought in the first half, we did reasonably well," Graham said.
"We were very annoyed with ourselves at half-time that we coughed up ball cheaply at times. We committed five unforced errors and they went away and got five points.
"We needed to make sure that every time we attacked, we needed to nail it. And when you don't, you don't get a second bite of the cherry."
Cavan's challenge began to shrivel up in the third quarter, as Dublin began to monopolise the ball, eagerly hunting a goal which would, at least, remain elusive until the dying minutes.
Graham's team mustered just one point between half-time and the second water-break. And while there was a brief rally near the end when they rustled up three points in a row to get the margin back to single digits, the matter was settled even before then.
"They're just so strong in every department," Graham sighed.
"Anything we tried tonight, they were able to nullify it. We tried to go long, we tried to run at them, we tried to get width, but they were just so well prepared for everything we threw at them.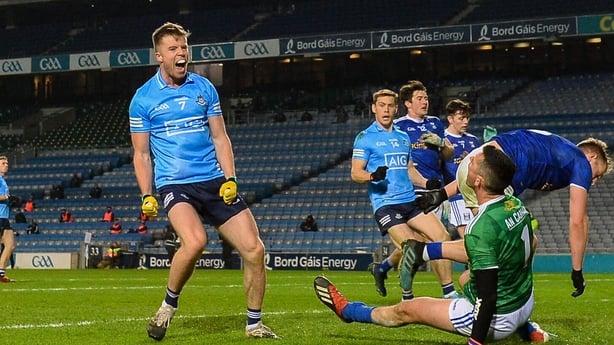 "You can't fault the lads, they gave it a go at least. We could have come up here and decided we're going for a moral victory and we're going to park the bus. But we didn't and I thought that was brave of the lads.
"We've still a lot of catching up to do on the conditioning end of things. We've done a lot of work to get where we are. We went about that a couple of years ago when we appointed a full-time athletic development officer in Cavan. We're only starting to see the fruits of it now. But it'll take another couple of years."
Graham was unstinting in praise of the victors, labelling them "the best team of all time" - no longer a controversial opinion.
Watching Dublin chasers swarm the man in possession, during the brief moments when possession was lost in the second half, Graham was reminded of another champion outfit from a different code.
"People talk about the quality of players that Dublin have, but the work ethic. When they didn't have the ball, how quickly they wanted to get it back. We need to get that into our game and every other team before us. That work-ethic, that intensity. It's a wee bit like Barcelona under Pep Guardiola. That's the standard they've set.
"They've set the standards. They've raised the bar and it's up to every other county in Ireland to get up to that standard.
"We can make complaints about funding and facilities but it's up to everybody else to raise their own standards."
With most observers having anticipated roughly what transpired in Croke Park, it was never the case that Cavan's stunning 2020 campaign - which will remembered for the return of the Anglo-Celt Cup after a 23-year gap - was going to be soured by events tonight.
And the infectiously optimistic Graham already has his sights trained on next year.
"It's been an unbelievable journey. These lads have had so many setbacks the last two years. It's been well documented the players we didn't have and the players we lost.
"But these lads came and wore the jersey with pride. We got relegated from Division 2 to Division 3 and it would have been very easy for the lads to look for someone to blame. But the lads stuck at it.
"Over the course of the championship, we looked dead and buried but the boys showed huge character. They showed us what Cavan football is all about. There is character, there is belief in it.
"This year's journey will bring huge confidence going into next year. It'll give us a platform to build on."