Despite a fairly competitive first half, Dublin eventually eased into the All-Ireland final with a 1-24 to 0-12 win over Cavan. Here's how we saw it.
DUBLIN
Stephen Cluxton 7/10
A really loose kick-out in the 20th minute wasn't punished but overall his restarts were of their usual high standard. Also did very well to beat Thomas Galligan to a ball right under his crossbar in the third quarter.
Michael Fitzsimons 7/10
Had a more comfortable night than expected as Cavan avoided targeting Dublin's full-back line until the final quarter. Took advantage by getting forward on a number of occasions and his pass in the second half enabled Paddy Small to score from a mark.
David Byrne 7/10
Gave away one bad free but like Fitzsimons was alert throughout. Helped wrapped up the Cavan forwards when they ran into traffic with his turnover leading to Dean Rock's 13th-minute point at a time when the game was fairly balanced.
Eoin Murchan 6/10
While not in any real bother, Murchan had one of his quieter games for Dublin. A foul on Ciaran Brady did lead to an easy Cavan point after 21 minutes. His timing was generally good though when boxing out Cavan forwards.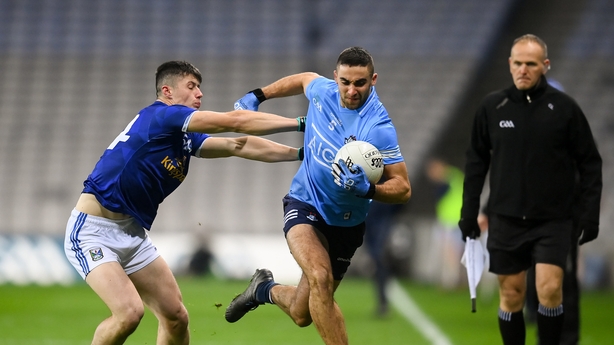 James McCarthy 7.5/10
Didn't do too much that would make its way onto a highlights reel, but did so much good work around the middle. Kept Geaoird McKieran mostly quiet in the first half and at times disrupted James Smith with a hand in here and there too. Nice pass to set up Ciarán Kilkenny's second-half goal chance.
John Small 6.5/10
A good performance was soured a touch by two bad wides, the second of those confirmed by HawkEye. That shouldn't take away too much from a solid display where he seemed to be continually on the ball on the opposition 45.
Robbie McDaid 9/10
Even before his late goal he was in the running for the Man of the Match award, and he duly was given the honour by The Saturday Game crew. His raids down the left flank caused Cavan serious bother all night and he showed great awareness to nip in ahead of Killian Clarke to set Naill Scully up for a goal chance. Palmed home a late goal to add to a point in each half.
Brian Fenton 9/10
Another monster performance from Fenton and he truly seems to be operating in a league of his own. Was disposed by Padraig Faulkner at one stage and dropped an effort short into the Davin Stand end, but it's hard to think of any other mistakes. Kicked four points from play and was simply majestic. Still only 27 but All-Star five is all but wrapped up.
Jonny Cooper 5/10
Was fortunate to escape a card when he fouled Martin Reilly in the first half as he lost the Breffni forward in front of goal. Still prone to the odd rash moment and was replaced in the third quarter.
Niall Scully 6/10
Plenty of endeavour from Scully but didn't have a major influence on proceedings. His one big moment came in the first half when Robbie McDaid played him through on goal, but with his balance slightly off his connection was far from perfect and Cavan were able to clear the danger.
Ciarán Kilkenny 8.5/10
Was frustrated with referee Ciaran Branagan in the first half after he opted against giving him a couple of frees. Still pretty much ran the show in attack and very nearly had a goal too as he blasted past Raymond Galligan, but Martin Reilly had got back to palm the ball over the bar. Finished with three points from play as well as a mark.
Seán Bugler 5/10
Apart from forcing a good turnover on Jason McLoughlin along the sideline after 22 minutes, failed to get overly involved. Did keep things ticking over, but no surprise that he was the first Dub replaced.
Paddy Small 6.5/10
Has another pointed mark to add to his collection after taking a pass from Michael Fitzsimons after the break. Had already a point to his name by that stage in what was a good performance.
Con O'Callaghan 7/10
It's weird trying to summarise O'Callaghan's performance. At times he found Padraig Faulkner far too sticky but when all was said and done he had four points from play to his name. Also took an important kick-out in the first half moments after Stephen Cluxton had placed one right into the hands of a Cavan attacker.
Dean Rock 8/10
When Dean Rock kicked a routine mark wide in the opening moments, it maybe raised the hopes of Breffni fans that he was set for an off night. By half-time he had snagged four points from play as well as a free. His influence was definitely less in the second half, but he got into some great positions and was ignored, while he also set up Robbie McDaid for the game's only goal.
Subs
Brian Howard 6/10
Was named to start and then replaced just before throw-in. Did come on in the second half and had a hand in a few moves as Dublin eased to the finish line.
Philly McMahon 7/10
Lucky not to give away a penalty after a tug on the arm of Thomas Galligan and did screw a goal chance the wrong side of Raymond Galligan's post, but was brilliant in the air as Cavan launched a series of high balls onto the edge of the square in the final stages.
Paul Mannion 6/10
Another reminder of the scary talent Dublin have in reserve and worked hard to come into the starting picture in his 15 minutes on the pitch.
Cormac Costello 6/10
On for the final few minutes and managed to get on the scoreboard.
Colm Basquel N/A
Brought on in additional time.
---
CAVAN
Raymond Galligan 8/10
Another fine display of kicking from the Breffni captain and not afraid to try and pick a Cavan player out even if some sky blue jerseys in close vicinity. Looks a certainty for an All-Star unless Stephen Cluxton does something special in the All-Ireland final.
Jason McLoughlin 6.5/10
Played a bit more advanced than he usually does and kept the ball moving well. Was turned over in front of the Hogan Stand in the first half but was decent overall.
Padraig Faulkner 7/10
Followed Con O'Callaghan and made things difficult for the Dublin attacker even if the Cuala man did slip away a few times. One superb tackle in the 48th minute prevented O'Callaghan from going in one-on-one on Raymond Galligan.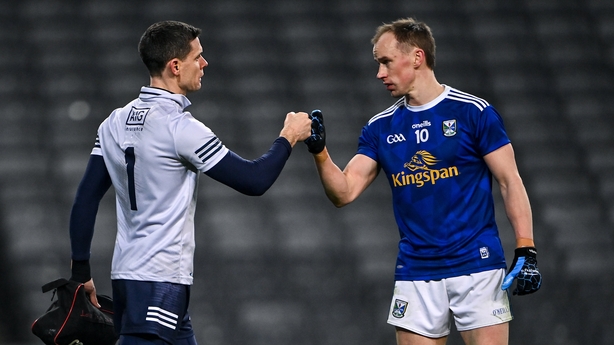 Killian Clarke 5.5/10
Caught ball-watching in the first half and that allowed Robbie McDaid to nip in and set up Niall Scully for an unconverted goal chance. Booked early in the second half for a foul on Dean Rock so no surprise to see him called ashore after 46 minutes.
Gerard Smith 6/10
Provided a good option for kick-outs and was very lively. Overcommitted for one ball into defence and Ciarán Kilkenny spun him and pointed.
Ciaran Brady 8/10
Brady's influence may have waned in the second half but for 35 minutes he was arguably Cavan's best player. Punched holes through the centre of the Dublin defence and disrupted Ciarán Kilkenny's attacking intentions on a few occasions. Scored a great point before the break.
Luke Fortune 6/10
Tried hard but found the going tough in the second half, like all of his teammates. Broke forward for a shot in the final stages, but it was a wayward effort.
Thomas Galligan 6/10
Badly underused in the first half and his excellent 7th minute point was a rare moment of involvement. Stayed in full-forward in the second half and when the high balls did eventually come in, he found the going tough against Stephen Cluxton and Philly McMahon. Sent off in the final seconds after picking up a second yellow card for arguing with the referee.
Killian Brady 5/10
Picked up a bang to a head that may have led to his early withdrawal but, in truth, was struggling. A misplaced hand-pass led to Dublin's opening point and a foul on Paddy Small led to another Dean Rock free.
Martin Reilly 8.5/10
The veteran was absolutely superb in his first All-Ireland semi-final for his county. Opened the scoring after 14 seconds and kicked two wonder points in the second half. Also prevented a certain goal when he got back to push Ciarán Kilkenny's shot over the bar.
Gearoid McKiernan 6.5/10
A solid showing from the big Cavan Gaels man without being at his dominating best. James McCarthy did put him off at times, but still found time to take a couple of superb catches from Raymond Galligan kick-outs.
Oisin Kiernan 7/10
Another fine display to round up a positive championship for Kiernan. His pace caused issues in the first half while he got back well to deflect Niall Scully's goal chance away with his foot. Kicked two beautiful scores either side of the break.
Conor Madden 6/10
Was handed a starting jersey after his brilliant cameo off the bench in the Ulster final win over Donegal, but must be miffed about the lack of service he received in the first half. Only one ball went direct into the full-forward line in those opening 35 minutes, and it came at a time when he had rotated further out the field. Kicked a brilliant score in the 44th minute.
Chirs Conroy 5/10
Hooked just before half-time and moments after he had stroked over a close-in free but the Lavey man failed to really get into the contest and was guilty of a bad kick-pass in the opening minutes.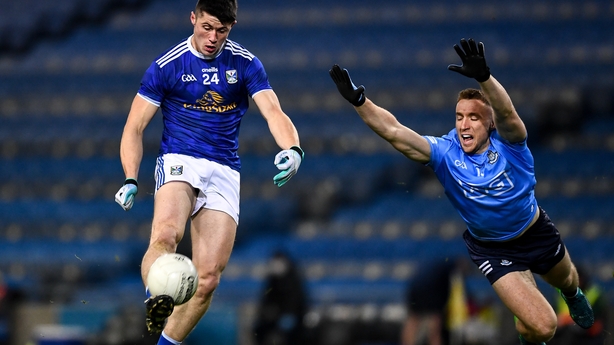 James Smith 7/10
A late addition to the Cavan team and he partnered Gearoid McKiernan in the middle. Won the throw-in to set up Cavan's first score of the game and kicked a great point a few minutes later. Showed some eye-catching moments in the air although he was guilty of an awful wide in the 40th minute.
Subs
Conor Smith 6/10
Didn't start despite being named but came in after the first water break. One good effort was unlucky to trail wide in the first half and he showed great hands in the second half, especially when taking an advanced mark whilst sliding along the ground.
Stephen Murray 6/10
Came in moments before the half-time whistle and used his speed to make good yards on a number of occasions. Not heavily involved.
Niall Murray 6/10
The game was beyond Cavan by the time Niall Murray came into the contest but he still put everything into it and pulled off a great block to deny Con O'Callaghan a point.
Conor Brady 5/10
Brought on on in the final quarter and tried to get involved, but Dublin were dominant at that stage.
Stephen Smith 5/10
Introduced in the final minutes but the ball rarely left the Cavan half in that time.