Leading his native Tipperary to minor, U21 and U20 All-Ireland titles certainly suggested that Liam Cahill knew what he was doing but surely this is beyond even his most optimistic predictions for his first year in charge of Waterford?
A team at a low ebb, without a championship win in eight games since losing the 2017 All-Ireland final, has been rebuilt more effectively than the Six Million Dollar Man (look it up) and are now back in the decider after one of the all-time comebacks against Kilkenny.
"I think it was a realistic goal," he insisted after the epic semi-final win at Croke Park.
"If you were setting targets at the start of the year, it would have been a realistic goal that with a bit of luck, you'd get to get to a final.
"I don't mean to sound that we were confident or arrogant about it - we weren't – but we did feel that if we looked after ourselves and trained well and got the balance of our team right that we'd have a chance.
"And look, we're getting a bit of luck along the way and we're there. We'll look forward to the final.
If Waterford had luck to thank, they made it themselves. Nine points down shortly before the end of a disastrous first half, they hauled themselves back into contention with a third-quarter assault of the kind Kilkenny are more used to inflicting rather than receiving.
"It wasn't anything dramatic, I can assure you of that," Cahill said, when asked what Hollywood speeches had inspired the unlikely revival.
"It was down to the players really. Just their decision-making was costing us big time in the first half, left quite a number of easy plays and chances maybe behind us.
"We just seemed to be off it a little bit, but I thought it was more mentally with our mindset than our legs, so we just tied to address that and see could we turn it around.
"We looked for a green flag or two, we needed that to give ourselves a chance of getting back into the game and thankfully we got that.
"A real good sign today was fellas didn't give up on it. That's the most encouraging part for me, that they kept backing themselves and willing and wanting to turn it around. That's what decent teams are made of and thankfully it worked out. I'm very proud of the players today."
'Too many games we're after leaving behind us'

Man of the match Stephen Bennett says Waterford will not lack for motivation or confidence ahead of All-Ireland final after inflicting a rare semi-final defeat on Kilkenny #rtegaa https://t.co/czuXxifNjS pic.twitter.com/b3uPWELC1V

— The Sunday Game (@TheSundayGame) November 28, 2020
The aforementioned goals came courtesy of sub Darragh Lyons and, before that, a 1-02 burst from sharpshooter Stephen Bennett after the restart that turned the game.
"He's having a marvellous year isn't he?" said Cahill of Bennett, who ended the day with 1-10 (6f) to his name.
"He always was a good forward, it's just that he's now delivering consistently.
"He's a massive player. He makes mistakes but I don't think he's beating himself up as much as he used to about making mistakes. He's always concentrating on the next ball.
"Thrilled for him that he's eventually fulfilling his potential that he's showed for so many years."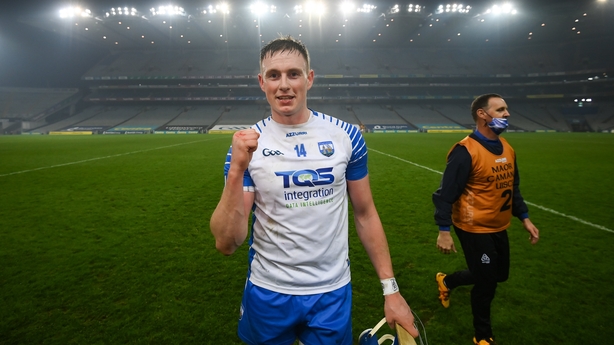 Former Hurler of the Year Austin Gleeson had as frustrating a first half as any of this team-mates, hitting three wides. He clicked into gear after the break, however, and banged over four points from play as Waterford roared back.
"Credit to Austin Gleeson, he was out on his legs there and he absolutely gave everything he had," said Cahill.
"If ever a performance epitomised Austin Gleeson, on my watch, I think today was that.
"In fairness to the man, he's been lauded and applauded for all the spectacular things he does but I think from today, and over my reign so far, he's brought a different aspect to his game with work-rate and honesty and hooking and blocking. I'm delighted for him in particular."
Another crucial factor in Waterford's win was the impact of their bench - Neil Montgomery, Iarlaith Daly and Darragh Lyons all scored - compared to Kilkenny's.
"We probably could have freshened a little bit earlier," admitted Cahill. "We seemed to be going reasonably well, you're always afraid to tweak it too much when the momentum is with you but I thought young Iarlaith Daly gave us great impetus when he came on.
"I think any of the subs that came on, Darragh Lyons in particular. We have good players in Waterford that are putting up their hand every week to come in and it's great for me as a manager that they have that energy to come in and help the lads that have been flat out for the last three weeks.
"We're three weeks on the go which is tough going. But I think these guys will recover well over the next week and we look forward to two weeks' time."
"We have to be very conscious that we will come here to hurl a match in two weeks' time and we'll try our utmost not to play the occasion"
Can they now go and beat Galway or Limerick?
"It's a result-driven business when you're managing a county like Waterford that have good hurlers and expect to be in the last four and the last two of Championships so yes, there's silverware there to be won.
"We're going to do everything in our power to try and win it at this stage. But we have to be very conscious that we will come here to hurl a match in two weeks' time and we'll try our utmost not to play the occasion.
"Any team that goes on to win an All-Ireland usually has to beat Kilkenny along the way. They are always the benchmark to beat. It couldn't but give us that extra bit of confidence.
"It's great but there are so many aspect of our play we'll need to look at. When we look back over it the rest of the week, I think there will be a lot of cringe moments there, that obviously if they reoccur in two weeks' time will cost us, big time."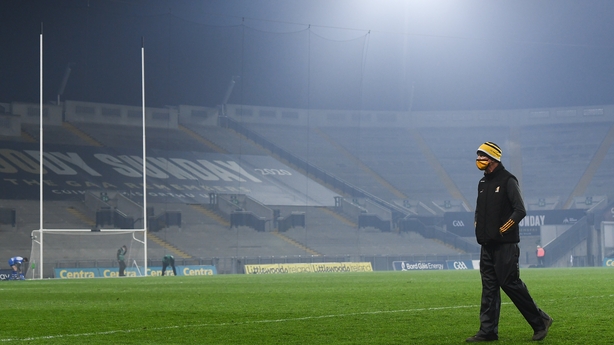 Reflecting on just his third All-Ireland semi-final defeat as Kilkenny manager, Brian Cody was at a loss to explain the reversal in his side's fortunes after the break but was happy they fought to the end.
"It's very early to look at all these things now," he said.
"They were very strong in the second half. They won an awful lot of ball and were very athletic and they got great scores and that's it and we were beaten fair and square.
"They're strong in the sky. Their players are good at doing that, good at winning ball. They got a huge impact going in the second half and deservedly won the game.
"We were under pressure when changes were made. They were under serious momentum and it's very hard to change that momentum and that's the way it went. But in the end we were still fighting and brought it back to two points. We were trying to keep going.
"The players I've got to give great credit to because they never threw in the towel and they gave it all they had and they were second best."
Cody admitted that losing a second big lead in three games - they were 15 points up on Dublin and won by one - was concerning and said Bennett's goal had been a gamechanger.
"I suppose you could draw similarities from it," he said. "We had a lead against Dublin as well - a much bigger lead half-time and we made it difficult for ourselves as well.
"No, the quality of Waterford today was serious and they deserved to win the game, that was it. Seven points of a lead, you get a goal, suddenly it's four and then it's very very little."
As for the expectation that Waterford would be more fatigued, the 11-time All-Ireland winner said: "I never bought into that perception.
"These lads are superbly fit players and three weeks in a row, sure they love doing that. Players would love to be playing every week."