Colm Bonnar has indicated that he will not be seeking a fifth season in charge of the Carlow hurlers after their Joe McDonagh Cup ended with defeat to Westmeath.
Bonnar, who was appointed manager in August 2016, said that it was probably time for someone else to lead the Leinster side after their hopes of a final spot were ended by their 1-21 to 2-13 loss and Antrim's win over Meath.
"I think the boys, to be fair to them, they probably need a fresh face and a fresh voice in the dressing room," said Bonnar.
"It's probably time to wish them the best and I have no doubt that they have the capability of starting again, winning Division Two and competing again in the Joe McDonagh. It's early days but they would be my initial thoughts.
"You can only judge it from the performances, and our performances have been dwindling in the last year.
"It has been tough, we have been at the wrong end of a few (bad) scorelines. When you have National League and your first game is against Clare and your next game is against Kilkenny, the next game is Dublin, and it's Wexford, it's hard to keep going.
Even though the performance might be good, it's very hard to keep your head and keep the boys motivated
"Sometimes when you're beaten by 10, 11 points, even though the performance might be good, it's very hard to keep your head and keep the boys motivated.
"I think when they sit back and look at it there is something really fresh for them. They are in a competition (Joe McDonagh Cup) that they can go hell for leather in again.
"They can start building, the successes they've had then can do it again. Whether that's with me or someone else I think those lads can definitely get up. It's not the last you'll see of Carlow, that's for sure."
Bonnar said that the progress of the side over the last couple of seasons, most notably their Joe McDonagh Cup success in 2018, will hopefully give the sport more standing in the county.
"Over the last three or four years I couldn't have asked for more from these lads.
"They went from Christy Ring to Joe McDonagh up to the Leinster senior hurling. They went from Division Two to Division 1B to Division One.
"They've made huge strides and unfortunately we were just unable to maintain it. We are working from a low base, we don't have a conveyor belt of talent.
"The lads that we have here, they have huge pride in their jersey and they love playing for Carlow. Better days are ahead for them."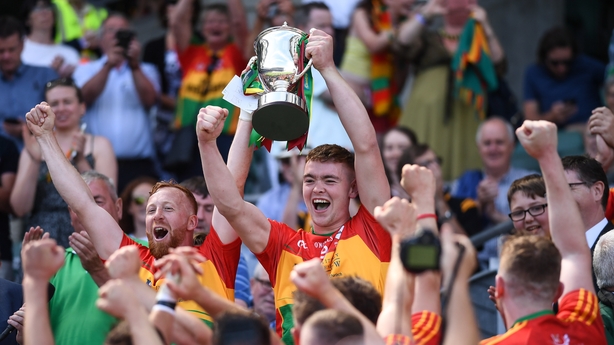 Bonnar said the loss at TEG Cusack Park didn't really matter in the grand scheme of things with their draw with Antrim and loss to Kerry earlier in the group stages ensuring that it was a "dead-rubber."
"Both teams knew it was kind of a dead-rubber really, there wasn't an awful lot at stake," he said.
"When the fixtures were originally made we probably felt that it was going to be a hum-dinger in terms of it being the difference for one of the teams, Carlow or Westmeath, getting to the Joe McDonagh final but we hadn't the points on the board, nor did Westmeath.
"Both teams just wanted to finish on a good note and from Westmeath's point of view they were well deserving of the victory, 1-21 in November is a good score from them and they showed a better appetite than we did."