Tony Kelly acknowledged that the 2020 championship represented the best form he's yet shown in a Clare jersey and indicated he was is in no hurry to see hurling revert back to the round-robin system. 
To no one's great surprise, Kelly was crowned PwC GAA/GPA Hurler of the Month for November, principally on the basis of his stunning display against Wexford in the Round 2 qualifier in Portlaoise.
The Ballyea player accumulated a remarkable scoring haul of 1-54 (1-18 coming from play) in Clare's first three games of the campaign, beginning with a whopping 0-17 in the losing effort against All-Ireland favourites Limerick in late October. 
An ankle injury incurred early in Saturday's quarter-final certainly inhibited his effectiveness against Waterford but it was still a stunning season for the 26-year-old.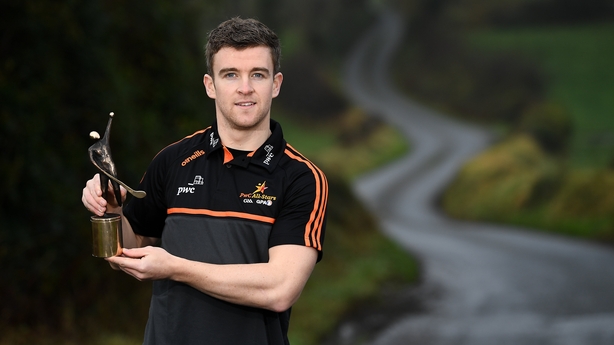 Since the All Stars Hurler of the Year award was instituted in 1995, only three times has it gone to a player from a non-All-Ireland winning team, all Waterford players (Browne '98, Shanahan '07, Gleeson '16) whose team exited at the semi-finals. It would be unprecedented for a player who departed at the quarter-final phase to win the main individual award but Kelly - a past winner as a teenager in 2013 - is a live contender. 
After receiving the award, Kelly was quick to put his scoring stats in perspective. Clare's placed ball specialist Peter Duggan departed for Australia at the end of 2019, missing the championship and Kelly assumed free-taking responsibilities. 
"A lot was made of the scores you'd be putting up," Kelly told reporters. "I know frees have to be put over the bar but it inflates it that bit more when you see a score of 1-15. It is inflated with seven or eight frees in it. 
"It was the best form I've showed. You're trying to come back next year with the same form or try to improve it, try to tweak it some bit, try to come back.
"I can't sing enough praises to the lads we have up front in terms workrate. Often, the easiest bit of the puzzle is to put it over the bar. The hardest bit is winning a puckout or winning a break and things like that.
"As I reflect on it, it is the best hurling I've played for Clare, definitely."
The absence of both Duggan and John Conlon, their two All-Star forwards from the rollercoaster 2018 campaign, was considered a mortal blow to Clare's chances at the outset. 
But was there anything in the theory that their absence had, in a strange way, cleared the stage for Kelly, allowing him to flourish even further? 
Kelly plays down the notion and is quick to extol the often unheralded work of his forward teammates. 
"John and Peter were such an integral part of our attack over the last two years. I wouldn't say so really. The only difference was that Peter was hitting our frees and I took over the mantle this year.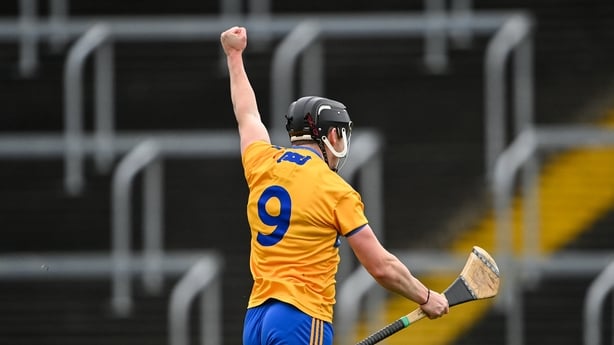 "There was a lot made of what I was scoring but the contribution we got from Cathal Malone every single day he went out was exceptional. He's probably the perfect modern-day wing-forward, getting up the field and working hard. 
"Shane O'Donnell I thought had an exceptional year, it mightn't have shown every day on the scoreboard but his work-rate, setting up of scores and winning frees was extraordinary. And we saw the last day what Shanagher was able to do as well. If we can keep him injury-free, he's an excellent option for us going into next year.
"On the lads we're missing, you'd just be hoping to have them back next year. John will definitely be back, he was near enough. Colm is close enough to being fully fit as well, come January or February time.
"Then you're hoping that Peter Duggan gets sick of Australia and comes home! The old lockdown restrictions aren't helping our case to bring him home here especially when they aren't locked down out in Australia, so you'd be hoping he'd be coming home in the New Year as well. Hopefully if we plague him enough he might come home."
Given the high-profile absentees, the more philosophical among the Clare support were inclined to deem Brian Lohan's first season in charge a reasonable effort in the circumstances. Does Kelly share this attitude or does the quarter-final loss represent a big opportunity missed? 
"When you reflect on it, you're probably frustrated and disappointed that you didn't get to Croke Park for an All-Ireland semi-final.
"I suppose the positives out of it were that Brian and his management team got to blood new lads into the panel and giving them game-time as well. From that point of view it is a positive."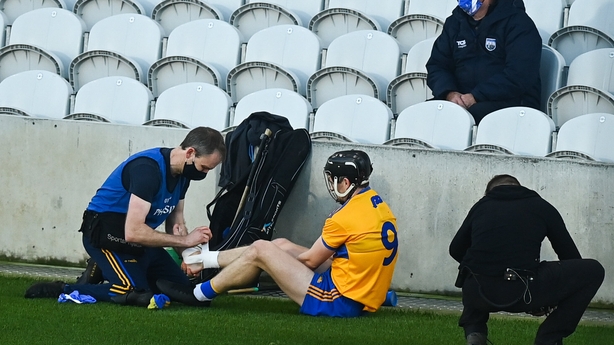 The pandemic and the truncated nature of the inter-county season saw a return to the qualifier system that prevailed until 2017 and there is talk, given the continued uncertainty about Covid-19, that it could be retained again next year. 
The original round-robin season of 2018 was regarded as one of the most glorious and exciting in the history of the game but, having played in both, Kelly has a preference for the old one. 
"I would have been a big advocate for the group system when it came in. But having played in it and going back to the old system, the qualifier system, I'm a fan of the qualifier system. It's more cut-throat. I definitely like that you get a second chance but I like the structure of it. 
I think it gets rid of a couple of dead rubber games coming towards the end of it."
Still recuperating from the ankle injury he picked up at the weekend - he is currently in a moonboot but expects to recover over the next few weeks - Kelly is free to view the remainder of the championship as an interested neutral. 
While Limerick have been widely touted as the favourites for the title, Kelly has a fancy for their opponents on Sunday. 
"I said it from the outset that I fancied Kilkenny even before the season started but having seen what Galway have brought to it, if I was to tip a winner I would probably say Galway.
"I think they've great balance in their team in terms of age profile, guys who are 31, 32 still hurling some of the best hurling like Joe Canning and David Burke.
"I do they think they'll be able to match Limerick's physical strength and it'll come down then to forward power and scoring power.
"I'm expecting two tight games. I would go for Kilkenny Saturday and I wouldn't be surprised if the other one went to extra-time. We have had no extra-time game this year so I'm expecting one of them at some stage but just Galway by a point or two."
We need your consent to load this YouTube contentWe use YouTube to manage extra content that can set cookies on your device and collect data about your activity. Please review their details and accept them to load the content.Manage Preferences
PwC GAA/GPA Hurler of the Month for November, Tony Kelly (Clare) was pictured with his award today at Ballyea GAA Club in Clare.
Watch Waterford v Kilkenny (6pm Saturday) and Limerick v Galway (4pm Sunday) live on RTÉ2, listen to live commentary on RTÉ Radio 1 or follow our live blog on RTÉ Sport Online and the RTÉ News app. Highlights on The Sunday Game (9.30pm RTÉ2).