With five minutes remaining in the Round 2 qualifier in July 2017, Waterford appeared set to end their cruel hoodoo against Kilkenny in anti-climactic fashion.
Not a bit of it. At the end of normal time, people were beside themselves in astonishment at Kilkenny's survival instincts, which were now regarded as comparable to Lazarus or Charlie Haughey or one of those soap characters who returns about 10 years after the entire town saw them being pushed off a cliff. They made the Meath '91 team look like 'bottlers'.
By their own standards, Kilkenny were in rag order in 2017. They'd lost to Wexford in the Leinster championship for the first time in 13 years. Then they'd limped past John Kiely's Limerick (whatever happened them afterwards...) in an error-ridden qualifier in Nowlan Park.
From the earliest, they were always gasping for air against Waterford in Semple Stadium.
Up until the hectic finale, their greatest show of defiance was reserved for the sideline, when Brian Cody took umbrage at what he regarded as Dan Shanahan's side-gig as a back-up linesman and went to square up to the Waterford management, attempting to push past the fourth official in the process - an incident which sparked a thousand call-backs on Twitter to the Diarmuid Connolly incident in Portlaoise that summer.
Hurling, as ever, decided it wasn't going to be bound by football's pedantic, nannying culture and the incident wasn't brought up with Cody afterwards.
Seven points down as the clock ticked past 65 minutes, Kilkenny were set for a dismal exit to the championship, their worst summer in the Cody era.
Then, TJ Reid barged home a goal in a manner reminiscent of a Seattle Seahawks running back. It really was a phenomenally ugly goal - and a typically Kilkenny-esque display of will and belligerence.
We've all seen those games in the Cody era, where a match appears to be slipping away from Kilkenny, and one player in black and amber becomes so mortally offended at the state of the scoreboard that he starts charging around like a whirling dervish and single-handedly pulls them back into the game. His entire bearing says 'NO, YOU'RE NOT GOING WINNING THIS GAME!'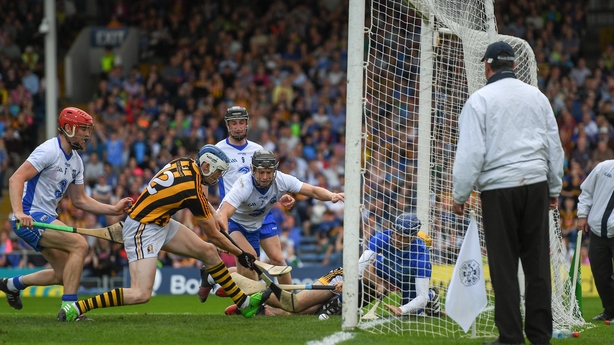 Unsurprisingly given their history in this fixture, this appeared to spook Waterford and, almost inevitably, Kilkenny rustled up the next three scores to level the match.
Waterford had one last chance to win it normal time but Maurice Shanahan's free slipped wide of the post.
On the sideline and in the stands, Waterford people let out a sigh of despair. There was considerable disbelief that Kilkenny had somehow wrestled a draw out of the situation.
The neutrals who'd seen it all before groaned that they'd surely go on and win it now.
We know now that didn't happen. It's to Derek McGrath and his management team's credit that they were able to calm their presumably shaken players and prime them for the subsequent extra-time period.
Jamie Barron, a resurgent figure this year, and a Hurler of the Year nominee that year, was a central player as Waterford made no mistake in the additional 20 minutes.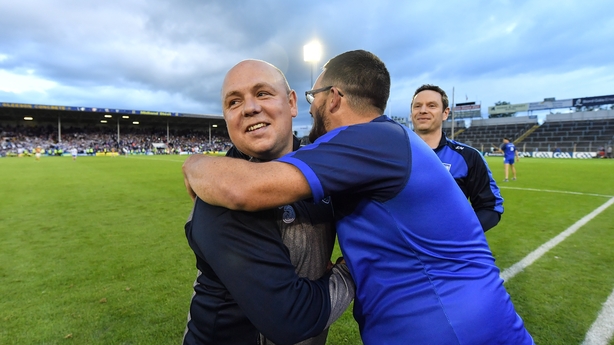 People are increasingly coming around to the idea that Waterford could - and perhaps should - beat Kilkenny in this weekend's All-Ireland semi-final. Despite the poor head-to-head numbers, history should be no burden.
They threw off that yoke three years ago.
Though the perception is that Waterford were victims of a perpetual, decades-long hoodoo against Kilkenny, the rivalry is in fact a fairly modern one.
Prior to 1998, when Waterford revived to a degree under the management of Gerald McCarthy, the pair's championship history was confined to a brief period in the late 50s/early 60s.
Kilkenny had been a constant presence in what we now call 'the All-Ireland series' whereas Waterford rarely ventured that far, winning just the five Munster titles in the 20th century.
Waterford's second - and most recent - All-Ireland final victory came against Kilkenny in a replay in 1959.
This was still the Pathé News era. RTÉ was still plain old Radio Eireann at the time but BBC Television did send over Kenneth Wolstenhome to cover the drawn game for the late-night programme Sportsview.
It was more difficult to gauge the 'British reaction' to hurling in them days but Ken did admit to Dermot Gilleece that he received some blowback in Ireland over the Sportsview editor's excessive interest in showing "players fighting", though he was keen to stress this was outside his control. He also suffered a milder embarrassment when he asked for a scotch and water and was flatly told that the only whiskey they had in the vicinity was Irish.
On the pitch, Seamus Power rescued the draw for Waterford with a late goal which deflected past Ollie Walsh in the Kilkenny goal. Tom Cheasty was the hero in the replay, nailing 2-02 as Waterford won by eight points.
Waterford's first two championship games against Kilkenny in the colour television era ended in narrow, unlucky defeats.
In 1998, the last year BC (Before Cody), Waterford, a relevant player in the senior championship for the first time since '89, were pipped in an All-Ireland semi-final by Kilkenny, 1-11 to 1-10 (If their radar is a bit off, that might be the half-time score on Saturday).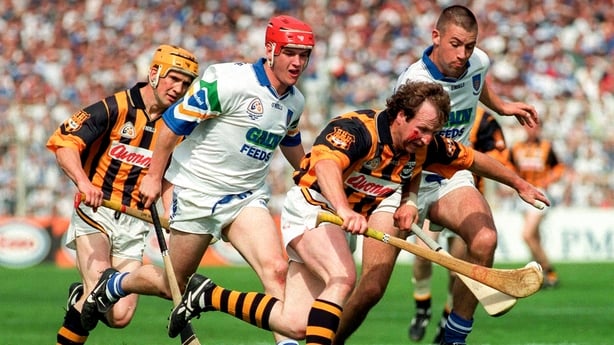 There is so much fond remembrance of the 2004 Munster final victory that it's forgotten how close Waterford came to toppling Kilkenny in the semi-final. Justin McCarthy's team conceded three goals, failed to rattle the net themselves and still only lost by three points.
It's only since the infamous 2008 All-Ireland final that Waterford have been cast as Kilkenny's perennial whipping boys.
Waterford's first appearance in a decider in 35 years turned into an atrocious experience, right from the moment the team bus got stuck in the gateway at the back of the Cusack Stand.
"Two goals in the space of a minute and this final looks to be consigned to the ashes", Ger Canning announced in a commentary after Eddie Brennan banged in his second goal on the 21st minute.
At half-time, the scoreboard read '2-16 to 0-05'. "The dressing room was in shock," wrote John Mullane later. "We knew our dream had died and we were now living a nightmare."
Kilkenny continued to beat Waterford over the next few years. The margins began to dwindle as the Cats gradually (very gradually, it should be said) declined from their late-noughties peak. In the semi-finals of 2009, 2011 and 2015, Waterford were held at arm's length.
In their down-year of 2013, Cody's team survived a late surge from a Kevin Moran-inspired Waterford to eke out a win in extra-time.
In the 2016 semi-final, Waterford appeared bound for glory until Walter Walsh's 69th minute goal saved a replay for the reigning champs. Kilkenny edged a titanic replay in Thurles and Waterford had to content themselves with Austin Gleeson's Hurler of the Year award.
Waterford enter the weekend's game in rude health. The turnaround in their form and fortunes has been startling in its speed. In 2019, the county briefly reclaimed its mid-90s status as the sick man of hurling.
Fast-forward a year, they're suddenly partying like it's 2017. Tadhg de Burca is attacking the possessions per games record, Stephen Bennett is racking up big scores, Austin Gleeson's form is returning and Dessie Hutchinson, formerly of Brighton & Hove Albion, showed flair and an insatiable hunger for goals in the inside forward line.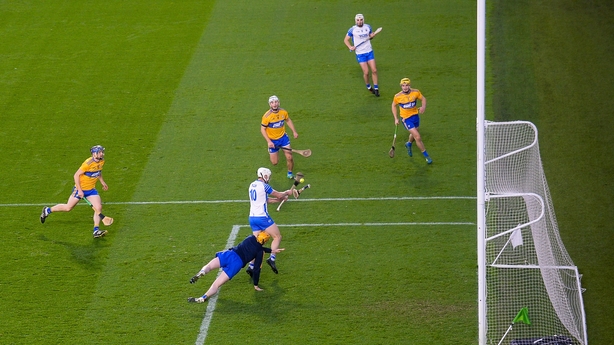 Liam Cahill might have been presumed as the anointed one in Tipperary after leading them to two successive U20 titles but his stock has risen higher in his first season as Waterford senior boss.
Kilkenny remain a severe obstacle. Many doubt the worth of a 'winning tradition' when players "cross the white line" but it remains the case that Cody's team are somehow infinitely more than the sum of their parts. They are still perceived to be a team in transition. No fewer than eight members of the starting line-up the last day were without All-Ireland medals - by Cody's standards, a novice team.
Their victory over Galway in the Leinster final was baffling to most observers, and appeared to be a bit of a head-scratcher for their opponents - almost like the hurling equivalent of one of those Novak Djokovic final displays where he somehow wins the match despite coming out worse in every statistical category.
But after 2017, history - specifically the history of Waterford-Kilkenny - is a nightmare from which Waterford hurling has awoken. They might be harder to keep at arm's length this Saturday.
We need your consent to load this comcast-player contentWe use comcast-player to manage extra content that can set cookies on your device and collect data about your activity. Please review their details and accept them to load the content.Manage Preferences