On Monday evening, 24 hours after he won the Christy Ring Cup with Kildare, John Doran was coaching the under-7 hurlers in Clane.
"Two decades of hurling with his county and a day after winning an All-Ireland he's back with the youngsters in his club – that's a real genuine hurling man," says Lilywhite manager David Herity.
"If this county is trying to forge and strengthen a hurling identity, they need look no further than that lad. Unreal. The same with the likes of Paul Divilly, a long-serving hurler and the head of athletic development in Kildare GAA. Declan O'Toole, a games development officer in the county and one of my selectors.  
"And Christine Murray our PRO. Getting lads faces out there online, letting people know who we are. Giving the team messages that have been sent from all over the world. That's how you forge the identity. And it's coming in this county. It's slow but it's steady."
On Sunday, by edging a resilient and passionate Down team, led by Ronan Sheehan who had nurtured many of his side from Celtic Challenge teams, Kildare won their third Christy Ring Cup, following from successes delivered by Brian Lawlor and Joe Quaid.
There were many turning points in a twisty 2020 road.
Initially, the competition was set to be knockout, and with Kildare facing Offaly in round one players like Doran feared that if they lost their careers would be over, would just peter out in a pandemic-stricken world.
But the GAA allowed a safety net, Offaly conceded through Covid concerns and Kildare never looked back.
They resumed training on 8 October, had three sessions a week, took all the heavy conditioning work out of it and focused on working the ball out of defence into midfield and delivering quality balls to lethal forwards like Jack Sheridan. The Naas man hit 10-35 in eight competitive games this year.
The introduction of David Slattery to the team, following his departure from the county football set-up, was key. Slattery was fouled five times on Sunday, which led to scores. Herity and his management team had watched him in club action and knew he could do a job.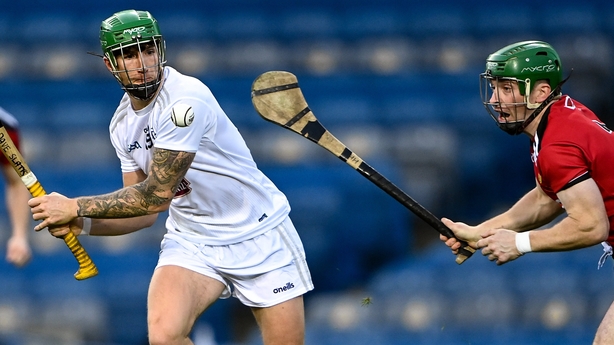 "To be fair to the Kildare clubs they streamed all the hurling games, so we got to see who was who and from that we had 10 different clubs represented in the final on Sunday.
"They go back to their clubs now and kids can see they, too, can play at Croke Park and win hurling medals for Kildare.
"The thing with Dave was to give him the ball, put it in front of him and he will win it. And he can't be stopped once he gets going."
Herity says the past year has seen a huge amount of work invested into improving skill levels, giving a full understanding of every position on the pitch and trying to get the ball into the danger zone in the most potent fashion.
"Retention of the ball was key as well," he says.
"And now what's key is that the fantastic work that is being done at minor level (Kildare beat Antrim in this year's Leinster MHC) continues towards under-20.
"We need under-20 to work for us. Mairtin Boran from Naas is trying to put structures in place for that role and, at 9am on Monday morning, he was on to me looking to know when we could sit and plan.
"I think the plan is that Kildare will be entered in both the A and B championships at that grade and that will be a massive help too."
Boran is the father of Kildare centre-back and the county's 2019 hurler of the year Rian. Along with Sherdian, Brian Byrne, Conor Dowling and nine other Naas hurlers, Boran came through the Naas nursery and juvenile section, pioneered and fostered by John Holmes, a hugely passionate hurling man who has invested decades of work into developing the game in the club and schools of Naas.
Other clubs in Kildare are strengthening their own structures now as seen by the 10 different entities represented on the Christy Ring team.
The goal now will be to get promotion in league hurling and retain their place in the Joe McDonagh Cup.
Herity is being talked about as a real contender for the Kilkenny job in the future, but he has no interest in any such speculation.
Right now, he has a job to do with Kildare. He needs the structures behind the scenes to work and, if they do, there is a real chance they can meet their targets in 2021.
"If I've learned anything in this game," says the five-time All-Ireland winner, "it's that you have to take one step at a time."