Louth chairman Peter Fitzpatrick believes new boss Mickey Harte can restore the county's football fortunes after securing his services for the next three years.
Harte's 18-year tenure as Tyrone manager came to an end less than two weeks ago, but the Wee County have moved quickly to broker a deal with the 68-year-old, with his appointment ratified on Monday night. 
Gavin Devlin, who has served as Harte's assistant with Tyrone in recent seasons, will fill the same role with Louth. 
"We're delighted to have someone of the calibre of Mickey Harte and Gavin Devlin managing our team," Fitzpatrick told RTÉ's Morning Ireland. 
"We're showing confidence in Mickey and Gavin by giving them a three-year contract.
"We know that it's going to take a lot of work, but we're not expecting things to change overnight."
The Louth chairman has instigated changes in the county set-up this year, and a structural overhaul is likely to continue under Harte and Devlin, with the Tyrone blueprint for excellence likely to travel south with the duo. 
"The most important thing we need to do is put a structure in place," Fitzpatrick said.
"We've been very serious in Louth this year. 
"We changed our whole development squad. We got Colin Kelly, who managed the Louth team, and we've put him over the development squad. 
"Mickey and Gavin are coming in and they're going to be looking after the under-20s and senior football. 
"It's very important we get a structure in place, a template in place."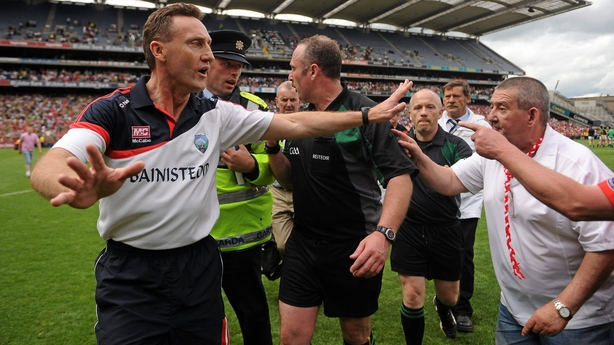 Louth's halcyon days under Fitzpatrick are now a distant memory. Ten years ago, the county was controversially denied a first Leinster crown in more than 50 years when denied by Meath in the provincial final. They've been on a downward trajectory ever since, and next season they begin life in Division 4.
Off the field, things have got a little brighter for the county, with confirmation in September that their teams would have a new 14,000-capacity ground on Dundalk's Inner Relief Road to eventually call home.
Louth fans will hope that Harte can ensure their side have escaped the Allianz League basement by the time of it's completion.
"In Louth this year, we decided we were going to do two things," Fitzpatrick added.
"The first thing we wanted was a home, a new stadium. We have full planning permission for a new stadium.
"Our second goal was to be ambitious on the football field. We went away and I don't think you could get any more ambitious than by getting Mickey and Gavin to manage your team.
"I'm looking forward to the next three years and working very closely with these guys.
"We've been crying out for help over the last number of years.
"We've been relegated to Division 4 this year, we lost in the first round of the Leinster Championship this year, we haven't been doing well.
"Louth is a very, very proud county and we're very proud to have Mickey and Gavin to steer Louth forward."