Davy Fitzgerald has confirmed 2021 will be his final year in charge of Wexford, in an interview which saw him round on his critics.
The 2019 Leinster champions failed to fire in this year's championship, losing convincingly to Galway and Clare, but Fitzgerald defended his players, suggesting the number of games his dual players had at club level impacted negatively on energy levels.
Fitzgerald's former manager with Clare, Ger Loughnane, was critical in his newspaper column and the Wexford manager dismissed his views as irrelevant, in his opinion.
"He wouldn't really be up with what's going on in the GAA world, in my view," said Fitzgerald on South East Radio.
"My honest opinion is I feel a bit sorry for him. Ger isn't involved with any clubs. He hasn't been involved with anyone since he went to Galway and did not have a good time. He actually couldn't read a game. If you read any of his articles, he can't read the game. He doesn't see what is going on," he added.
"I don't hate Ger Loughnane. I feel sorry for him. Because every single week he is having a cut at someone."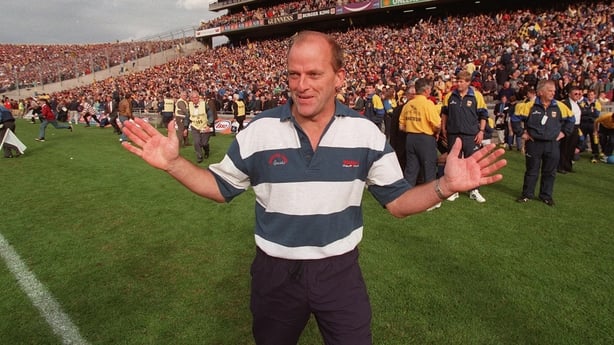 Fitzgerald said the bad feeling with the men dates back to Fitzgerald's time in charge of Clare.
"I remember the night I asked him to present medals to the team in 2013, he actually said to them he did not rate them a good team until they won a second one, which I thought was a very nasty thing to say to them.
"Before we played Galway in 2015, the things he said about them were unreal, he gave them so much motivation. I remember a member of the Galway management team telling me only a year or two ago that Ger gave them so much motivation, they had things up in their dressing room.
"That tells it's own story about Ger Loughnane. The only one who is 'me, me, me' is Ger Loughnane."
Asked about criticism from within the county, Fitzgerald pointed to Wexford's record before he succeeded Liam Dunne as manager and what they have achieved in four years.
"There is no harm in being critical. I presume those guys who are critical have managed at the top level and different stuff and they have the right to be critical. I cant stop that.
"All I'd say to you is in the last four years, I think it has been pretty decent. You can take the last 10-12 years before I came, and what was achieved or not achieved, I'm not entirely sure, but all I know is we got promoted out of Division 1B, which he couldn't do, we won two Walsh Cups, which he hadn't won in ages, and we won a Leinster championship and got within touching distance of an All-Ireland final."
Asked to reflect on how things went awry this year, Fitzgerald pointed to Wexford's tackle count against Galway and Clare.
"One thing jumps out - our tackle count, which is what we are about. It is normally between 95 and 100, for the last two games it was around mid 40s.
"It was a strange year. It was hard to put a finger on it exactly. Not too many have as many dual players as we do and it is hard to ask lads to go week after week."